Where To Buy NFT Art Finance? Informational Guide
Unlike in the early days of trading, millennials aren't ecstatic over the 10% market returns that elders promise. There is a growing trend among new investors to team up on the internet to talk about potential investments.
The GME stock boom provided a taste of big gains for these risk-averse internet investors, and many of these traders are now going to smaller market size cryptocurrencies on Binance's Pancakeswap to attempt and discover their next 1,000 percent profit.
In this article, we will walk through the steps of where to purchase NFTART Finance tokens.
What Is NFT Art Finance?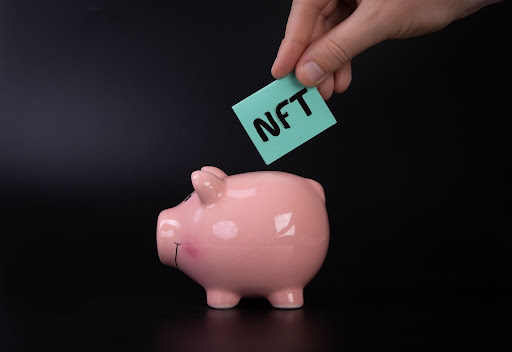 (This article may contain affiliate links and I may earn a commission if you make a purchase)
NFT Art Finance is a new exciting cryptocurrency that performs its code on the Binance Smart Chain network. Just like crypto, here we also have a secure connection for the transactions. NFTART is a BCS deflationary utility token, which is powering the NFT ecosystem entry.
NFT Art Finance essentially aims to build a marketplace for artists to create and trade non-fungible tokens (NFTs). But, the company has yet to deliver any real products, and there are other better-developed alternatives on Ethereum's blockchain.
The token's model is defined as "hyper deflationary." Yet, hyper deflation appears to be a jargon used by the corporation to divert attention away from how closely tokenomics resemble pyramidal schemes. 
The reward holders with tokenomics that have a passive income where 5% will be burned and 5% will be redistributed between holders of NFTART tokens.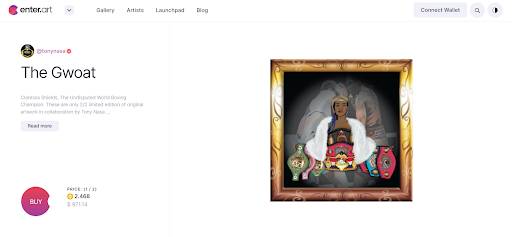 The first platforms to employ NFTART as a utility token are enter.art and enter.audio. Here, the ownership for the smart contract is renounced for each token, as the codes are subject to external auditing to ensure the investors are protected.
On the Enter platforms, you'll discover free and simple access to features for all you need as an NFT creator. The only expenses of concern are BSC transactional fees, which are quite minimal in comparison to other networks.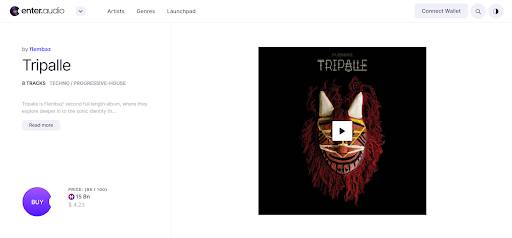 You may select up to 20% royalties on all future resales of your art, ensuring that your online wallet grows in tandem with the value of your works. Because the popularity of the coin is rising, we decided to make this guide on where to purchase NFTART Finance coin.
Token Addresses
It's really important to understand how important token addresses are. Let's say you download a crypto wallet, and you decide to go for the trust wallet. Should you decide to transfer your BNB tokens, you must make sure to put in the right address, otherwise, you'll lose all your money.
History Of The NFT Art Finance Token

Since NFT Art Finance has only existed for a few months, its history is limited. NFT ART has yet to accomplish anything noteworthy with the platform, since its launch of the NFT marketplace protocol last summer.
Last April, the NFTART tokens began trading at roughly $0.0000000010. A limited supply of 10 quadrillion tokens led to the token trading at an exceptionally low price for art finance compared to other tokens.
Even if a considerable portion of these tokens is eventually burnt, the supply is orders of magnitude greater than that of other crypto assets. Soon after its launch, NFT ART Finance achieved a high of $0.0000000360. Early investors made over 30,000 percent of their money in just 96 hours. After this huge gain, the coin dropped down to $0.0000000100. 
NFTART currently has a market cap of $31,026,510. NFTART's current price is $3.35e-10, and it is ranked 3288 on Coinmarketcap.
The cryptocurrency is listed on multiple cryptocurrency exchanges, but NFTART can't be directly purchased using fiat money, unlike other cryptocurrencies. Regardless, you may still get this currency simply by transferring USDT to a platform that allows the trade of this coin after you purchase USDT from any fiat-to-crypto market.
As part of this instructional post, we will explain the method of where to obtain NFTART Finance in detail.
Role Of NFTs In Digital Art
The NFT world is expanding, with billions of deals. Many industries, including medical and finance, have used NFTs, but art stands out the most. Artists can make a lot of money in the NFT world. One outstanding example is digital artist Beeple, who sold their digital work for huge amounts of money. 
In the NFT area, many artists exhibit their digital artwork. Today, unique digital artworks in the form of NFTs are generating headlines. An NFT is a digital collectible that is controlled through blockchain. This implies that it is now easier and more authentic to confirm digital artwork possession than ever before.
NFTs have a distinct digital identification that is handled by blockchain technology. It contains all of the information on the item you purchased as well as digital proof. Because this is still a new technology, people don't know where and how to buy NFTART Finance coins. 
Steps And Where To Purchase NFT Art Finance Coins
We've explained what NFT art finance tokens are and how you can profit from them. Next, we'll look at the essential steps on how you can buy NFT art finance coins. 
Step 1: Sign-Up On the Fiat-to-Crypto Exchange
Where to purchase NFT art finance? First, you have to buy a major cryptocurrency before you can buy an NFT ART Finance coin, in our case, USDT. Our goal here is to explore both Uphold.com and Coinbase, which are the most popular exchanges for fiat-to-crypto, in-depth.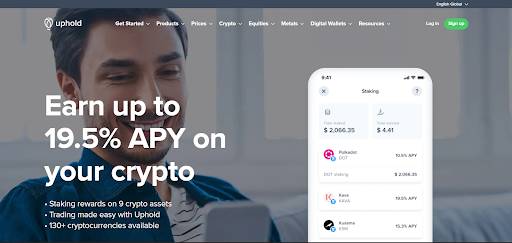 It is very important to understand both the features, elements, and fee policies of each exchange, which we will discuss in depth. Testing both services and choosing the one that best suits your needs is the best way to decide which to use.
Step 2: Acquiring USDT With Fiat Currency
You will be asked to choose a payment method after you have completed the KYC process (verification of your ID, phone number, etc.). Bank transfer or debit/credit cards are the available payment methods.
With credit cards, additional fees will apply, but the purchase will be instant. Although bank transfers are cheaper, it takes a bit longer for the transaction to be processed. Depending on where you reside, some countries have low-fee, fast cash deposits.
When you're ready, select USDT and click on the "Trade" box to complete your transaction. Congratulations! You have just made your first crypto trade, and you are one step closer to buying visual NFT Art.
Step 3: Exchange USDT To An Altcoin Exchange
Because NFTART has an altcoin status, USDT must be transferred on any exchange that offers NFTART; and in our case, we'll go for MXC. MXC is a famous cryptocurrency exchange that has a vast number of altcoins that can be traded. 
MXC, which debuted in April 2018, is a controlled cryptocurrency exchange based in Seychelles. It accepts deposits in CNY, VND, USD, GBP, EUR, and AUD, as well as withdrawals in CNY and VND. As far as we know, US investors are able to trade at MXC. It accepts 242 cryptocurrencies and has 374 trading pairings. 
According to Coingecko, they are now ranked seventh in terms of the most supported cryptocurrencies when compared to other spot trading exchanges. Most significantly, MXC is at the head of the Decentralised Finance (DeFi) wave, with support for DeFi currencies being added regularly.
After setting up your Coinbase account, you will also be asked to enable MFA authentication, which gives your account extra protection. Do this since it offers extra protection on your account.
Step 4: Deposit Your USDT To Exchange
In some exchanges, a KYC procedure is required. Depending on the exchange's rules, the procedure can take between 30 minutes and a few days. However, the process should be straightforward. By the time you are finished, your exchange wallet should be fully accessible.
You may be intimidated by the screen if this is your first cryptocurrency deposit. There's no need to worry, as the process is quite similar to making a bank transfer. The "USDT address" will be displayed in the form of random numbers. This is your own USDT wallet address at MXC, and any sender may send you USDT when you present this address to them.
To copy the complete address and transfer USDT for which you have already purchased from Coinbase, click "Copy Address" or right-click on the complete address and copy it to your clipboard.
Go back to Coinbase, click "Portfolio," then "USDT," and then "Send" on the right.
To ensure security, always check if the wallet address matches the recipient address that you copied from your clipboard. In some cases, computer viruses can encrypt your clipboard, causing you to virtually send money to another individual by changing the contents of your clipboard to another wallet address.
The next step is to click "Send." After that, you will receive an email in seconds that ask for a confirmation. Simply click on the link in the email, and your coins will be transferred to MXC!
If you haven't yet seen your deposit in your exchange wallet, don't worry. Go to your MXC account and then to your exchange wallet. Your money will appear in a few minutes once it has been authenticated in the blockchain network.
It may take even longer during network busy times, depending on the network traffic situation of the USDT network. MXC should send you the email for confirmation once your USDT has arrived. And you are finally ready to buy NFTART!
Step 5: Trade NFTART
Return to MXC, then choose "Exchange." Bam! You're done! Although the constantly flickering figures might seem frightening, rest assured that we'll learn how to adjust to them. Make sure you choose "USDT" in the search box on the right column because we are trading USDT for altcoins.
Simply click on it and enter "NFTART". The result should be NFTART/USDT. When you select NFTART/USDT, a price chart should appear in the dead center of the page.
Under that, you'll see a green "Buy NFTART" button. Choose the "Market" option inside the box, since these are the most basic purchases.
The buttons let you select the percentage of your deposit you wish to spend on purchases, or you can type in your money. After double-checking everything, click "Buy NFTART". Whoa! We have finally arrived at the very end where you can obtain NFT art finance tokens.
Aside from the exchanges mentioned above, there are few other significant crypto exchanges with large user bases and high daily trading volumes. These allow you to sell your coins at any time, and the expenses are often lower.
It is also recommended that you join these exchanges because once NFTART is listed there, it will get a large amount of trading activity from the customers there, which means you will have some excellent trading possibilities!
Step 6: Keeping NFTART Safe In Crypto Wallet
If you intend to own ("hodl," basically mistyped "hold," which has become quite popular) your NFTART for longer, it may be worth considering ways to keep it safe. While Binance is among the most secure cryptocurrency exchanges, it has been hacked in the past, and a great deal of money has been lost.
Currently, the best method for storing your coins is with a "Cold Wallet," which only has access to the blockchain when you send payments out, reducing the chance of hacking.
Also, paper wallets in reality are some versions of cold wallets with offline-generated pairs of private and public addresses that you can be written down for safekeeping. The problem with paper wallets tho is that they're not long-lasting solutions and are susceptible to a number of threats.
In this case, the hardware wallets are undoubtedly superior to any cold wallet. They are often USB gadgets that keep your wallet's important information for longer. They're extremely safe as they're built with top-notch grade security, and have firmware updates on a regular basis.
The most favorable options in this category are Ledger Nano's S and X wallet offerings, which can cost anywhere between $50-$100 compared to the features they provide.
The Binance Smart Chain Network
Binance Smart Chain is a decentralized exchange on the blockchain network that is built specifically for smart contract ownership. The Binance coin (BSC) is used to fuel transactions on the network. It also supports the creation of decentralized applications (dApps).
The ownership of these smart contracts is stored on the blockchain, which makes it tamper-proof and transparent. The BSC Chain is also compatible with Ethereum's Virtual Machine (EVM). 
This means that creators can effortlessly port their Ethereum-based dApps to Binance's Smart Contract Network. In addition, Binance Smart Chain uses a Proof-of-Stake (PoS) consensus algorithm, which is more energy-efficient than the Proof-of-Work (PoW) algorithm used by Ethereum.
Binance Coin
This coin is the cryptocurrency of the Binance exchange. It is a decentralized cryptocurrency that is used to pay for fees on the Binance exchange and can also be used in the transfer network or to pay for other cryptocurrencies listed on the Binance platform and is one of the most popular BSC Tokens that the token holders rely on. 
It's also used to pay for fees on the Binance platform, which includes listing fees and trading fees or other exchanges. The Binance coin token holders are eligible for a discount on trading fees when they hold their tokens in a Binance account. 
NFTART Price Movement And Is It The Right Investment?
Flickr Image by Diverse Stock Photos
NFTART has fallen 52.27 percent in the previous three months, and given its modest market capitalization, such price fluctuation is quite likely to continue.
Although three months is still considered early in the crypto market, it is still possible that the NFT art price may recover if the company has a strong team and delivers its promises in its white papers.
As a result, traders should proceed cautiously and conduct extensive studies to determine whether NFTART is supported by a strong development team or if NFTART's technology can expand.
Keep in mind that this analysis is solely based on NFTART's historical price movements and is not intended to be financial advice.
Where To Buy NFT Art Finance With Cash, And Is That Even Possible?
NFTART is not available for purchase with cash. You can, however, buy USDT on exchanges like LocalBitcoins and then finish the rest of the steps by transferring your USDT to the proper AltCoin exchanges.
Closing Words On NFT Art Coins
NFT Art Finance is a relatively new Binance Smart Chain token. Its goal is to create a marketplace where artists may produce and sell NFTs.
The company has yet to supply any actual items, although comparable things are accessible on the Ethereum blockchain. Be careful and make sure you explore the coin before deciding to buy it. Hope this guide helps you with where to buy NFT Art Finance.
More From Artistry Found