12 Apps That Will Help You Create NFT Art
Are you looking for a way to start creating NFT art? Then you are in the right place! 
The NFT token is a blockchain-based digital asset. They came into the market in 2014, and they've been increasing in popularity ever since.
Drawings, games, movies, music, and films, among other items, are available for purchase and sale in the NFT marketplace. 
Specifically, NFT Art Coin is a token that represents one-of-a-kind digital artwork pieces.
To create your own, you have to have the right software. In order to do that, you can use numerous apps, but take a look at some of the best apps for creating NFT art.
How To Choose The Best App to Create NFTs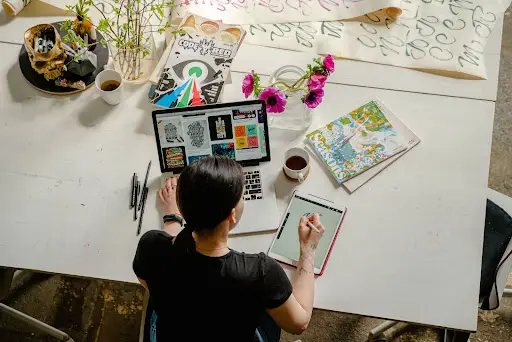 (This article may contain affiliate links and I may earn a commission if you make a purchase)
https://www.pexels.com/photo/photo-of-woman-writing-on-tablet-computer-while-using-laptop-4348401/
When choosing software for creating NFTs, you must keep a few things in mind. 
First and foremost, ensure that the program you select has enough editing capabilities. When creating digital and pixel art, you need a lot of options and editing tools. 
You'll want to decide whether you want to use an NFT creator app with its own NFT marketplace. If you're comfortable using a third-party platform, then there are a few different options to choose from.
Some applications on the market will only offer you color grading basics, while others can do some powerful image manipulation. It is critical to consider all of the editing options available in your software.
Next, see if the application offers various templates and tools. Limited options mean limited creativity. If you are new to the art industry, you need to check a few tutorials and guides online before purchasing software.  
Following this, a very important thing to consider is the software precision. When creating digital artwork, you must work meticulously. Although there are styles that can be free and expressive, the buyers love calculated art pieces. It is best if the application you choose can offer both. Also, the program must be versatile with to create NFTs in high-resolution graphics and pixel art. 
Finally, see if the program adds a "signature" on your work after it has been exported. Some programs include a watermark on everything it creates. With this in mind, you should select software that isn't tagged with a third-party watermark.
The Apps To Create NFT Art

It's no secret that the world of art is changing. With the rise of the internet and digital media, more and more artists are creating work that exists solely in the digital realm. 
And now, with the advent of NFTs, there's a whole new way to collect and sell digital art.
You may produce NFT art using a variety of programs. The best NFT program is the one that best suits your needs and preferences.
If you're interested in selling your own NFTs, there are a few different apps you can use to create and manage your collection. Some of these apps are free to use, while others charge a small fee. However, all of them offer a convenient way to create high quality digital art and sell NFTs.
Just as a mention, Behance is a popular option for selling NFTs that has an NFT market. This app allows you to list your NFTs for sale and set your own prices. You can also browse the collections of other users and make offers on the NFTs you're interested in.
Finally, if you're just looking for an NFT creator, there are a few different options available. And as we go through our NFT Art Creator list, you'll see that there is no single best NFT creator, whether it's a free NFT creator app or a paid one that has its own marketplace, in app purchases, NFT wallet, and all the bells and whistles.
From an NFT marketplace to NFT creators, these apps will help you get started in the world of NFT art. Since this is the reason you are reading this article, please see our list of 12 apps for creating NFTs and digital art: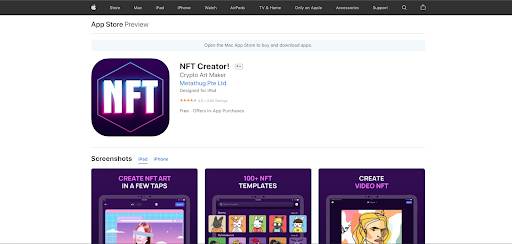 If you have an Apple device, then this app is one of the best and most effortless apps to create NFT artwork. It is compatible with iPhone, iPad, Mac, and iPod. It is easy to use and has a lot of features that allow you to upload graphics and upgrade them with an artistic look in no time! 
The NFT Art Creator app offers pre-made art templates, apes, pixelated images, doodles, etc., and is one of the best NFT creator apps.
It has great subscription plans and enables auto-renewal options for both yearly and weekly plans. NFT creator offers a three day trial, and after that, you can choose either a weekly plan for $3.99 or a yearly plan for $49.99. 
Pros: NFT Creator offers various fonts and art filters that can help you create art in just a few minutes. You can modify your artwork by importing photographs from your device and selecting from their library of 1000+ backgrounds.
Cons: NFT Creator only works only on iOS devices.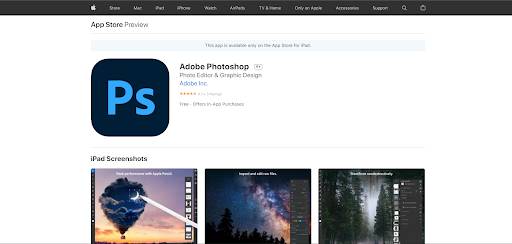 Adobe Photoshop is a well-known software for producing high-quality artwork. It offers amazing features and tools, which will allow your creativity to flow.
Photoshop is an awesome app, mostly used by professionals. Aside from the incredible graphics and endless possibilities, it offers the possibility to create animations as well. 
Adobe Photoshop offers a 30-day free trial. After that, it has a reasonable subscription of $22.40 per month.    
Pros: The advantage of Adobe Photoshop is that it has a wide selection of tools and options that can help you customize anything.It works on Androind, Mac, and Windows.  
Cons: The sole drawback is that it cannot handle or save files, and it is first difficult to use.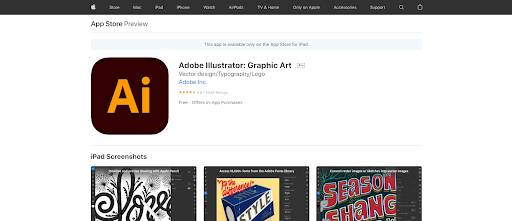 All graphic designers who have worked with Adobe Illustrator know it is one of the best apps for creating NFT Art. Illustrator is great software when it comes to creating artwork, icons, packaging, logos, web designs, and much more.  
Its feature Adobe Sensei Al will enable you to create or recolor your artwork and add some customizing effects as well. Before you do all this, you might want to watch a few guides to point you in the right direction. 
Adobe Illustrator offers different subscription plans and you can choose the one that fits you best. It has different packages for teachers, students, business purposes, and training. The plans varies anywhere from $22.12 to $35.85 per month.
Pros: Illustrator offers advanced 3D effects, a generous library of awesome fonts, and an in-app learning panel with tutorials. 
Cons: It can occupy a lot of space, and you may need a more powerful device to get it to run as it should.  
SketchAr is 4th on our list of 12 apps for NFT Art creation. It is the most advanced and inventive smartphone app for creating artwork. You may sell and browse unique digital art creations in addition to making.
The unique thing about SketchAr is that it converts your art into NFT with no cost at all. Another special option is that it allows artists to upload art so that everyone using the app can appreciate it. The app picks the best one every week from all artworks submitted and then features the artist in its news feed.  
Pros: It is the best mixture of AI and AR and converts art into NFT for free. It lists your art on the marketplace and allows you to compete for the best artwork with artists from around the world. It also offers a guide for a optimal user experience. 
Cons: The only disadvantage of SketchAr is that it offers fewer ready-to-use templates.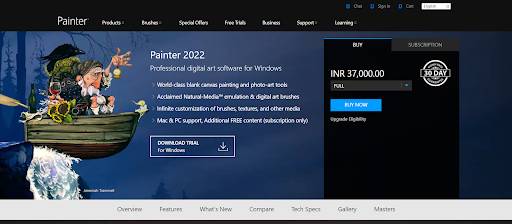 Corel Painter is the best program for everyday work on our list of best apps for creating NFT Art. This app has a vast library of brushes that will make your life easier. It offers its users a lot of different tools and various ready-to-use templates.
Corel Painter can run on both Windows and Mac devices. It has a lot of special features like AI to make designing easier. 
With Corel Painter, you can create unique artwork with tons of different textures. The software keeps getting more awesome, and it offers consistent updates.  
The subscription is $235.66 yearly. It also offers a one-time payment of $494.39 if you don't want to pay annually. If you are not satisfied, the application offers a full money refund within 30 days. 
Pros: Corel Painter has the best brush library, customization, palettes, and workspaces. It allows the import of photos or any other file from your device. It is constantly upgrading based on the feedback of its users. 
Cons: The only con of Corel Painter is that t's a bit expensive.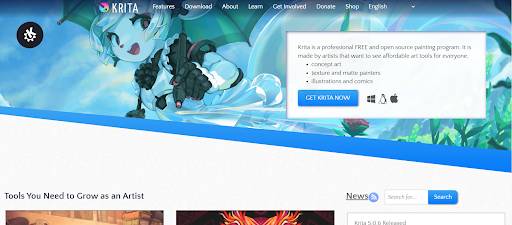 Krita is 6th on our list of apps for NFT art, and it is the best for illustration and design. It offers multiple features that enable artists to create illustrations, comics, animations, concept art, and even storyboards. 
Krita is a very powerful app that will increase your creativity and make the whole process look easy. It has a lot of filters and customizable brushes. 
Pros: It offers advanced colors and management systems. Krita also has a lot of available training materials, and it is compatible with Windows, Mac, and Linux.
Cons: The software is not suitable for photos.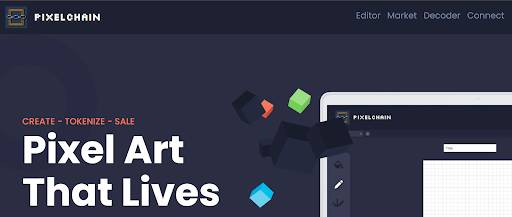 Pixel Chain is the best for designing and storing artwork. It is also an NFT creator program. It stores information and data that will remain forever. This is a significant benefit since it eliminates the problem of graphical data loss.  You can always access the data that is stored in their blockchain. 
The data is always encoded, compressed, and stored properly in the blockchain. Pixel Chain organizes the data with the names and information of the artist.
Pros: Because it stores your artwork in blockchain, it offers security and peace of mind about your artwork. It is also cost-efficient.
Cons: Pixel Chain has a limited set of features compared to the other apps on the list.
GoArt has 8th place on our list of best apps for NFT Art. In our opinion, it is the best NFT software that converts photos into real art. 
It converts real photographs into realistic art pieces using Al that incorporates image classification technology. To gain access to all features, you have to pay a subscription. The premium elements can cost anywhere from $1.74 to $35.41.  
The latest function added to GoArt is a BFT-related function that makes NFTs easily and efficiently. 
Pros: GoArt offers features of high definition and print support as well. It allows the export of up to 8megapixels. It contains a simple user interface and filters that can make your art look realistic. It also enables the creation of NFT.
Cons: To access the premium elements, you need to pay a subscription.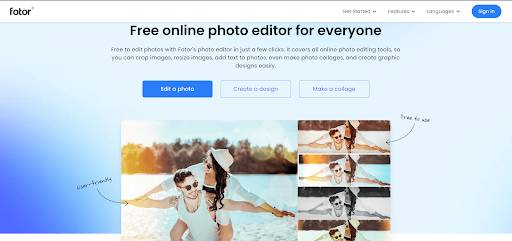 Fotor is one of the best NFT program for designing NFT Art. The app offers amazing features while enabling you to become a real NFT artist.  
It is an artificial intelligence art generator program that gives you the possibility to create artwork from your photos. It is fairly simple to use with little or no guidance. 
Pros: With Fotor, creating NFT Art is very simple. It offers advanced Al effects, and it has a straightforward learning curve. It also comes with different options of filtering and editing. 
Cons: It has very bad file management functionality and a poor autosave option.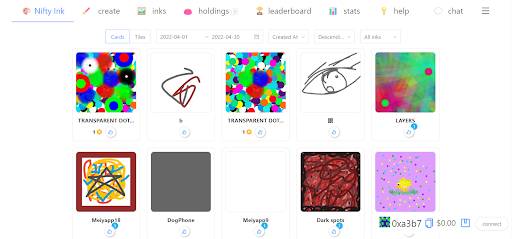 Nifty Ink is 10th on our list of apps to create NFTs, and we think it is the best one for beginners. It is the easiest platform that enables anyone to create, sell, and earn tokens.
Other than the fact that you won't have to learn blockchain techniques, the software is free, and it has an interactive platform for all artists. 
Pros: It is one of the easiest software for beginner artists, and it is free.
Cons: It has a really poor framework.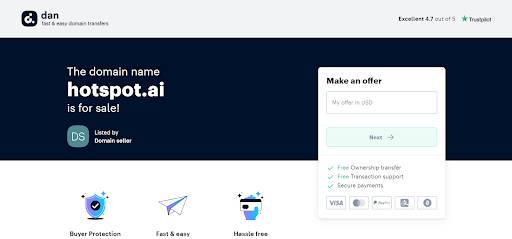 Hotspot.ai is the best software that offers automation features. It is an Al-powered tool that allows you to make NFT art directly from your imagination. 
These features allows you to personalize and customize both new and old assets. It does not affect quality of the graphics of your art.  It offers great features of enhancing the colors and graphics that make your art look realistic. 
Pros: Hotspot.ai gives new artistic ideas, and it acts as your brainstorming buddy! It also has very affordable plans. The pro version starts at $10 per month. There is a mega version that costs $400.00 per month.
Cons: It does not offer customization of artworks.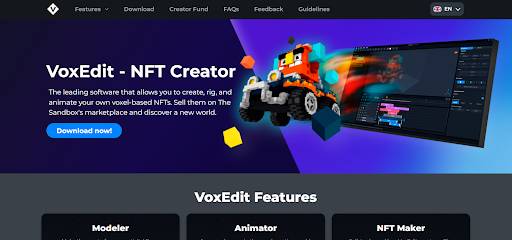 VoxEdit is the last software on our list of apps to create NFTs and pixel art.  It is the best fusion of Animator, Nft and Modeler creator. 
It's one of the industry's most popular programs for editing, creating, and animating your own NFTs. Artists can use VoxEdit to sell their work on the Sandbox Metaverse, where they can trade $sand for NFT art currencies.
Many users are impressed by its ability to mix modeling, animation, and NFT creation.
Pros: A utility token in VoxEdit allows you to sell and buy art. It has fantastic fusion features and can manage NFT artwork on a variety of devices, including phones, computers, tablets, and so on.
Cons: It requires a little time to get used to it. 
The NFT Marketplace
After you've chosen your best NFT creator app for your custom NFT trading cards, it's time to start thinking about how to sell them. One option is to make your NFT marketplace. This is a fantastic way to meet other NFT collectors and find purchasers for your high-quality digital work.
However, it's important to remember that setting up and running an NFT marketplace can be a lot of work. If you're not sure you're ready for that commitment to sell digital art directly, another option is to sell your cards on the existing NFT marketplaces.
One option is to use the existing NFT marketplaces like OpenSea or Rarible. 
These platforms offer a ready-made audience for NFT collections as well as NFT collectors and buyers, as well as a variety of features and tools to assist you in managing your creative arts sales.
Art Styles And The Role of Creativity In NFTs
In the world of art, there has always been a need for creativity. Whether it's coming up with a new painting or sculpture or finding a new way to market your work, artists have to be constantly thinking of new ideas. With the rise of NFTs, creativity is still just as important as ever.
For example, some artists have developed pixel-oriented art that can only be viewed properly on an NFT app, while others have created some mad creative NFTs that are designed to interact in a variety of ways.
While there are many NFT platforms in the NFT world that allow you to simply upload your artistic creation and digital assets, the most successful artists are those who can come up with creative and innovative ways to use the technology. 
Apps to Created NFT Art – Conclusion
As an artist, it is very important to stay in touch with the latest updates related to the NFT marketplace. 
When choosing the perfect app to create NFT art, you have to think about more than just creating art. Make sure you understand how to make NFTs and how to trade them.  Also, do a lot of research on the process of incorporating your own NFT art into the blockchain. 
Hopefully, this list will help you in opting for the best possible app and illuminate your road to creating pixel and NFT art.
More From Artistry Found