How To Buy NFT Art On OpenSea (Explained in Detail)
If you have done a little research about the NFT realm, chances are you have heard of OpenSea. The OpenSea marketplace is the most prominent platform in the NFT space. If you are thinking about buying NFTs, you'll want to open up the OpenSea homepage and explore the platform. 
Before we jump right into it, we must break down what NFTs and OpenSea are. Following this, we will explain step by step how to buy NFTs on OpenSea and also how to sell them. 
What Is NFT?
Cryptocurrencies like Bitcoin launched back in the 2010s. Since then, people have been 
increasingly buying and selling digital assets.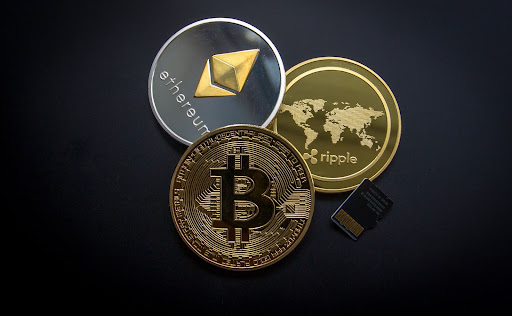 (This article may contain affiliate links and I may earn a commission if you make a purchase)
https://www.pexels.com/photo/ripple-etehereum-and-bitcoin-and-micro-sdhc-card-844124/
All cryptocurrencies are underlying blockchain technology. Because of the blockchain, we own and transfer value online without involving a third party.  
NFTs are non-fungible tokens that are also built on blockchain technology to create new possibilities when it comes to the uniqueness of digital assets.
NFT can be a digital artwork, song, video, in-game asset, or even a tweet. Essentially, NFT can be any digital item that requires a system to identify its uniqueness and ownership. In this article, we will concentrate on NFT art. 
You can own NFT art in exchange for digital currencies without involving a mediator. For this to be realistic, both buyers and sellers have to use the same platform (known as an NFT marketplace) for listing, buying, and selling NFTs.  
What Is OpenSea?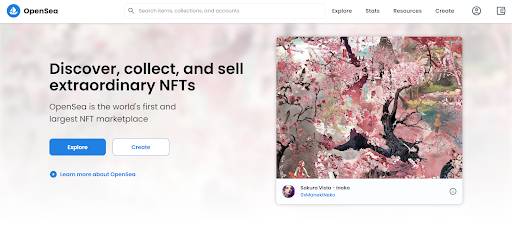 OpenSea is a platform, or an NFT marketplace, that has proven to be the preferred choice among NFT traders and the favorite place for NFT developers. 
OpenSea allows anyone to buy and sell NFTs on a verifiable infrastructure powered by blockchain technology. It offers its users an open-world design that allows them to create an OpenSea account, create a wallet, and create NFTs and OpenSea NFT collections for free.
The open-world design and few restrictions to the creative and transactional processes have attracted NFT creators to OpenSea from all over the planet. 
The lack of restrictions within OpenSea has proven to be a ticking time bomb. There was a time when the team of OpenSea briefly restricted the number of NFTs per user. However, not long after, they reversed the decision because of the backlash from the community.  
There are many controversies surrounding OpenSea's operations. Still, it remains the largest NFT marketplace, with over $3.5 billion worth of Ethereum-based trades in August 2021.
In 2020, OpenSea posted $20 million worth of NFT trading volume.  
Features Of OpenSea
One of the main strengths of OpenSea is that it operates a decentralized marketplace. All trades and activities are placed in real-time on the blockchain.
OpenSea has expanded its operation across three blockchain infrastructures, Ethereum, Polygon, and Katyn. This means that you can buy NFTs on any of these three chains.  
The platform has easy processes for all of its main features. These include minting, buying, and selling NFTs. To use the platform, you won't need to know how to code. 
OpenSea offers gasless and feeless creation of NFTs. This is due to the Polygon integrations. Polygon is a blockchain that allows cheaper transactions with Ethereum tokens and interacts with Ethereum-base apps. 
How To Buy NFT Art On OpenSea

After we shared some knowledge about NFTs and the OpenSea platform, it is time that you learn how to buy NFT art on OpenSea. 
Users of OpenSea can choose to install MetaMask to buy an NFT. MetaMask is a crypto wallet that speeds up the process of buying NFTs. 
That being said, the first step in our step-by-step guide on 'How to buy NFT Art on OpenSea' will be the installation of MetaMask. Following this, we will present another way to create a digital wallet and purchase an NFT artwork on OpenSea.   
MetaMask Installation
Type https://opensea.io into your browser.
Click on the profile symbol in the upper-right section.
Choose "My Profile."
Click the "Get MetaMask" button.
Download the extension for your browser.
Click on the "Install MetaMask" button.
Wait for the installation to complete.
On the "Welcome to MetaMask" page, click the "Get Started" button.
Choose "Create MetaMask Wallet." 
Set up a password and write it down somewhere.
Click "Next," then choose your secret phrase.
After arranging the phrase, click "Confirm."
A congratulations window will appear in which you should click "all done."
A notification window will appear to connect your account with MetaMask.
Click "Next" to link your wallet with the OpenSea account.
Purchase ETH
Type https://opensea.io into your browser.
Click on the MetaMask symbol in the upper-right part of your screen.
If you have ETH in your Coinbase Wallet, choose "Directly Deposit Ether."
If you don't have ETH, select "buy."
Click on the "Continue to Wyre" button, then specify the amount of ETH you wish to buy (with each purchase, you will need to pay a transaction and network fee).
Choose the preferred payment method and click "next."
Enter your payment information.
After you are done, click "submit."
Enter your payment authentication code that you will find on your phone.
Type in the six-digit code and authorize the purchase.
Within a few minutes, your MetaMask wallet balance will be updated.
How To Buy NFT Art On OpenSea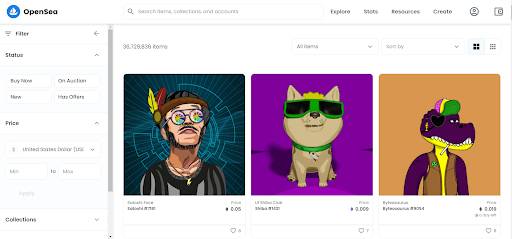 Type https://opensea.io into your browser.
Explore the platform.
Find the perfect NFT. 
Review all the information about it. If the NFT is rare and collectible, it will have more specific properties. 
If you are looking to trade, check the price history. 
When you are ready to proceed, select the "Buy Now" button.
You will be prompted to review a few details about your purchase. This step is used to ensure you know exactly what you are buying. It also prevents spammers from creating something similar and non-authentic versions of a popular NFT.
If everything seems okay, you'll proceed to a checkout pop-up. There you can review the final cost of your purchase. 
You will have to agree to OpenSea's terms of service.
You can now click the "Checkout" button to finalize the purchase. 
Your wallet will open, where you will find the final cost, including gas fees, depending on your blockchain choice.
Click "Confirm."
You are now an owner of NFT Art.
If you want to see the NFT in your wallet, you need to return to your profile and select "In Wallet" on the left side of the page.
Making An Offer
Because some NFTs have an action option, you may sometimes need to pit them against other buyers. The process follows these steps:
Type https://opensea.io into your browser.
Find one that you want to buy.
Review all of the information, especially the current offers. 
You need to place a bid that is at least 5 percent higher than the previous bid. 
Select "Make Offer." 
You will be prompted to review the details of the NFT to make sure it is authentic. 
Select the payment currency.
If you choose a currency with which you have never made a purchase, you may be charged a one-time fee.
Submit the amount you want to offer and set an expiration date. This way, you will give the seller a timeframe to make a decision. 
Within your profile, open the "Offers" tab in the left sidebar, and you will find a list of all offers you have extended.
Once you have made an offer, you need to sit tight and wait for the seller to accept it. 
Buying NFT Art with Coinbase Wallet 
While we are on the "How to Buy NFT Art on OpenSea" topic, there is another way of doing all this. The process is the following:
Download the "Coinbase Wallet" app. 
Set up your account. The extent of the information required will depend on the platform. Some applications may require more info than others.
Write down the private key that is presented as a 12-word phrase and store it somewhere safe. If you lose this, you will be unable to access your crypto. 
The next step is to transfer cryptocurrency to your wallet. You can buy crypto with traditional currencies like euros or US dollars. (Some wallets may require you to transfer the funds from somewhere else.)
Now you are ready to purchase ETH (Ethereum). The ETH will enable you to buy NFTs on OpenSea. 
After all the steps are done, here are the steps to purchasing ETH.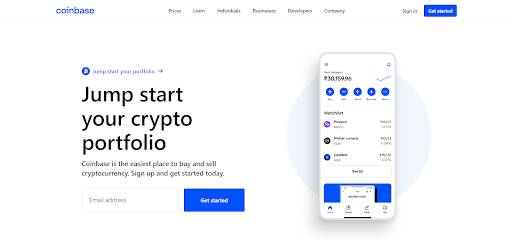 Type https://opensea.io into your browser.
Log in with your credentials.
Select "Buy/Sell." 
Choose "Ethereum."
Click "Preview Buy" to confirm. 
Select "Buy Now" to finalize.
In a few days, the ETH will be transferred to your wallet account. 
Once the ETH arrives, go to your wallet and copy the wallet address.
Return to Coinbase.
Select "Portfolio."
Click on "Ethereum," then press "Send." 
Paste the wallet address in the field and double-check if it is the right one.
Select "Continue," and the ETH will show in your wallet in a few minutes. 
Once the wallet is created and you have ETH in it, you are now ready to head to OpenSea and buy NFTs. 
Type https://opensea.io into your browser.
In the upper-right part of your screen, click on the wallet symbol.
After you are not prompted to the wallet, you need to link it to the Coinbase digital wallet you created previously.
After the successful connection, the app will show you the profile page.
From here, you can see any tokens you have created, collected, or favored. 
By default, your account will be "Unnamed." If you wish to change this, go to the settings symbol on the right side. From here, you can customize your profile. Before you do any customization, you have to pass the security prompt and sign an agreement. After that, you will be ready to change your username, personal information, and email address.
Find the perfect NFT. 
Review all information there is about the NFT you have chosen. The rarer the NFT, the more valuable properties will be listed. Also, make sure to go through the pricing history.
Once you have found the perfect NFT collections, click on the "Buy Now" button.
Before the purchase is finalized, you need to review several details. This will ensure that you are not getting scammed by buying non-authentic versions. 
If everything checks out, you can proceed to the checkout and review the cost. 
Click "Agree" to the platform's terms. 
Select "Checkout" to complete the purchase.
You will be prompted to your wallet, where you can lay down the final cost, including any fees.
Simply click "Confirm," and you're done!
How To Sell NFT Art On OpenSea
Lastly, many people are interested in something more than just "How to buy NFT Art on OpenSea."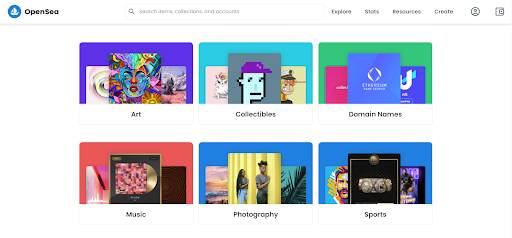 For all who are looking to sell NFTs on OpenSea, here is a step-by-step guide on how to do it. 
Type https://opensea.io into your browser.
Go to your profile.
From your wallet, choose which NFT you like to sell.
In the upper right corner, select the "Sell" button.
In the next window, you need to set the price, choose the type of auction, and set some other preferences as well.
After you are done, select "Post the Listing."  
Although there are no fees at this point, there may be some once the sale goes through.
You will be directed to initialize your wallet if this is your first time selling NFT.
After that is done, you have to finalize the listing and confirm all details.
Post the NFT on the market.
If you return to your profile and select the "Activity" tab, you can view all NFTs you have left for sale.
How To Buy NFT Art On OpenSea – Conclusion 
In this article, we presented to you the ultimate step-by-step guide on how to purchase NFTs on OpenSea. Also, we explained a little bit about how to make an offer and how to sell NFTs on OpenSea and digital art. 
Now that you know how to sell and how to buy NFTs Art pieces on the OpenSea marketplace, you can grow your crypto portfolio. As time goes by, you will have a significant amount in your wallet that will allow you to trade all sorts of artwork and collectibles. 
Decide which method works best for you, and you will become the proud owner of many unique pieces of art in no time.
More From Artistry Found