How Do You Display NFT Art? (Here's How!)
Digital art, known as crypto art, NFT Art, or Non-Fungible Tokens, has recently exploded in popularity as NFT collectors battle for the most amazing digital art pieces. With literally millions of dollars spent on this phenomenon each week, these investors now face another dilemma; how to display NFTs.
Choosing how to display your NFT art and choosing the best digital photo frames on the blockchain is an important part of owning these NFT collections…perhaps the most important part. After all, even with traditional art, what fun is it to own it if you can't display it?
Here are some ways to display your NFTs in the virtual world in virtual galleries, or in the real world as physical art.
Display Your NFT Art in a Digital Photo Frame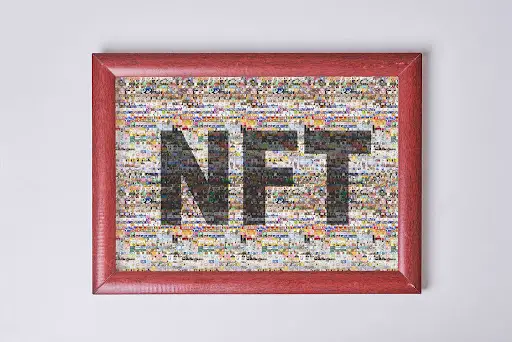 (This article may contain affiliate links and I may earn a commission if you make a purchase)
Flickr by Marco Verch Professional Photographer
Over the past ten years, the quality of NFT displays in digital frames or in video frames has risen drastically, causing them to become more and more popular. There are many different digital display services on the market today, each with its own benefits. With just a few clicks, you can show off your latest NFT art acquisitions by using one of the best NFT frames.
Qonos NFT Frames
Let's start with the first. Qonos was the first company to launch a way to display NFT artworks in a frame that could be displayed at home, in the office, or anywhere…much the same as any picture frame. At their launch, Qonos sold out within hours.
Qonos built its product by modifying software that had been developed by Framed, a digital frame creator. Framed and Qonos worked together to create a place where NFTs could be displayed in the physical world for everyone to see.
Looking Glass Portrait Holographic Displays
For NFT collectors who want to display holographic images, Looking Glass Factory has frames that were "designed for people, real and imagined,"
Users aren't required to know how to program in order to use these displays. Anyone who loves playing around with holograms and 3D images will love this product. Even those who are just beginning to explore three-dimensional art will appreciate Looking Glass.
Infinite Objects Website for Video Prints in Frames
The Video Print available from Infinite Objects is perhaps one of the most unique methods to display your NFTs. With their 5″ and 7″ display features, you can show off moving digital art such as an image of water flowing over a waterfall. The image plays on repeat 24/7, and is set to play forever in a loop…or "infinitely."
You can print your own art in an NFT frame at Infinite Objects. With these NFT frames, you can "treat Video Art the same as a framed photograph or art print," and display your NFTs anywhere that you would place a framed photo or piece of physical art.
You can choose to upload your own video, or anyone else's video file to your NFT collection in your Infinite Objects digital photo frame. You can set the Digital Objects frame on your desk at work, display it in your home, or show it off anywhere you'd normally set a photo frame. A custom display in an Infinite Objects frame sized 840 X 480 costs around $80.
Tokenframe Digital Picture Frame
Tokenframe is another option for displaying your NFT art. You can choose from real wood frames in Birch, Mahogany, Solid White, or Solid Black wood frames in 2K or 4K options. Their digital picture frame comes with an anti-glare screen to display NFTs.
Once you have purchased your frame and set up your account, you only need to sign in to your crypto wallet and go to your digital art gallery. You can choose which piece of digital NFT art you wish to display in your video frame, and then pick the size of the artwork and the color of the background. Other choices are also available with Tokenframe.
Meural Canvas Digital Frames for NFT Art Display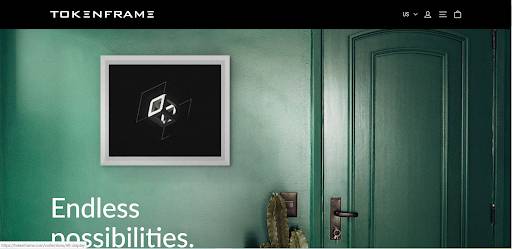 If you know Netgear from their contributions to home WiFi, you may be surprised to learn that they have entered the world of high-end digital frames for NFT display with their Meural Canvas frame. Their frame uses its own app, the Meural App, which is available on both Android and iOS.
Using the Meural app, those who wish to display NFT art can add either NFT videos or NFT images to their high-quality NFT display. Meural Canvas II features images in HD and allows you to decide how your NFT collection is displayed with your very own digital art playlist. These digital frames come in a range of sizes, from 13.5″ X 7.5″ for your desktop to a 19″ X 29″ digital art canvas for the wall.
Dragon Touch Digital Frame
Dragon Touch also offers a great collection of frames for those who are looking for ways to display their NFTs as physical artwork. Their digital frame allows users to share photos and art from their email, cloud, and photo apps with just a click.
Going to the Dragon Touch website, you can see that they have a large variety of digital picture frames, including their Classic 10 digital photo frame, Classic 15 digital picture frame, and digital photo frame classic 10 FHD WiFi Battery-Powered digital frame with native 1920 x 1200 full HD resolution.
Display Digital Art on Your TV in a Samsung Frame
Art mode on the Samsung Frame TV allows the user to display works of art when the set is not in use as a television. Various works from artists known all over the world come preloaded on the television. You can upload your own art, or purchase NFTs to display on the set as well.
The 2022 model features a matte display for showing off NFT artwork. It is an updated Samsung QLED smart 4K TV with HDR10+.
Nano Frames With Rotating Wall Mount
According to their website, Nano Frames are the first and only Cardano NFT frames. They connect to your Cardano wallet and enable you to display your NFTs on the walls at home.
You can control the entire NFT experience from an app on your smartphone. It is easy to do. Just download the Nano Smartphone App, start your Nano frame, and scroll through to choose which NFTs to display.
Using the rotating wall mounts, you can easily switch between Landscape and Portrait mode. Built-in stereo speakers with WiFi and Bluetooth make the whole experience come to life.
Display Your NFT Collection in Online Galleries or Real Life Art Galleries
Another way to show off your NFT collection is to display NFTs in an online gallery or in a real-life art gallery. You can choose to display artworks in online NFT galleries that are similar to Instagram pages. You might also choose real-world art galleries for your NFT display.
Placing Your NFT Display in a Real Life NFT Art Show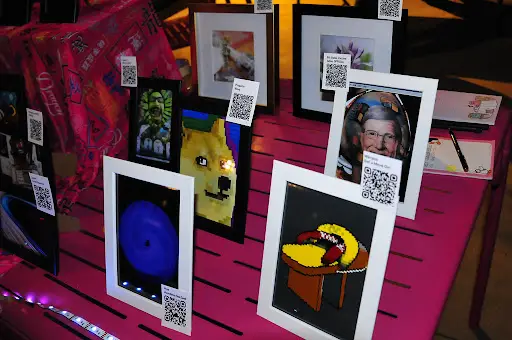 There are several options available for those who choose to put their NFT displays in a real-life art gallery. One choice is a new project from the imnotArt crypto community. They built a place in Chicago to display actual NFTs called the imnotArt Gallery. Their group of over 600 people held its first show at the gallery in June of 2021.
Another example of art lovers displaying NFTs in real life is the B.L.A.C Gallery located at The Art Place in Denver Colorado. This gallery was set up as a way to celebrate Black History Month. It featured digital NFT art from over 30 local black artists displayed as physical artwork on television and computer screens as well as vintage CRTs.
One other place for members of the NFT community to display an art collection is Superchief Gallery NFT, known as the world's first dedicated NFT Display gallery. It is a great choice for those who are looking to display their crypto art, since it has supported artists for over a decade, and is currently run by artists.
More traditional galleries and auction houses are beginning to support NFT displays as well. In 2021, Sotheby's hosted their second edition of a curated NFT auction called Natively Digital. This particular crypto art show was focused on the NFT enthusiasts and collectors themselves, according to the auction house.
Displaying Crypto Art in an Online NFT Gallery
The imnotArt group mentioned above got their start displaying their NFT artwork in regular events in Discord via a virtual gallery that was hosted by Cryptovoxels. In this online NFT gallery, digital art is uploaded once a week for these events, and "visitors" can chat and browse through the art just as they would in a physical gallery.
Of course, there are many other ways to display your NFTs in virtual galleries, including through a third-party app. For example, for the NFT enthusiast who loves social media, Showtime allows users to create a page that works a lot like Instagram. You can upload your NFT wallet to be featured on your profile, and like, comment, and share the NFT displays of other users.
You might also decide to show off your digital assets on the "world's art-based metaverse," PixIr. Featuring NFT art drops and tools this site allows the collectors and artists themselves to decide what is displayed in the online gallery.
Another great online art space for NFTs is OpenSea. In fact, of all of the world's current online galleries, this one is the largest. It offers seamless experiences for artists and collectors alike. Users can see the top bids on various NFT collections and browse through the digital images of other users. Getting started is easy; simply connect your wallet to start displaying NFTs!
Display Your NFT Art in a Virtual World Like the Metaverse
Not too long ago, virtual worlds seemed like something that you'd only hear about in Sci-Fi movies. Now, you can literally buy virtual land in "the metaverse." And while Facebook may have recently changed its name to "Meta, they aren't the only ones who are making it possible for you to purchase virtual land…or "live in" a virtual world. Both Microsoft and Nvidia are working on their own versions of reality.
World's First Holocaust NFT Museum
Most of these online worlds are creating their own art galleries or spaces where NFT art can be displayed. The first Holocaust Museum in the Metaverse has been established by the Chasdei Naomi organization to display NFTs that were created by Holocaust survivors. This was done in honor of Holocaust Remembrance Day in April of 2022.
The Vatican Prepares Its Own NFT Display
The Vatican is also preparing its own NFT art gallery for the Metaverse by partnering with Humanity 2.0 and Sensorium. Vatican City has over 6 million visitors annually and features over 800 pieces of art. Moving to the online world could be a huge step for the smallest sovereign state in the world.
NFT Museums and Shows Becoming Popular in Virtual Worlds
Of course, many other companies are also launching their metaverse debuts, with such names as Starbucks, Pepsi, Mary J Blige, Roblox, and Spotify claiming their stakes in the virtual world to display NFT art with their own custom art label. Another new NFT project in this virtual world will help fight against homelessness through the nonprofit organization HomeStart.
Own Your Own NFT Gallery in Decentraland
Decentraland is another NFT showcase in its own virtual world, but it is so much more than just a place for displaying NFTs. This site allows users to purchase and own a piece of land in the online metaverse. It has become the place for art galleries and NFT exhibitions, boasting such names as Sotheby's. Decentraland also hosts a 10-day cultural festival annually which includes launch parties, exhibitions, and other events.
Blackdove Digital Canvas
According to its website, Blackdove is "on a mission to connect the world in a shared art experience."
This site is a place where users can not only view and purchase NFT art, but artists can "sell their work in limited editions," that are backed by NFT. This is possible through their in-app purchasing features which allow artists to earn royalties on subscriptions. Their goal is to make it possible for NFT artists to build a sustainable career through their work.
Connecting the world in a "shared art experience." Perhaps that should be the goal of art everywhere.
How Do You Display NFT Art – Final Thoughts
So, now you know how to display your NFT art collection. Who knew there were so many options available for displaying digital art? Whether you're an artist creating NFT art or a buyer investing in NFT art, the number of ways to display this type of artwork is growing every day!
More From Artistry Found