4 Creative Ways To Thank Someone for Buying Your Art!
Being able to spend your time creating art is a true joy, and it's even more of a blessing when someone enjoys your original artwork enough to buy it. So, when a customer makes a purchase, how do you thank them for buying your art?
You can thank someone for buying your art in various ways, including using words, sending gifts, or acts of service. "Thank you" should be your first response after a sale but personalized gifts and actively giving back to your client/collector are great strategies to keep them coming back for more.
This article looks at the many creative ways you can thank an art buyer for purchasing your work and the one thing you should never do.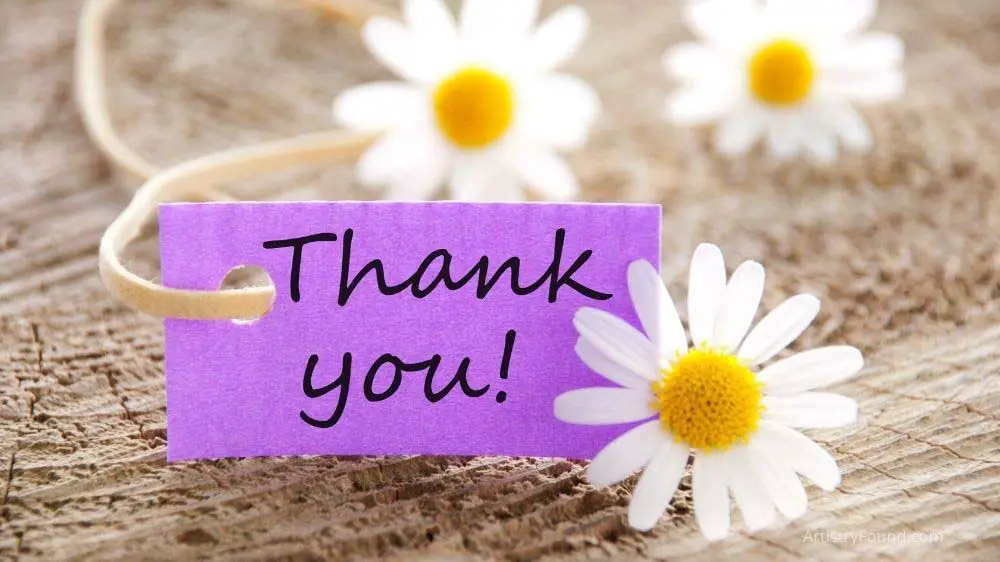 (This article may contain affiliate links and I may earn a commission if you make a purchase)
4 Creative Ways To Say "Thank You For Buying My Art"
It's the small things you do that will make your collectors want to keep buying art from you and allow you to stand out in a crowded art market. There's no reason to be stumped when it comes to expressing your thanks; there are too many options.
The plan is to treat your clients like royalty without breaking the bank. I am convinced that care and creativity trump cost.  
Here are four different ways you can say thank you to your art buyers: 
1. Thank Them in a Call or Personalized Video
As part of the words spoken, you cannot go wrong with a simple "thank you." Call up the client a few hours after their purchase and say it with a smile in your voice.
You can also shoot and send a short video expressing your thanks. Keep that smile on your face and make sure it reaches your eyes. For a personal touch, feature an artifact that connects you both in the video.
2. Send a Post Purchase Handwritten Thank You Note
This underrated tool is one of the quickest and most effective ways to show your appreciation. Send a handwritten note (not an email) in the mail within two weeks of an art purchase.
Such a personalized response from you shows the recipient that you cared enough to take the time to send it. It assures them that they are remembered, and it may even make their day brighter.
Don't just get a store-bought note and forward it in the mail. Buy your own stationery instead. I suggest that you go with a neutral or conservative theme. Customized notecards also make things interesting.
You can use a notecard with an image of the work the client purchased in front and your name and website URL at the back. 
The recipients can get a sense of your personality through your handwriting and your choices of stationery and image.
The Contents Of A Thank You Note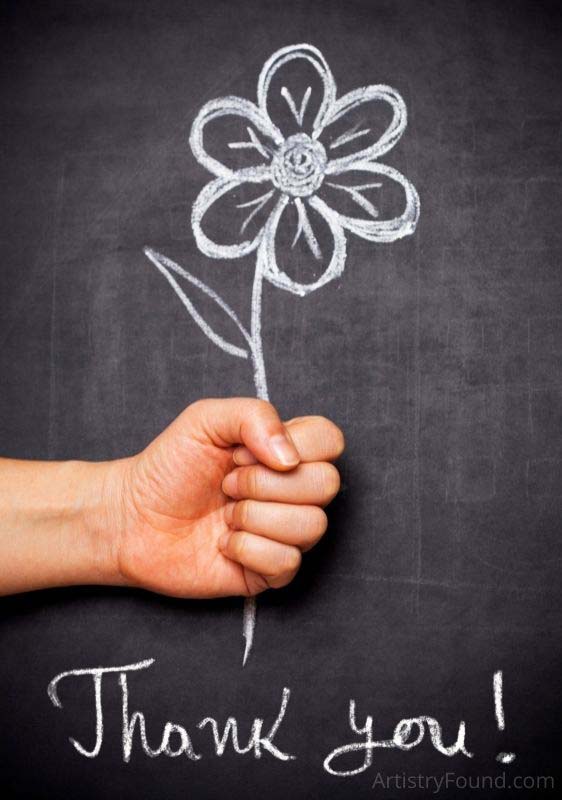 Keep in mind the recipient of the note and address them accordingly. Is it a first-time buyer or a repeat customer? Maintain a casual but friendly tone throughout and put it together like this:
Start with a greeting. Keep it simple and address the recipient by name. For example, "Dear Ben…"
Express your thanks. Be honest and add a personal touch. You could give a few details of what the piece means to you. A few ways to proceed include:
– "I want to thank you for sincerely…" 
– "I appreciate that you…"
Mention your next encounter. It may be a art gallery show, or the next time they will make a purchase from you.
Say thanks again in a different way and congratulate them for making a great choice.
Close off the note. Let your relationship with the art collector be reflected in your choice of words. You cannot sign off with "Your friend…" when the person is not your friend.

While it's okay to mention an upcoming exhibition or show, avoid going too heavy on a sales pitch. Remember, the whole point of this is to thank them for purchasing one or more of your art pieces.
 3. Say 'Thank You' For Your Purchase With a Gift
A thoughtful gift is a beautiful way to express your appreciation to a client. It could be personal to the client (meets a specific need of theirs,) and it should align with their values; do not give a leather bag to a vegan.
It could be added as a freebie with their first purchase, or it could go with every purchase they make. It is your world, and you decide what goes.
Examples of gift items include:
A discount on their next purchase.
A gift card or voucher.
Customized notecards with their names embossed. You can add a picture of their purchase on one page and leave the other page empty for their use.
Tuck a personalized anecdote at the back of their frame. It could be something from the location of the painting they bought or a particular piece of your inspiration for the art.
Keep it simple, inexpensive, and make it as meaningful as possible. 
4. Include an Act of Service With Purchase
This is another unique way to express your gratitude. How do you go about it?
Deliver their new artwork in person and help them find the best location for it.
Offer a free service to them. You may install the art for them without charge. You can also offer to clean it at least once.
Give to causes that they support. It could be a charity organization or a foundation.
Treat them to a meal at their favorite restaurant.
Support their work, interests, and business. Do this by partnering with them when the opportunity arises. Highlight and repost their work on social media, and refer people to them.
Invite them to special previews of your new work that is exclusive to VIP clients. You can also take them along to VIP gallery shows.
Let your sincerity be evident in whatever you choose to do.
Saying Thank You & Congratulations!
Obviously, you should always thank an art buyer for purchasing your work, but besides just saying thank you, congratulate your client for their purchase. I know it sounds somewhat strange, but your post-sale experience will be greatly improved. By congratulating your client, you are complimenting their good decision.
Reaffirm what they felt for the art and watch them thank you. That's right; the client will thank you. I'd like to point out that this is most effective in face-to-face interactions.
On your next art sale, remember to say, "Congratulations, you made a great choice!"  
How Not To Say Thank You 
Just as there are great ways to say thank you for your purchase, there are some ways not to say thank you. I have just one piece of advice for you on this topic; do not overdo it!
Nothing compares to the excitement of selling your art. This excitement triples when you are directly involved in the sale process. It is possible to get carried away and be overly effusive with your "Thank Yous."
Doing this makes it seem like this sale just saved you from dire straits and makes you as the artist seem desperate. Even if that rings true, it is not the message you want to convey.
Over-thanking also takes the attention away from the buyer and focuses it on you. Your customer wants to feel like they have acquired something great. Shining too much light on the rewards you have received from the transaction is a sure way to deny them that sense of accomplishment. 
What You Gain by Appreciating Customers
Customer appreciation can strengthen professional as well as personal relationships. It just takes a short amount of time,  and it is an effective method for retaining customers. I know that I don't mind paying more for great customer service, and I love to shop somewhere where I feel appreciated.
Benefits Of Customer Appreciation 
You retain customers. It can be difficult to get new customers. Thus, it is smart to have as many loyal customers as possible. 
You have a more profitable clientele. Satisfied customers easily spend more.
Word-of-mouth marketing. When customers speak positively about your brand, everyone in their circle becomes a potential customer of yours.
Develop a customer appreciation strategy today. Formulate guidelines around the ideas you choose to prioritize and be flexible to adapt to new situations. Have a budget according to the number of customers you plan to reach.
It doesn't have to cost an arm and a leg. You can start your art business small and scale up as your brand grows.
More From Artistry Found