Best Ways to Make Money as an Artist (The Ultimate Guide)
The "starving artist" stereotype has been around for centuries, and every artist is familiar with the discouragement that comes along with it. While it is true that making a living as an artist has historically had its up and downs, the rise in technology in modern times has given emerging artists a way to reach buyers and make money with their art directly, no matter where in the world they live!
Artists today make money by using social media and their own portfolio websites to connect with buyers around the world. By using technology, social media, and online galleries, artists are able to establish a direct connection with the fans, buyers and collectors of their work while making a good living.
The growing awareness and appreciation of multiple types of art mean that building a successful career as a freelance artist is no longer a far-fetched dream, but a viable option if you know who your target audience is, and the best way to connect with them.
Keep reading to see some of the best ways to make money as an independent artist in the art world today. These revenue streams work, and don't require a traditional gallery or artist representation to reach the widest audience possible. This makes it easier to connect with those interested in you artwork, and sell to them directly.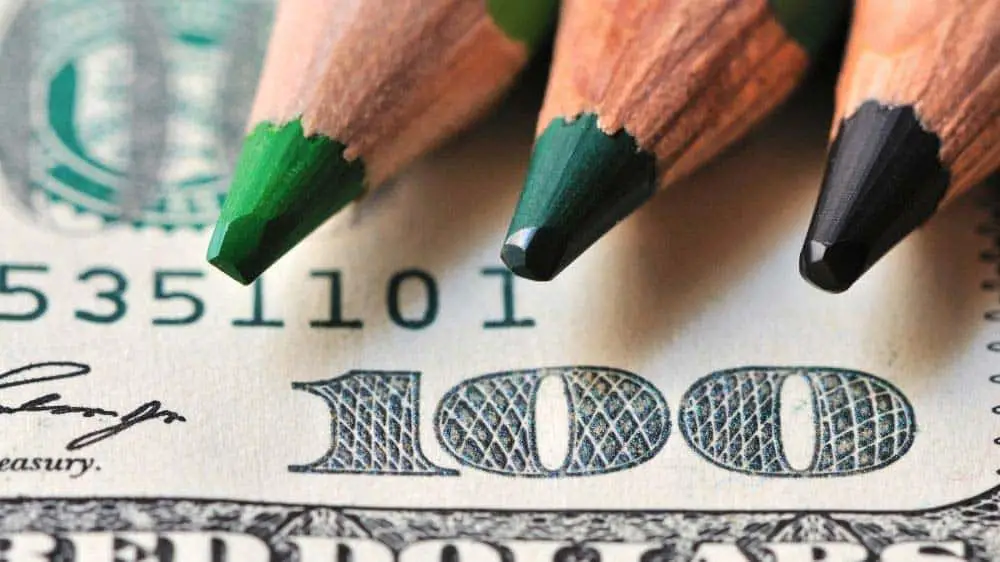 Use Social Media To Connect With Art Buyers
One of the first steps in making money as an artist, is to engage on the social media platforms that make sense for your style of work. While social media has its downsides, one of its wonderful benefits is that it gives a ready-made place for artists to share their work, interact with their audience, and build a loyal following of fans.
Each type of social media has a different kind of audience, so before posting your work on any of them, get to know the audience and what they are looking for in their social media and purchasing habits. When you have that knowledge in mind, you can focus on the audience that best suits you and your visual art style.
Alternatively, you can use multiple forms of social media, while tailoring your presentation with each so that it matches your audience's goals and engages with them. The social media platform used most successfully to sell art right now is Instagram—although other platforms, such as Facebook, Twitter, and YouTube, can also be used as well.
Selling Art on Instagram
Perhaps the most popular (and most effective) form of social media used to promote and sell art is Instagram. It is a great place to make connections and build an audience. You may even be able to befriend a fellow artist or two, which can, in turn, become a mutually beneficial system of sharing each other's work as your audience(s) continue to grow.
Once you've grown an audience, some of your fans will naturally be interested in purchasing your work. The good news is that you don't necessarily need a huge audience for this to happen. It's better to have a smaller group of engaged fans, than a large group of mostly disengaged followers.
Below are a few ways to make sure you make the most of Instagram, and all it offers to a working artist.
Let the Instagram Audience Know Who You Are
Before an Instagram user scrolls through your pictures, there will be a brief moment when they will see your bio. Here you have the opportunity to capture their attention and keep them from clicking away, so be sure not to leave this area blank.
There is no need to be verbose, but this area should give them a clear idea of who you are, your personality, and your style, as well as a link to your online portfolio website (SquareSpace).
Post Only Quality Images to Instagram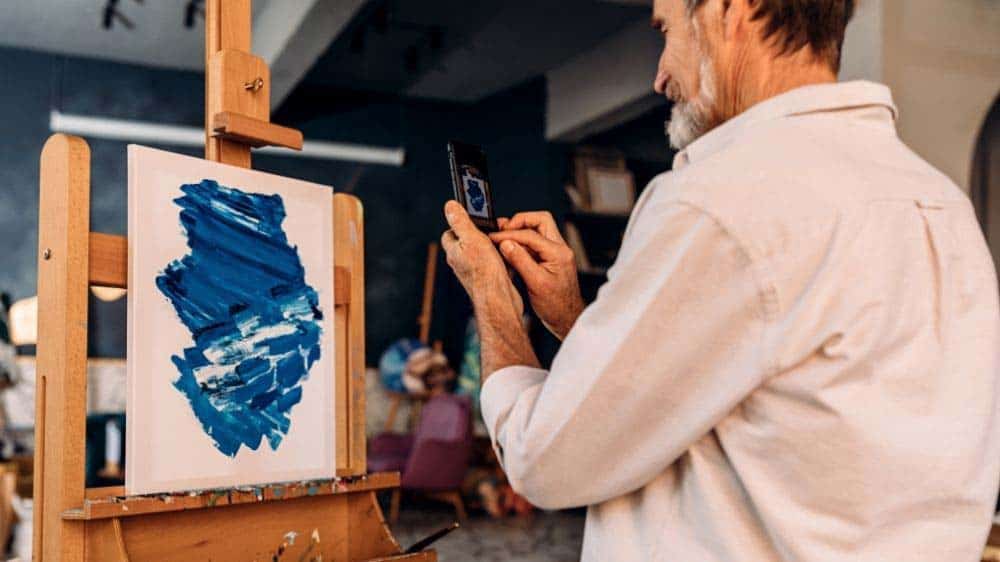 One of the advantages of living in the 21st century is that you carry a camera with you in your phone that can take amazing pictures. Use this to your advantage and take the time to learn about the best lighting, locations, and angles that will show your work to it's full advantage. Play around with your phone and try different settings until you find the camera settings that work best.
Alternatively, you may want to take a short online class or course that will teach you everything you need to know about using your phone's camera to full advantage. There's even a class at Skillshare, that is all about mobile photography basics for succeeding on Instagram.
You may have made the most exquisite piece of pottery or unique piece of jewelry, but if the picture you take of it has bad lighting, awkward angles, or is blurry, then that beauty is not going to be shown to its fullest extent. People will get the wrong impression of your art (or you) and lose interest altogether.
Be Consistent With Your Posting Schedule
Being consistent in your photography style, artwork, and the words you use to describe your art work (also known as branding) is one of the best things you can do to build a returning customer base. People who like a particular style will know they can keep coming back to you for the content that brings them joy, and they will recommend you and your work for others. When you are consistent, people remember, return, and buy.
Maybe your art is quirky and colorful; perhaps you are going for a more Bohemian vibe, or perhaps more elegant and relaxing. Whatever your artistic style is, embrace it and make sure that everything on your Instagram, from the art itself to the story about the art, reflects the feeling you want to convey.
Show Your Creativity
Keep an open mind for unique ways to express or display your art. Changing things up attracts attention and more customers. It may seem like this goes against the idea of branding, but there are ways to stay true to what you want your art to convey while still showing it in a different context or a way that reaches a wider audience.
This could mean anything from sharing a time-lapse video of you as you create the art piece, to taking pictures from a different angle or with the art against a different backdrop. Observe the world around you and be willing to explore and try different ways to present your art and what goes into making it.
Always Use Art Friendly Captions and Hashtags
The two main components to successfully marketing your art on Instagram are mastering captions and hashtags.
Captions require being thoughtful, thinking about who you are and what you are trying to express. A good caption should draw the audience in—tell the story of your art, the process of your art, and what inspired you to create it the way you did.  A great caption will bring out emotions, and when someone is emotionally invested in your art, they will be more willing to buy it and keep buying, as you continue to create new work.
Successfully using hashtags requires research into other artists and what is trending and popular. You also need to get an idea of how many hashtags are the right number, so your audience does not get overwhelmed. Hashtags are a little bit more technical and require some time to see which hashtags are the best for your work. Ideally, you want to find a hashtag that is used often but also matches up with your art style.
The important point here is to use hashtags that already have a large audience of people looking for or following them on Instagram. Writing unique hashtags, is generally useless as nobody will be searching for those.
Stay on Schedule with Your Posts
You want to be sure you post regularly. Stay present with your audience, and keep in mind that if you post sporadically, they will either forget about you or will stop following you. At the end of the day, you are running a business, and having a successful art business means staying consistent.
The two main things to keep in mind are to:
Post often. If possible, share something every day. Ideally, share something twice a day.
Keep a consistent schedule with your posts. Even if you cannot post every day due to other responsibilities in your life, make sure the times and dates you post are consistent, so your audience comes to expect it.
Note: If you are aiming to market your art across multiple social media platform (for example, Twitter and Instagram), there are apps such as IFTTT where you can post to one time and have it set up to post to multiple social media platforms automatically. It may be worth it to use such apps to make scheduling and posting a simple thing you do once instead of multiple times during the week.
Take Advantage of Sponsored Posts on Instagram
Once you have been posting regularly, and have built your audience on Instagram long enough, you could reach a point where you can partner with companies that want to reach the audience you have (such as art supply companies or online galleries).
This typically involves a post showing you using one of their products with a disclaimer at the bottom saying, "Partnership with ____." This can be an excellent way to make extra money with your art and reach more people, as well.
If you choose to approach companies (or they approach you) about doing sponsored posts, be sure whatever you are showing on their behalf is a product you truly love and believe in. Just because it is an ad does not mean that you have to sacrifice your opinions and thoughts, or that it cannot be beneficial to your audience.
Selling Art on Facebook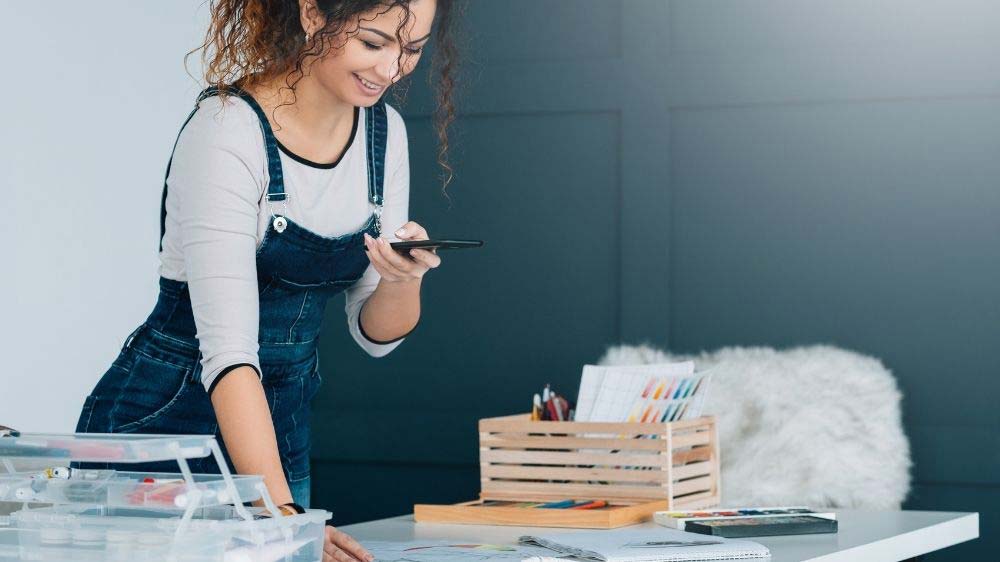 Facebook is another platform that can be used to successfully build an audience and sell your artwork. On Facebook you will need to engage more deeply with your audience. This can be done in a variety of ways, including:
Being open: In short, if you want to make money selling your art on Facebook, your page needs to be public. You'll need to share yourself, as online art buyers will be just as interested in you as in your art.
Organizing your art into galleries with a brief description of each gallery: This creates a more pleasant viewing experience for people as they can focus on the pieces which they are interested in, and not get overwhelmed.
Not posting too much art at one time: Photo dumps can be overwhelming, and your audience will lose interest.
Sharing your personality and thoughts with your audience: This can be done in several ways, including having a consistent theme to your artwork, sharing a story (however brief) each time you post an image, or asking a question related to your work, which gives people the chance to respond and engage with each other as well as you. The more interaction, the more your work is seen and potentially sold.  
Showing your art in different everyday places in your home or office space: While your art may be beautiful, sometimes people are resistant to purchasing it because they do not know how it will look with their lifestyle. Showing it in everyday places where it can be enjoyed to the fullest can help them picture it in their own lives and make them more willing and ready to buy it.
Giving gentle reminders that your artwork is for sale: Every now and then, include prices on the artwork you share and post a link to your website (if you have one).
Responding quickly: Have your business notifications via Facebook messages and email set to alert you if someone reaches out and is interested in buying. The quicker your response time, the less likely they are to change their mind about buying your art. Additionally, they will appreciate your customer service and will be more likely to buy from you again and recommend you and your art to people they know. 
Selling Your Art Using Twitter
Twitter is another form of social media that, if used correctly, can help you display your art and your art knowledge to the fullest extent. Unlike Facebook, Twitter has a character limit, and each post can be no longer than 280 characters. This does not mean that you should not engage with your audience; just that you need to keep it snappy and to the point. No meandering or long explanations about the meaning of the art. It is up to the users to decide that for themselves.
Three things to keep in mind if you want to successfully promote your art on Twitter are that you should:
Always Include Pictures
This includes pictures of you, your work, where you work, and any art show where your work has been displayed. Pictures capture the eye in a way that just your words about your art will not.
When you combine the two, it will paint a picture of who you are and what your art is about. Interested people will share it with their followers, and you will start getting more engagement and customers.
Remember Twitter Users Aren't Always Active
Understand that most Twitter users do not get on their accounts every day. You may have a product or a piece of art that a lot of people may like and be willing to buy, but they simply may not have seen it. Do not take a lack of engagement as a lack of interest. With this in mind, be willing, prepared (and not embarrassed) to repeat your tweets at least twice a week.
Promoting yourself and your work can feel awkward, but like anything else, the more you do it, the easier and more natural it becomes. You can make it less awkward by changing the wording each time you tweet it.
Understand Twitter User Traffic Trends
Understand that there are certain times of the day or week where there will be more user traffic than at other points. Daily, you can count on 12:00 PM and 3:00 PM to have a higher rate of views and engagement (and potential to build your audience).
Obviously, logging in and tweeting at precisely these times can be tricky. After all, you have a life, a family, and maybe another job that you have to focus on.
Fortunately, you can write your tweets ahead of time and schedule the time and dates you want them posted using apps such as Sprout Social.
Using YouTube To Sell Your Artwork
The great thing about YouTube is that no matter what your art form is, YouTube can be a very effective tool in making a living from it. The possibilities for videos are endless and include:
Drawing tutorials/live art classes
Time-lapse videos of you creating your art
Music videos
Skits
To market yourself and your work successfully on YouTube, be sure to do the following:
Research effective keywords: Look up what keywords are likely to get you the most views based on how often they are looked up in search engines, and be sure to put those keywords in your video title, description, and hashtags.
Create a high-quality video of whatever you are trying to do: It sounds like a no-brainer, but it is easy to get distracted by smaller details. Stay focused.
Check out your competition: See what they are doing that is working well for them and what keywords are working (or not working for them). Then edit your work, as necessary.
Put links in your videos, your video descriptions, and your bio section leading to more of your work: Include links to your other social media where your work may be posted, as well as links to your business website where all prices are listed.
Network with other YouTubers: The more familiar they are with you, the more familiar their followers will be with you, and the more potential you have for building your own audience and marketing your own art.
If you're new to the idea or practice of creating a YouTube channel and making videos, you can take the course: How to Make Videos and Start a YouTube Channel over at Udemy. It will teach you everything you need to know to start a successful YouTube channel.
Create an Online Porfolio Website to Sell Your Art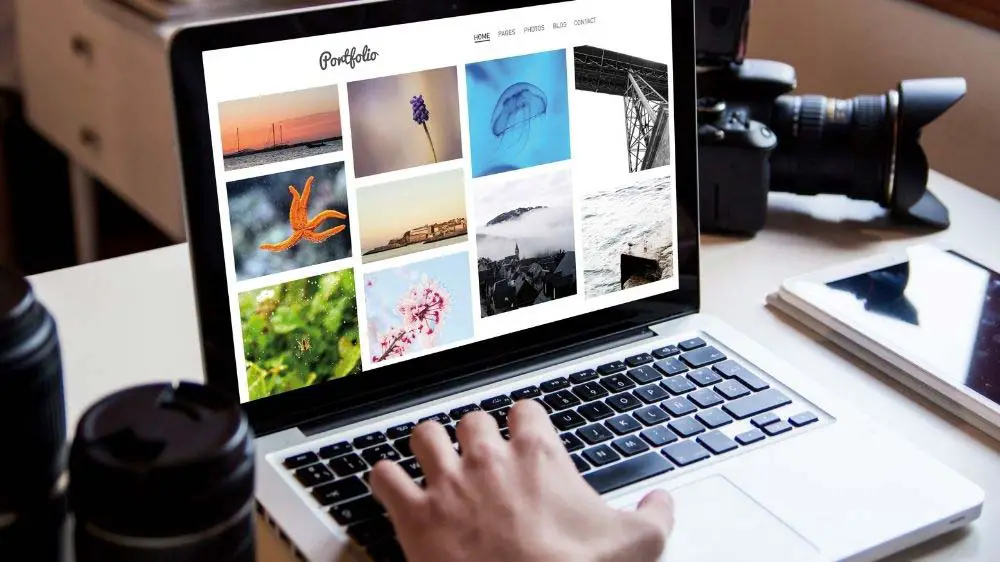 Once you have a social media presence and are beginning to market your work successfully, it is extremely important to have a portfolio page or website to link your audience to where they can find all your art in one place, priced and ready for sale.
Your website is where the actual sales of your work will happen, so it's important to have a professional looking website tailored to your personality and art style.
If you already have an e-commerce website where you can sell your work, you're a step ahead. If you do not have an e-commerce website set up yet, but do have experience creating websites and do not want to have to give a percentage of your sales to a third party, here are some options for building your own portfolio website:
You will need to pay a fee for using these website builders, but it is typically a small yearly fee. In addition, places like Squarespace and FASO will take care of all the technology going on under the hood so that you can concentrate on your art and presentation.
However, if you're new to site building and don't know where to start, there are third-party sites where you can set up a ready-made business page, such as Sellfy, Etsy, and Creative Market, where you can sell on their existing marketplaces. Once set up, these sites can generate a passive income stream from your art while you sleep.
Selling Art Through Sellfy
Sellfy is an option for those who want to have a personalized web page and sell their creative work without too much commitment or incurring upfront fees. It can be used to sell all kinds of art from graphic design, crafts, t-shirts, music videos, digital art downloads, etc. Sellfy does not charge you for listing your products but collects 5% on each sale you make.
The downside to Sellfy is that they do not offer promotion services, meaning that you have to be intentional about marketing your own work. This is where having a social media account works well in tandem.
Sell Artwork on Etsy
Etsy is a great option to sell many kinds of art, from handmade jewelry and pottery to wall art and clothing. To be successful on Etsy, your work needs to be unique. One of the advantages of Etsy is that it will help you market your work by advertising your products around the web. Additionally, if you offer free shipping, then your work will be featured more often (as well as being more attractive to potential buyers).
Etsy has a thriving community of artists, many of whom are making a living selling through Etsy alone.
Licensing on Creative Market
Creative Market is where artists who specialize in graphics such as WordPress themes, clip art, and stock photography can share and sell their work. In fact, rather than being sold outright, the digital art files "sold" are actually "licensed". Art licensing gives the buyer the rights to use your creation on their website or advertising campaigns, but they do not own the end product.
It is more niche, which means the reach and audience will be a little smaller, but you will have the advantage of not having to make yourself stand out amongst many different kinds of art and can focus on the quality of your work and marketing yourself.
List Your Art in Online Galleries
If you like the idea of art galleries but cannot be part of one physically, then a site like Saatchi is a great option for you. With Saatchi, many different types of art, including photography, painting, drawing, sculpting, and prints, can be displayed.
If someone takes an interest in your original art pieces, they can click on your name under your work. This will take them to your portfolio page, which displays all the work you have listed, from there they can purchase your work.
Saatchi is an especially great option for artists who want to sell their original canvas work, sculptures, illustrations, etc. (although art prints can also be offered). If you build up a successful following on Saatchi, it can become a great source of income, as original work sells for higher prices than copies or prints.
Sell Your Work in Person
While the convenience of listing and selling your art online while from the comfort of your home cannot be beaten, there is something to be said for the personal touch as well.
Get to know your neighbors and be active in your community. Check with stores in your area and see if they would be willing to allow you to set up a booth in or in front of their store in exchange for a percentage of what you make.
Register for and be willing to participate in events such as art shows, conventions, and festivals. A well-attended art festival can expand your customer base. As with your business page, or social media account, your booth should be well organized, attractive, and let attendees know exactly what type of art you specialize in. Be sure to have business cards ready-made to hand out with your website and social media, so people can buy later.
Create a Blog About Your Art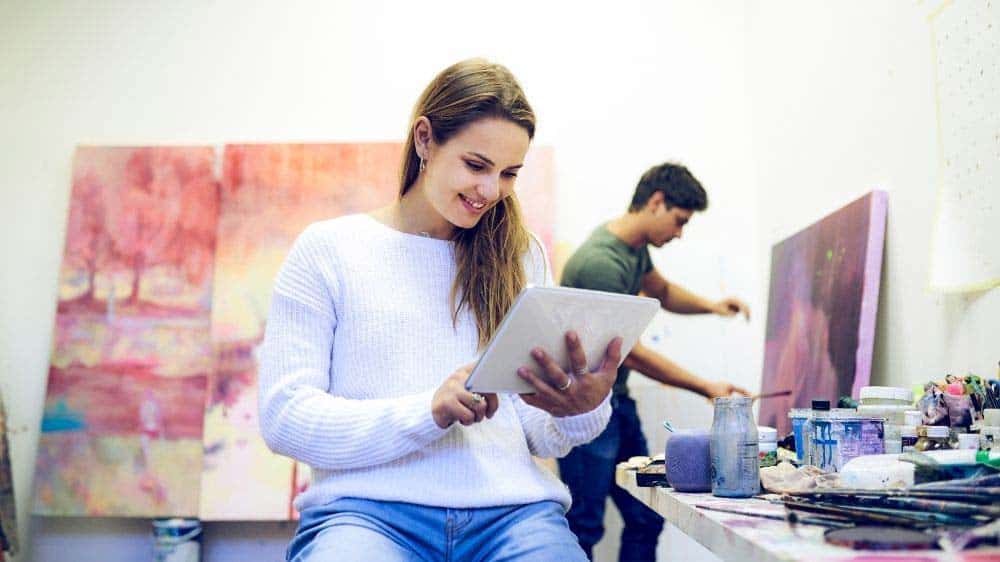 If you enjoy writing, another possibility for making money as an artist is to create an art blog. The possibilities are endless for content and could include:
Testing and reviewing art supplies
Giving tutorials about a form of art that is your specialty
Interviewing local artists
Opinions about local art galleries
If you're interested in blogging as a source of income, I highly recommend Project 24. They will teach you everything you need to know to earn an income with a blog. An art blog can make for an excellent additional income stream, and who doesn't like extra income!
Once enough traffic is coming to your blog, and it is well known and respected in the art world, then it is more likely that you will be paid to review things and receive paid partnerships.
Go After Art Commissions
There are people and businesses who may be looking for a specific piece of art, or have an idea in their head for a piece of art that they want to be unique and only for them but are unable or do not have the skills to make it themselves.
If they like your style of art, they might ask you to create their idea. This is called commissioned artwork, and it can be a very successful and lucrative endeavor if you have a good reputation, good communication skills, and good customer service.
There are many ways to get started as a commissioning artist. If it is a service you are willing to offer, make sure that it is clearly communicated on your social media pages. In addition to sharing it on your social media pages, there are also websites that help connect artists with buyers who want to hire for commission work, including:
Final Thoughts
Like any other job, being a successful artist requires persistence and hard work, but nowadays there are many ways to make money as an artist. The main thing to remember as you market your work is that connecting with others is the most important part of what you do and will affect how successful you will be at making a living with your artwork. Connect with other artists, connect with your neighbors, and connect with your community, either in person or online.
Art is an expression of the artist, so let your audience know who you are and draw them into the thoughts and ideas behind what you create. When people feel connected to something or someone, they are more willing to invest with their time, money, and resources. Use the many forms of social media to create an overall vibe of your work, and don't be shy about sharing the web pages where your work can be found and purchased.
More From Artistry Found:
Resources:
https://www.artworkarchive.com/blog/how-to-make-money-as-an-artist-on-instagram
https://www.artbusiness.com/artists-how-to-sell-art-on-facebook.html
https://www.agora-gallery.com/advice/blog/2018/06/27/3-expert-tips-to-showcase-your-art-on-twitter/
https://www.bluefountainmedia.com/blog/how-to-be-successful-on-youtube