The 21 Best Places to Sell Art Online (Ultimate Guide!)
As a freelance artist, you're no doubt always looking for the best places to sell art online. The ability to sell your artwork online enables you to reach a worldwide audience, allows you to make a direct connection with fans of your work, and removes some of the barriers often encountered by an emerging artist. There are, however, a lot of options for selling your original and print artwork online, and they are not all created equal.
In this ultimate guide, you'll discover 21 excellent platforms for selling your artwork online, plus some tips and tricks to get started with each one. Some of the best online options for selling your art include e-commerce, online art gallery, and art market websites. You can also use social media, streaming, membership, and website building platforms to promote and sell your art.
Let's take a look at each of these options in turn, so you can decide which one (or ones), are right for you as an artist.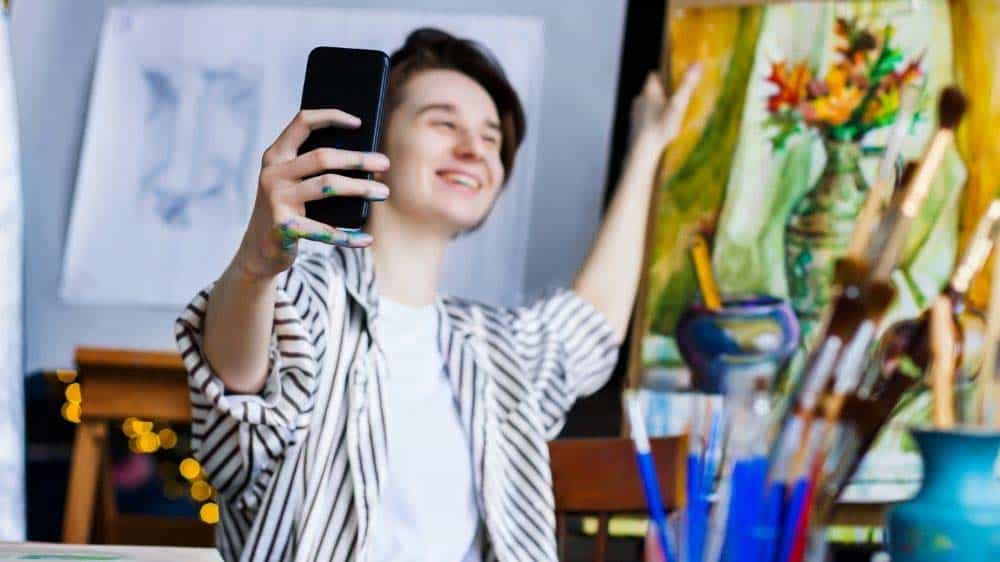 (This article may contain affiliate links and I may earn a commission if you make a purchase)
Using E-commerce Websites to Sell Art
One of the first places to come to mind when looking to sell your art online is an e-commerce website. E-commerce websites are hubs for sellers and buyers. Artists can list their artwork for sale using detailed descriptions and keywords that shoppers will find while browsing or performing searches on the site. The consumer will search for what they're looking for using keywords or by browsing, and then purchase when they find something they like.
Selling Art on Amazon
Amazon.com is a well-known and trusted e-commerce website that has millions of buyers worldwide performing searches for all types of products every day. Artists can sell their art online with Amazon's professional selling plan that allows you to list products like fine art prints or home decor art. The professional plan costs $39.99 a month, plus some additional fees depending on the type of art you choose to sell.
With fine art, you have to gain Amazon's approval before selling it. To request approval from Amazon for selling fine art, all you have to do is select the category "Fine Art" when listing. When it tells you that you're listing in a restricted category, click on 'Show limitations,' and then click 'Apply to sell.' Some examples of fine art include authentic and unique photographs, paintings, and prints. Amazon will take a referral fee of 20% of the selling price of the piece.
With home decor art, you won't face the hassle of waiting for approval to sell your work on Amazon. Some examples of home decor art include authentic artwork and authorized replicas stated to be a reproduction rather than the original piece. Depending on the price point of the art you're selling, the maximum referral fee percentage (Amazon's fee) for home decor art is 15% of the sale price.
You can find more details about selling art on Amazon here.
Selling Art on eBay
eBay.com is a huge e-commerce website where sellers can list the products they wish to sell without the hassle of paying for a monthly selling plan. With eBay, listing your art is entirely free. Depending on the number of pieces you sell in a month, all you have to pay for are the selling fees. The fees for selling art on eBay include 12.55% of the piece's total sale price and $0.30 for the transaction.
You are allowed to list up to 250 art pieces for free on eBay in a month, but if you wish to sell more than that, all you have to do is pay a listing fee. For each art listing you make after you've used up your 250 free ones, there will be a $0.35 listing fee. When selling art on eBay, keep in mind that there are 187 million buyers worldwide, so someone is sure to want what you've got!
Selling Art on Etsy
Etsy is an e-commerce website specifically made for creative entrepreneurs, meaning it's the perfect place for you to sell art online! For each art piece you want to list, there is a small listing fee of $0.20. Your items will stay listed on Etsy for up to four months or until they are purchased. There are also a few other fees: the transaction, commission, and payment processing fees.
Etsy's transaction fee is five percent of the art piece's final price, and the commission and payment processing fee is three percent plus $0.25. Also, Etsy is a protected SSL-encrypted online platform to ensure your purchases, as well as your customers', are secure. With Etsy's targeted ads, your art can reach more customers for an additional 15% fee after purchase.
Using Shopify to Sell Your Art
Shopify is an e-commerce website where you can build your own online business or grow one that already exists. With Shopify, you can sell art whether you're new to the game or already own one or more retail stores. First, you can try out Shopify with a free 14-day trial to see how you like it. Then, you can buy one of the three Shopify selling plans and start bringing home the bacon!
The first selling plan is the Basic Shopify plan, costing $29 monthly. This plan is best for new artists and first time online business owners. The second selling plan is the Shopify plan, costing $79 monthly. This plan is best to grow existing art businesses and artists with some existing customers. The final plan is the Advanced Shopify plan, costing $299 monthly and is best for artist with a large existing following.
| | | |
| --- | --- | --- |
| Basic Shopify Plan | Shopify Plan | Advanced Shopify Plan |
| Sell an unlimited number of art pieces. | Receive professional reports with sales information to improve your online art business. | Make estimating business expenses easier by calculating shipping rates at checkout. |
| Receive a free SSL certificate to ensure your customers' purchases are secure and private. | Allow your customers an option for faster shipping with USPS Priority Mail. | Build your own reports for your business to stay informed and organized. |
| Attract more customers with sales and discount codes. | Sell your art pieces in specific countries of your choice. | Adjust the prices of your art pieces per specific countries. |
Selling Art at Storenvy
Storenvy is an e-commerce website where you can create and launch an online art business. Storenvy integrates a unique social marketing platform, similar to social media, to attract more customers to your shop and boost sales. The more people who like the art you're selling, and the more votes or 'envy' you get, the more likely you are to get featured on the site, which will in turn bring you more customers.
With Storenvy, there are no listing or monthly fees as long as you are on the standard Hobbyist selling plan, so it's totally free to begin selling art. All you have to pay is the 15% commission and 2.9% plus $0.30 payment processing fees when you make a sale. However, if you would like to have more customization options on your site, you can choose the Plus plan for $15 monthly or the Pro plan for $29.99 monthly.
| | | |
| --- | --- | --- |
| Hobbyist Plan | Plus Plan | Pro Plan |
| Sell art on the marketplace. | List up to 2000 art pieces. | List up to 5000 art pieces. |
| List up to 1000 art pieces. | Offer discounts to your customers to keep them interested in purchasing. | Send discounts to your customers automatically. |
| Send messages to customers with abandoned carts to remind them to purchase. | Receive your own custom domain for a more professional business setup. | Request your art pieces to be advertised by Storenvy on social media. |
Using Square To Sell Art Online
Square, also known as Square Up, is an e-commerce website where you can create an online business or expand your already existing in-person business so your customers can also reach you online. The Free selling plan is perfect for new online art businesses and is completely free. All you have to pay is the payment processing fees, which is 2.9% plus $0.30 per transaction.
If you want to gain access to more of Square's web tools to improve your business and increase your sales, you can choose between their two other selling plans: the Plus plan or the Premium plan. The Plus plan costs $60 monthly, and is excellent for expanding businesses. The Premium plan is custom-priced for sellers making $250k or more a year looking to upgrade.
| | | |
| --- | --- | --- |
| Free Plan | Plus Plan | Premium Plan |
| Connect to Instagram so customers can find you and purchase your art directly from the app. | Use advanced inventory tools to help count your art pieces more efficiently. | Receive discounts on helpful tools from Square that could further improve your enterprise-level business. |
| Sell an unlimited number of art pieces. | Receive advanced reports to see what types of art are selling best to keep your business booming. | Manage your business all in one place on Square's platform. |
| Send emails to customers who have abandoned their cart to remind them to complete the order. | Gain team management to give certain employees specific roles to keep business smooth-running. | Choose your own pricing fees with the help of Square's sales team. |
Mercari For Selling Art
Mercari is an e-commerce website that makes selling easy; there are no listing or monthly fees. All you have to pay is a 10% commission and a 2.9% plus $0.30 payment processing fee for every purchase made. Mercari is the perfect place to sell artwork online because they offer tons of different categories for art, whether you want to sell home decor or handmade art pieces.
The different types of art you can sell on Mercari:
Drawings
Paintings
Photographs
Fiber art
Mixed media art
Prints
Sculptures
Art Gallery Websites For Selling Art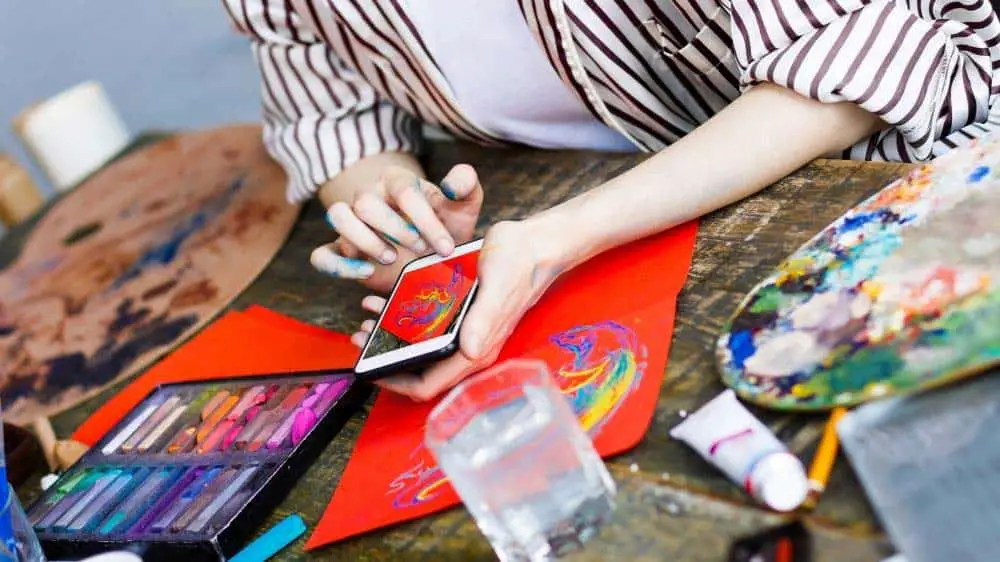 Another excellent option for selling your artwork online would be an art gallery website. Art gallery websites are the internet version of real-life galleries where consumers worldwide can browse displayed art pieces and purchase them if they so choose. An online gallery will usually display and promote your art for a monthly fee or take a percentage from your earnings.
ArtPal For Selling Art
ArtPal is an art gallery website where artists can show off their artwork to attract customers and art buyers. With ArtPal, there are no membership or commission fees, so you can begin selling your art for free and receive 100% of your profits. This gallery website also provides a Print-on-Demand service for sellers to make printing and shipping art to your customers easier.
Some types of art you can sell using ArtPal:
Original artwork
Prints
Paintings
Photographs
Sculptures
Use Artrepreneur To Sell Your Artwork
Artrepreneur is an art gallery website where artists can showcase their artwork, sell their art, and learn more about art with their educational articles to improve their technique and business. With Artrepreneur, you receive 100% of your profits, as there are no commission fees. There are two plans to choose from to sell art, and both have a 14-day free trial to test out the waters.
The first pricing plan for Artrepreneur is the Pro plan. Artrepreneur's Pro plan costs $9 a month per year, or you can choose to pay $12 month-to-month. This plan is perfect for self-employed artists with a small business. The other plan for organizations that sell art is the Pro Organizations plan. This plan costs $12 a month per year, or $15 month-to-month.
| | |
| --- | --- |
| Pro Plan | Pro Organizations Plan |
| Receive 1000 pages to display your artwork. | Receive all of the benefits of the Pro plan plus more. |
| Receive 1000 pages to list your artwork for sale. | List your artworks in a business showroom that is separate from the Artrepreneur marketplace. |
| Offer commissions or other art services by listing them. | Post jobs to hire talented artists for creating more works within your business. |
Saatchi Art – A Big Name in Selling Art
Saatchi Art is a name brand online art gallery website where artists can create an account for free to display and sell their artwork. SaatchiArt makes selling art easy because they don't have any listing fees, and they cover shipping for you. All you have to pay for is the packaging for your artwork and a 35% commission fee, which is an excellent deal as most established galleries ask for 50%.
At Saatchi Art you can sell both original one-of-a-kind art pieces, as well as, limited edition prints, and unlimited reproduction prints.
The different types of art you can sell on SaatchiArt:
Commissions
Paintings
Drawings
Photographs
Collages
Prints
Sculptures
Singulart For Art Sales
Singulart is another online art gallery website where professional artists can display and sell their artworks. To begin selling your art on Singulart, you must first be selected after completing an application. The application just takes a few minutes, and asks you about yourself and your artistic background. When selling art, Singulart covers shipping, packaging, and insurance fees.
Some qualifications to become a seller on Singulart:
Be a full-time professional artist
Participate often in multiple global exhibitions and have exhibition experience
Have a degree from a reputable art school or university
Art Market Websites For Selling Art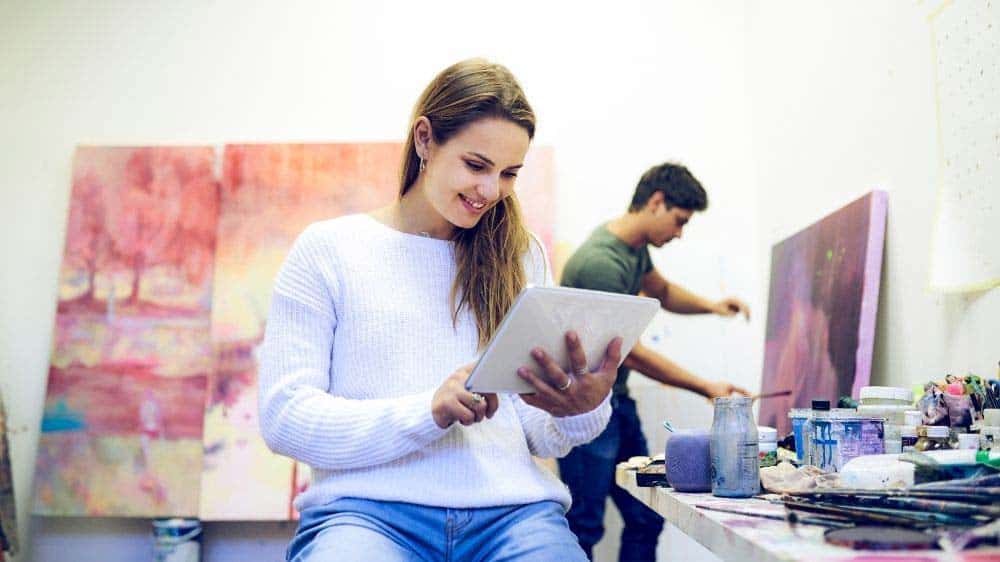 Art market websites are similar to art gallery websites as they display and promote artwork in online galleries for consumers to purchase. However, they are different as they usually only accept one-of-a-kind, limited pieces rather than mass-produced ones. A seller on an online marketplace should price a piece according to its cultural, past, and future value.
Selling on Artfinder
Artfinder is an art market website for independent artists who want to sell their original, handmade artworks. To begin selling on Artfinder, you must first complete an application and be accepted. In this application, you simply tell them about yourself and your art, then show them some samples of your work. You'll need to be patient, however, as it may take up to six weeks to receive an answer for your application.
Once accepted by Artfinder, you can choose one of their three selling plans. The Starter plan for new sellers has no monthly charges, but there is a 40% commission fee from every purchase. The Standard plan for growing businesses costs $5 monthly with a 33% commission fee. The Professional plan for established businesses is $12 a month with a 33% commission fee.
| | | |
| --- | --- | --- |
| Starter Plan | Standard Plan | Professional Plan |
| List up to 30 artworks. | List an unlimited number of artworks. | List an unlimited number of limited-edition artworks. |
| Use up to five tags on your artworks for search. | Use up to ten tags on your artworks for search. | Use up to 15 tags on your artworks for search. |
| Sell your artworks globally. | View the analytics of your page. | Schedule the publication of your artworks for the future. |
Artists&Clients For Selling Digital Art
Artists&Clients is a unique art market website where you can sell not only your existing artwork, but also receive commissions for your art services from clients. It is completely free to sign up for Artists&Clients, so you can begin selling art quickly. All you have to pay is a 15% commission fee and a 4.4% international transaction, plus a 2% withdrawal processing fee.
Use Fine Art America For Selling Original Work & Prints
Fine Art America is an art market website where artists and gallery owners can create an online portfolio, promote their business, and sell original art pieces. You can start selling original wall art using Fine Art America for free; there are no commission fees. Since you get 100% of your profits back, you handle the payment processing, transaction, and shipping fees, as well as packaging.
Arguably, Fine Art America's biggest market is the selling of fine art reproduction prints. Your buyer can choose from the type of print, style of matting, framing, etc. In this case, FAA takes care of the printing, matting, framing, and shipping.
FAA has a unique pricing and commission structure for artists selling reproduction art prints. When you list a new product, you choose how much you would like to receive from a particular style or size of print, and Fine Art America adds on their fee for making the print. So if you want to sell 11×14 canvas prints for $100, FAA will add $44.18 to the price to cover the cost of the printing and shipping, plus their profit. The customer will see a total price of $144.18, and you will receive the full $100.
Either the free version of Fine Art America (aka the Standard membership plan), is perfect for artists who are new to the online business world and want to get used to things. This plan has no monthly cost. Or, if you would like to gain access to more marketing tools, you can subscribe to the Premium membership plan. The Premium plan costs $30 a year.
| | |
| --- | --- |
| Free Plan | Premium Plan |
| Get shoutouts for your art pieces from Fine Art America's Facebook and Twitter pages. | Sell your art products on your own business website using the shopping cart widget. |
| Showcase your art and attract more customers from all over the world. | Create your own business website separate from Fine Art America and sync your listings. |
| Sell through your Facebook page with the shopping cart widget. | Upload an unlimited number of artworks to showcase. |
Selling Art Through Social Media Platforms
According to Statista, 3.6 billion people worldwide are using social media. Artists can promote their art on social media to gain an audience that enjoys their artwork. On most platforms, you can either sell art directly or link to your personal art website for sales. Your followers can also contact you through social media to commission and purchase art pieces.
DeviantArt
DeviantArt is a social media site where artists can display their digital art (perfect for a graphic designer), feature other's art, and make posts to boost their following and attract customers to their work. There are three different memberships to choose from for selling art on DeviantArt: Core, Core+, and Core Pro. There are no commission fees for all three memberships, so you get 100% of your profits back.
The Core membership is an all-access pass for DeviantArt. It costs $3.95 monthly, or $39.95 a year. The Core+ membership can improve your experience on DeviantArt, and it costs $7.95 monthly or $79.95 a year. Lastly, the Core Pro membership lets you use DeviantArt to its fullest, costing $14.95 monthly or $149.95 a year. You still have to pay third-party processing fees.
| | | |
| --- | --- | --- |
| Core Membership | Core+ Membership | Core Pro Membership |
| Create a Premium gallery for paid supporters for a 20% fee from your download sales. | Your Premium gallery fee lowers to 12% from your download sales. | Your Premium gallery fee lowers to 10% from your download sales. |
| Set the digital sale price for your art up to $100. | Set the digital sale price for your art up to $1000. | Set the digital sale price for your art up to $10000. |
| Receive 20GB of Sta.sh storage to store your art. | Receive 30GB of Sta.sh storage to store your art. | Receive 50GB of Sta.sh storage to store your art. |
Facebook Can Be a Good Place to Sell Art
Facebook is a social media site where artists can attract customers by making posts, sponsored ads, and uploading pictures of their art so they can hike up their sales. Creating and maintaining a Facebook business page is free, so you can get started quickly.
Once you have a Facebook page for your art business, you can start selling art through the Facebook Marketplace. All you have to do is pay a 5% selling fee per sale. You can also connect your Facebook shop to Instagram for more exposure.
Promote & Sell Your Work on TikTok
TikTok is a very popular social media app with 689 million global users as of 2021. On TikTok, your 'For You Page' shows users what they like to see based on their likes and searched hashtags. Artists can use TikTok to promote and sell their art by showing it off with hashtags to attract a following. You should like your page to your e-commerce shop, standalone business website, or Instagram shop.
YouTube Grows Audiences That Want To Buy Your Art
YouTube is a social media site where you can view videos from artists worldwide. You can film and monetize videos showing your creative process and provide links to where viewers can purchase your art or even accept commissions from commenters. Show your appreciation for your paying subscribers by creating a channel membership and showing exclusive content.
Some qualifications for earning money on YouTube as an artist:
Have more than one thousand subscribers
Have over four thousand watch hours in the past year
Have an AdSense account linked to your channel
Streaming Platforms Can Sell Art
Streaming platforms are another excellent option for selling your art online because you can promote your artwork by showing behind-the-scenes footage of your creation process, which can connect your followers to your art pieces. Plus, you can get more money depending on your number of subscribers and accept donations as well as commissions from commenters.
Selling Art on Twitch
Twitch is a streaming platform where artists can share their creative process with viewers and monetize their work through channel subscriptions and donations. Artists with businesses can also shout out their business' social media accounts or websites so viewers can find where to support them by purchasing art.
Channel subscription prices:
Tier 1: $4.99 a month
Tier 2: $9.99 a month
Tier 3: $24.99 a month
Prime Gaming: Link your Amazon Prime account to subscribe to one streamer a month for free.
A Membership Platform That Can Sell Artwork
Membership platforms can help artists earn more money to keep up their hard work by creating a paid subscription service for their followers in exchange for perks and promoting their business. Perks for your subscribers could be anything from never-before-seen artworks, footage of your creation process, or even exclusive discount codes for some of your art pieces.
Patreon and Selling Art
Patreon is a membership platform where artists are supported by their patrons in exchange for creative content only their patrons can see. Using Patreon's membership tiers from the Pro and Premium plans, you can set different prices and rewards for your patrons. For the Pro plan, Patreon receives 8% of your monthly income. For the Premium plan, they receive 12%.
| | |
| --- | --- |
| Pro Plan | Premium Plan |
| Offer unique services to your patrons for a limited time with the Special Offers tool. | Receive a Dedicated Partner Manager who teaches you how to enhance your earnings. |
| See the analytics of your memberships, so you know when to improve your performance. | Create merchandise for your patrons to improve your tier benefits. |
| Learn how to improve your business through live streams with top creators. | Receive help from your team to run your business. |
Website-Building Platforms (Your Own Art Website)
Artists can create their own customized web-based business to sell their art online using website-building platforms. Website-building platforms are host websites that can help self-employed artists effortlessly build a web-based business without the hassle of learning manual code editing. You can pay a monthly or annual fee to have your own domain.
Squarespace
Squarespace is a website-building platform that makes it easy for artists to create their own business websites to sell art. You can begin selling art on Squarespace by making your own custom website layout and then purchase one of their three plans: the Business, Basic Commerce, or Advanced Commerce plans.
| | | |
| --- | --- | --- |
| Business Plan | Basic Commerce Plan | Advanced Commerce Plan |
| $18 a month, per year | $26 a month, per year | $40 a month, per year |
| Receive a free custom domain. | Sync your shop with your Instagram. | Send an email to customers who have abandoned their carts. |
| Sell an unlimited number of art pieces. | Allow your customers to enter waitlists for restocked art prints. | Offer discounts for high-priced orders. |
Summary
There are plenty of different ways you can sell all kinds of art online, whether you're an independent artist new to the online business world or an experienced entrepreneur. Some places take a commission fee or charge monthly fees for your presence on their site, while some allow you to receive 100% of your profits. Make sure to go with a place that best suits your art style, personality, and business goals.
Learn and master one of these platforms. Once you've got it down, start working on adding another one. Having a solid presence on at least a couple of these platforms, along with having your own personal art website (Squarespace) will give you an excellent engine to create a living as an artist.
More From Artistry Found: