15 Best Places to Buy Art in Austin, Texas (Local Art)
Shopping for art in Austin, Texas, is a truly enjoyable experience. Austin is such a cool city, and the art buying opportunities seem almost endless. However, if you want to cut to the chase and head straight to the best places in the city to buy art, I've put together a list of the top spots to buy local art in Austin, TX.
The 15 best places to buy art in Austin are:
1. Ao5 Gallery
For over two decades, Ao5 Gallery, Austin's largest contemporary art gallery, has provided a diverse range of exceptional work at a reasonable price. This museum-like environment has over 7,500 square feet of artwork, including pieces by over 100 contemporary artists. You'll also find original and vintage posters from across the world.
2. Art Direct
Art Direct offers works from local artists and provides some of the best customer services around. In addition, they have a beautiful array of frames to choose from.
If you have a question regarding their collection or services, they are more than willing to provide answers. Art Direct also offers printing services, metal and canvas art, custom framing, and photo restoration. Whatever you need, the gallery is there for you.
3. Art For The People Gallery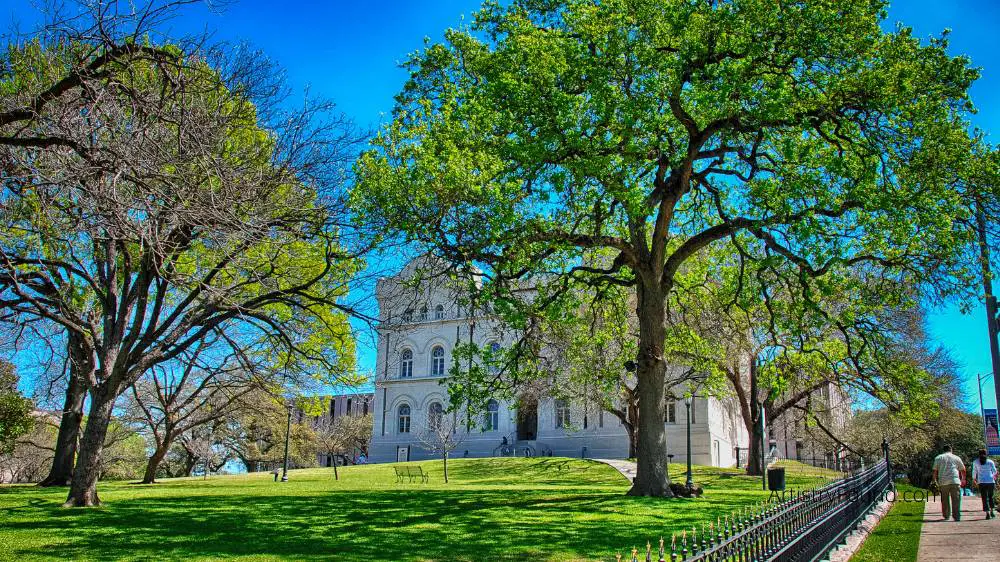 (This article may contain affiliate links and I may earn a commission if you make a purchase)
The Art for the People Gallery in Austin, Texas, is a beautiful gallery that can be found on South 1st St. The Gallery is a significant contributor to the community's growth and development by hosting local art shows featuring a wide diversity of artists and mediums.
They ensure that each art exhibition is of great quality. Their art market also includes a broad range of products, such as jewelry, home design and decor, and body care. 
4. Austin Art Garage
Located in north Austin, Austin Art Garage is a space designed to allow emerging artists the chance to show and sell their work to a broad range of art buyers. Art lovers have an opportunity to purchase artwork from artists that aren't yet established, making the art a great investment possibility.
The art garage has a cheerful, funky atmosphere that any artist or art buyer will appreciate, and you're sure to find something you love regardless of your budget.
You will find a visit to the Austin Art Garage an enjoyable experience as it promotes a great selection of artworks in a fitting environment.
Map of places to buy art in Austin, TX
5. Blue Genie Art Industries 
Rory Skagen, Dana Younger, and Kevin Collins founded Blue Genie Art Industries in 1999 in Austin, Texas. Skagen Art specialized in murals and large-scale Styrofoam sculptures, while Dana Younger and Kevin Collins offered a line of art items that included molds and props for theater and print advertisements. The combination of two elements produced a spectacular art industry. 
Blue Genie Art has contributed to the city's development by offering some of the best art creations. Blue Genie's sculptures and murals have also contributed to a positive atmosphere in Austin, which has benefited tourism and trade.
6. Blue Moon Glassworks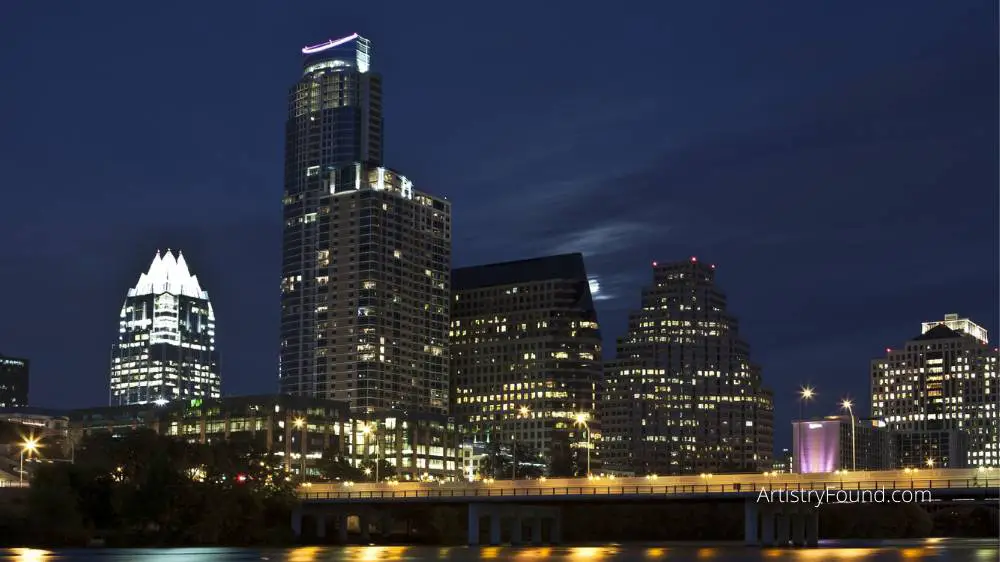 Blue Moon Glassworks is a retail art glass workshop specializing in glass fusing, flameworking, stained glass, and jewelry. In addition, it offers custom structural glass design, fabrication, and installation services. 
It also offers lessons for people interested in learning about working with stained glass, mosaics, glass fusing, and jewelry design. Here, you can learn the basis of artworks from some of the best local and international artists.
7. Cafe Monet
If you love pottery art, Cafe Monet should be your first stop. The venue offers a unique experience for people interested in the process of pottery. Here, you can choose to buy a piece or create one for yourself. In addition, they have a friendly team that is always ready to walk you through the process.
8. Canopy 
Canopy is a creative community of local artists, small studio spaces, and cafes located on nearly four acres. Though it started operating a few years ago, it has developed to accommodate several collections of arts and other materials. You'll be mesmerized by the sheer beauty of the work on display and those available for purchase.
This is the best place on the east side for you to explore and purchase artwork. Here, you'll find a plethora of old and new galleries, each with a unique approach to art.
9. Cherrywood Art Fair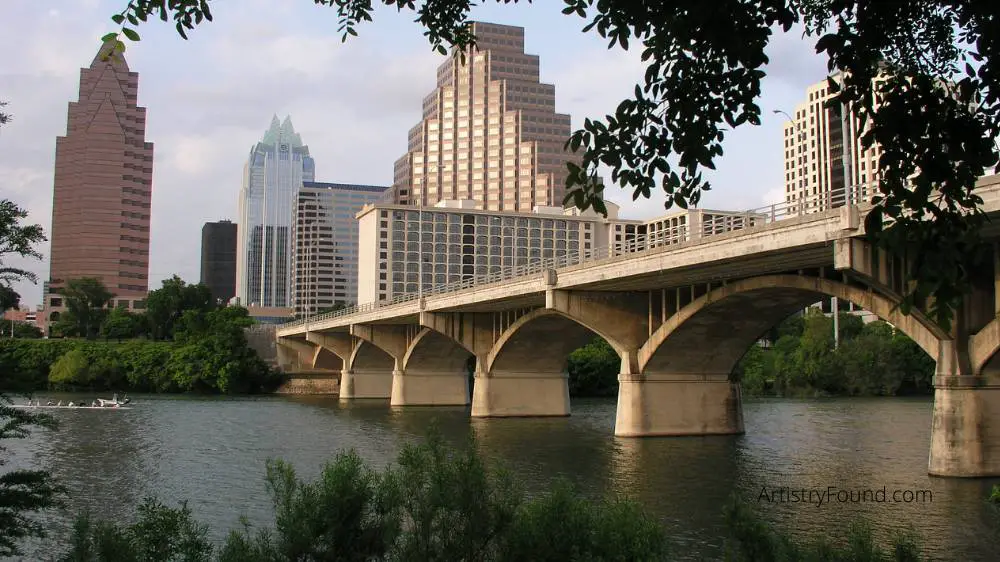 Cherrywood Art Fair started operations in 2002 at the Asbury Methodist church. It initially had only ten artists in its database but soon grew to include dozens of local artists. For over 17 years, the fair has expanded to accommodate food vendors and performance groups. However, its primary purpose is to promote young artists, helping them to exhibit their works for art lovers to view or purchase.
It hosts a two-day event each December where it showcases several performances and creations, such as artworks, music, and great food. It is the best place to find some of the exceptional artworks and hand-crafted items that can beautify your space.
10. E. Wildman Gallery
E. Wildman Gallery specializes in big-scale mixed-media abstract art, in addition to a vast selection of smaller pieces. The E. Wildman Gallery offers a customized art service, which allows you to view the artwork in its original studio.
The gallery's art has featured in movies and commercials, including HGTV property brothers.
11. Images Of Austin And The Southwest Art Museum
Images of Austin and the Southwest have original artwork and prints of the Southwest, Central Texas, and Austin's favorite sights. These works are available for purchase. In addition, they offer a full-service custom frame shop with the largest selection of frames and have been delivering top-quality design and craftsmanship for over two decades. 
You can receive personalized and comprehensive commercial services using the gallery's frame shop skills, such as conservation framing and custom designs.
12. Lotus Gallery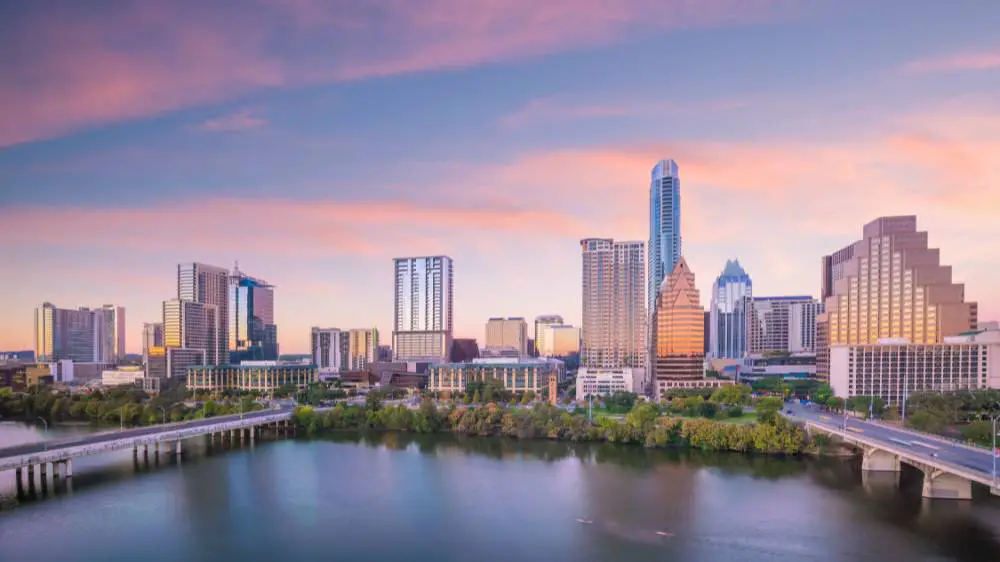 Lotus Gallery is the ideal place to purchase some unique Asian antiques, textiles, and decorative arts. The gallery started operating in 2001. Today, it is a member of the Antiques Council and provides some of the best selection of Asian sculptures and furniture.
13. South Austin Gallery 
South Austin Gallery is a creation of two talented artists, Jennifer and Joseph worth. Of course, it took a lot of time to get their business to the level it is. From its humble beginnings, it has become one of the most influential art shops in its community. 
As artists, they aim to capture images and present them in beautiful artistic formats. Though based in Austin, they have expanded to other parts of the state. They also offer custom art canvases, mugs, prints, ornaments, cutting boards, and so much more. 
14. Turquoise Trading Post
Turquoise Trading Post opened its doors in August 1994. Though the inventory started small, it has grown to encompass over 3,000 square feet of inventory. At the Turquoise Trading post, you find everything Native American. 
They have collections from Zuni, Santo Domingo, Navajo, and Hopi. With the aim of having variety for their customers, they make new orders every week. Most of their art pieces are unique and you cannot find them in regular outlets. 
Their collections include jewelry, pottery, and other Native American art. You'll also find some beautiful sand paintings that would make an excellent addition to your collection.
15. Yard Dog Gallery
Yard Dog Gallery is an unconventional gallery that displays work by artists from throughout the United States and Canada. They also include the work of a variety of well-known musicians, like Tom Russell, Jad Fair, Jon Langford, Ian McLagan, and Bob Schneider in their collection.
The gallery is in the heart of the shopping district on S. Congress Avenue, which is a fantastic place to explore.
More From Artistry Found