Why Artists, Designers, & Musicians Use Mac Computers (Explained)
As an artist, the right tools can make all the difference when it comes to creating your art. This is true for graphic designers, musicians, and every artist in between.
Mac computers continue to be one of the best tools for creative designers. In fact, 99.9% of graphic designers use a Mac instead of a Windows PC.
So why do artists use Macs? What makes them so special?
Artists, graphic designers, and musicians use Mac computers because Apple has designed a variety of high-quality creative applications made to run in the Apple ecosystem. In addition, Macs' operating system and user interface are easier and more intuitive for creatively minded people.
Read on as we dig into the specifics of what makes Mac Computer (Amazon) the best fit for many artists, musicians, and graphic designers, plus we'll also discuss some of the artist-friendly programs built by Apple for the Mac such as Logic Pro, Garageband, Sketch, and more.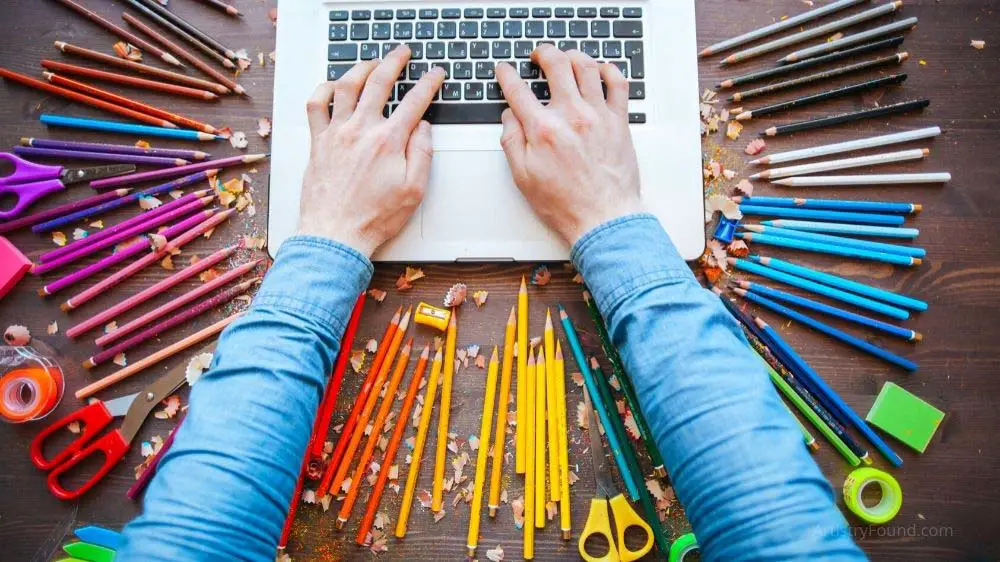 (This article may contain affiliate links and I may earn a commission if you make a purchase)
Why Do Artists Use Mac Computers Over Windows?
As we mentioned above, many artists — including musicians, graphic designers, etc. — choose Mac computers over other options, like Windows, for a variety of reasons.
Let's explore some of them below:
Superior Build Quality & Performance
From the new Macbook Pro and stylishly thin Air to the classic iMac desktop computer, Apple's selection of computers are considered premium products by many.
The main reason is the sleek styling and superior build quality of Apple's products. More often than not, Mac computers are ahead of the curve when it comes to hardware and aesthetic design.
Known for boasting sleek and elegant contemporary designs — take the aluminum unibody of the Macbook, for instance — Apple's computers don't just look great, but they're built to last.
As a graphic designer myself, I personally appreciate the retina display of my Macbook Pro, which truly makes my designs pop.
Not to mention, when comparing my Mac laptop to my Windows laptop, it's a night and day difference in terms of speed and usability.
This obviously is thanks in part to the Mac OS itself, but the M1 chip inside my Macbook Pro was designed to significantly increase performance and battery life, and I find that it definitely delivers on both fronts.
Wide Range of Accessories Useful For Artists
Designing or putting together music-related projects on a computer without the proper accessories can be next to impossible.
Luckily, there are a variety of unique and helpful external tools available for Mac computers to make an artist's life a lot easier.
Apple Pencil & Magic TrackPad
While styluses aren't a new accessory, by any means, the Apple Pencil (Amazon) is arguably one of the best on the market.
Not only does it often get praised for its ergonomic design (which feels great in your hand) but it offers precision when designing on programs like Pixelmator Pro or Affinity Photo.
The Magic TrackPad (which is a separate accessory) acts as a tablet, allowing you to use your Apple Pencil to take notes and make sketches just like you would on a piece of paper.
Magic Mouse
Unlike most "wireless" mouses on the market, the Magic Mouse (Amazon) lets users perform simple gestures to quickly scroll through documents, swipe between programs, and more.
The design of the mouse is perfect for artists who work quickly and need a mouse that doesn't lag behind.
It also boasts a long battery life to keep it from dying when you're in the middle of a creative project.
Airpods
The Airpods (Amazon) have been extremely popular for music listeners and those who want a wireless way to chat on their iPhones.
With that said, the sound quality of these wireless earbuds makes them an incredible accessory for musicians and producers working on a track in Garageband or Logic Pro.
What Mac Apps & Programs Are Available For Artists?
No matter if you're using a Mac computer to make music, design logos, or create sketches, the OS has a few applications and programs built specifically for artists like you.
Apps For Musicians
Logic Pro
Both music producers and artists of all genres use Apple's Logic Pro. This digital audio workstation lets you mix and record tracks in one place with a slew of other useful features, including:
Thousands of samples and instrumentals
Loops and sound effects
An easy-to-use interface for fast music production and recording on Mac computers
Garageband
Garageband is similar to Logic Pro in that it allows you to produce and record tracks in an all-in-one application.
You can create everything from songs to podcasts while utilizing a library of samples and sound effects to enhance your projects.
Both of these applications were designed to specifically to run on Apple devices and the Mac operating system. While there are workarounds to use these programs on a Windows machine, it's not as seamless as running them on a Mac.
Affinity Photo & Pixelmator For Graphic Designers & Artists
As a graphic designer and a Mac owner, I use both of these apps on a daily basis. However, Affinity Photo has a slight edge over Pixelmator Pro, in my opinion.
Affinity Photo
This premium photo editing tool is available for a much lower price than similar apps and lets you edit images, create multi-layer graphics, and more.
If you've ever used Adobe Photoshop in the past, then Affinity Pro will look and feel very similar to you.
With this in mind, it's one of the best apps for designers and artists switching from a Windows PC to a Mac.
Pixelmator Pro
With Pixelmator Pro, you can draw and edit images in one singular app with one special feature not many photo editing programs have: a machine learning auto color adjustments tool.
This allows designers to make color changes easily. Beyond this feature, though, you can also export images directly to your website.
Here are some additional features of Pixelmator Pro I think digital artists and designers will appreciate:
Preview option allows users to see how edits will look before they commit to them
Text editing tool
Easily edit and export SVGs
Draw and sketch by hand with integrated painting tools
Conclusion
So, why do artists use Mac computers? As we discussed, artists, designers, and musicians choose Mac primarily because it features the most widely used operating system in the creative design industry.
Beyond that, though, an Apple computer offers superior build quality, multiple accessories, and a wide range of applications and programs to help artists work on their craft.
With that said, Macs do cost significantly more than other computers out there, like Windows PCs and they aren't for everyone.
If you're an artist, we recommend you do some research and find the best computer for you.
More Artist Q & A From Artistry Found
Resources