Why Artists Keep Sketchbooks (Explained!)
Artistry is a journey in which the artist seeks to enhance their creative expression and gain new perspectives about the world around them. To help them on this journey, an artist's best friend can be a simple sketchbook. But why do artists keep sketchbooks and how does it help them?
Artists keep or carry sketchbooks with them so that they can capture their ideas whenever inspiration strikes. An artist's sketchbook is a journal of an artist's observations of the world. Quick sketches can provide a blueprint to follow when creating an elaborate piece of art at a later date.
You're probably recalling how many times you've seen your artist friends pull out a sketchbook from their satchels and start scribbling. It is understandable that a sketchbook is integral for a sketch artist or a painter, but can it help with other artforms too?
Let's take a look at how this simple object can prove to be monumental when it comes to helping an artist improve their work.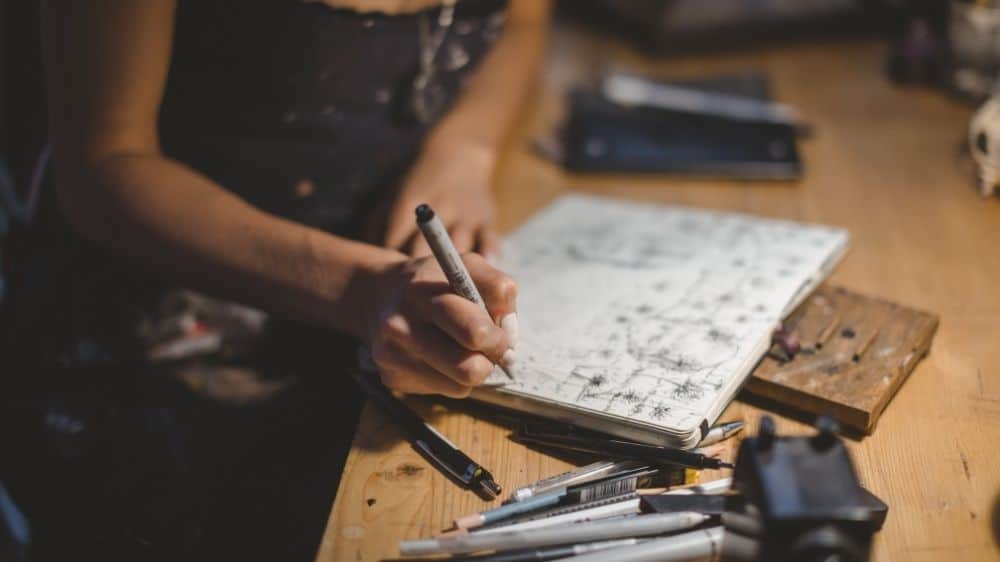 (This article may contain affiliate links and I may earn a commission if you make a purchase)
1. The Sketchbook is a Portable Training Ground
No matter what visual artform you practice, a sketchbook can serve as an instant canvas for you to practice your skills or collect ideas. Artists carry sketchbooks to be able to refine their skill set on the go.
As an artist, one can quickly draw a freehand blueprint of an idea they want to explore in-depth at a later time.
This freehand practice drawing can guide you when you work on the actual painting or art. This allows the artist to form a clear picture of the final art piece.
This also helps in understanding how the art can be made better and allows the artists to take control of where the art takes itself. Even sculptors have used this avenue to bring their sculptures to life.
Not to mention, carrying a sketchbook around facilitates an artist's routine. In the current fast-paced world, it can be difficult to dedicate time to one's artistic calling effectively.
Keeping a sketchbook can be handy by helping the artist delve deep into the world of art and practice whenever possible. They can take their sketchbooks out and draw away during their free time wherever they go.
2. A Sketchbook is There When Artistic Inspiration Strikes
Check out the Arteza Faux leather, library quality sketchbook at Amazon.
It's well known within the artistic community that anything can inspire a piece of art. Inspiration can be found from anyone, anything, and at any point in time.
Keeping a sketchbook can help the artist bring that immediate inspiration to life at any moment.
It often happens that something sparks an artist's creativity, but they do not have a workspace to let the creative juices flow. This can either diminish the idea, or the artist might not be able to recollect it fully at a later point in time.
Everywhere an artist goes can serve as an endless source of inspiration and is open to artistic interpretation. An artist can sit virtually anywhere and practice emulating the beauty of the world around them. It can also expose them to factors like lighting, shadows, and depth to help them hone their skills.
With a handy daily sketchbook, artists can give these sudden bursts of creative inventiveness a material nature. They can also quickly draw sketches of the world around them as they see it and work on these sketches in greater detail later.
Artists can instantly take their sketchbooks out and make a rough drawing of what they have visualized in their minds. The little concept art in the sketchbook, coupled with the artist's skill set, can manifest into a truly mesmerizing and meaningful piece of art.
3. A Sketchbook Helps Your Abstract Ideas Grow
As already established, artists can draw inspiration from anywhere and at any time. Some of these ideas might not be fully correlated to the real material world. Some ideas transcend conventional views and convey a deeper, more imaginative picture.
Artists keep sketchbooks to help their abstract ideas and sudden inspirations take form on paper. These conceptual ideas have given the world some of the most exquisite pieces of art. They go beyond the barriers of art forms and produce amazing works.
Also, when working on abstract ideas, having a general idea of where one wants to take their art can go a long way in giving the art a more complete nature. This general blueprint can also help the artist make a piece of art exactly the way the artist had imagined it in the moment.
4. A Sketchbook Helps To Develop Artistic Skills
The Bachmore Sketch Book is one of the most popular sketchpads at Amazon.
Drawing and painting are practice-oriented art forms. Every artist has room for improvement and can make their art better with some effort.
Keeping a sketchbook allows artists to be connected to their art at all times. A sketchbook serves as an art journal that allows an artist to keep track of their progress. It is direct evidence of the improvements made by the artist over time.
An artist can simply look into their sketchbook and understand how their own artistic journey has evolved. It can also help them plan their journey going forward.
The rough sketches and doodles can also serve as building blocks for new ideas and future art pieces. This can serve as ample playing material for artists to tinker with.
5. Sketchbooks Can be the Perfect Artistic Training Wheels
The Moleskine Art Sketchbook (Amazon) is a smaller (5″ x 8.25″) hard cover book suitable for dry media including pens, pencils, and markers.
Any person looking to dive deep into the world of visual arts can make good use of this simple tool. The sketchbook can serve as a private training ground and can acquaint beginners with the technicalities of art.
Sketchbooks allow artists to practice with various materials and use different techniques to create their art. The artists can then slowly maneuver to other mediums like canvas, wood, or mixed media.
Any beginner can start drawing small subjects and then gradually build up to drawing more complex artworks. It can also help them to become more confident with their strokes and become better artists every day.
A sketchbook can truly serve as an apprentice to every artist out there. It can remove the barriers of time, place and can ward off any 'creative blocks.'
It can be an incubator for your ideas and will help you develop as an artist. Sketchbooks are a great way to document one's artistic expression, and their proper use can elevate the quality of your artworks.
With a simple sketchbook drawing habit, artists can remarkably improve their skills and, at the same time, have a personal art gallery full of ideas always close at hand.
Different Types of Artist's Sketchbooks
The Canson Watercolor Pad (Amazon) has textured paper that is perfect for watercolors, pens, colored pencils, charcoal, pencil, and acrylic.
While in its most basic form, a sketchbook is just a bound book of some type with blank pages. In practice, however, there are different types and styles of sketchbooks that may be better suited to certain types of art or media.
Sketchbooks come in different sizes and have different bindings. Perhaps more importantly, is the type of paper included in a particular artist's sketchbook. You can get heavyweight or lighter-weight paper or paper that is better suited to drawing with different mediums such as a pen, pencil, or brush.
You can get an artist sketchbook with paper that is suited for dry mediums such as pencils, markers, or a ballpoint pen, or you can get books with textured watercolor paper that is perfect for wet or dry mediums.
Here are examples of some of the different artistic sketchbooks available on Amazon.
While the type and style of the sketchbook will depend on your needs and artistic medium, each sketch pad serves the same purpose. They make it handy for the artist to get their ideas down on paper as quickly as possible.
Final Thoughts About Artist's and Sketchbooks
A sketchbook provides an artist a handy tool to sketch or draw their observations and inspirations without needing access to their entire workspace or having a full set of tools on hand. In addition, it allows an artist to practice their art form and keep a visual journal of their artistic progress.
Every artist should keep a sketchbook close-by.
More From Artistry Found: