Where To Buy One Of A Kind Art? (16 Best Places To Look)
Do you love collecting unique art pieces? If so, you're not alone. Many people enjoy the unique beauty that comes with owning something unlike anything else in the world. Art gives us something special that nothing else can!
However, obtaining an affordable and distinctive art collection can be a challenge. A great place to find one-of-a-kind artworks is through a reliable online marketplace. There are many websites selling unique pieces from independent artists. And if you get lucky, you can end up finding some incredible deals.
In this blog post, I've gathered a list of some of the best places to find one-of-a-kind artwork. Whether you're looking for paintings, art prints, sculptures, canvas prints, pop art, abstract, or any other types of art, I'm sure you'll soon have an impressive collection. So let's dive in.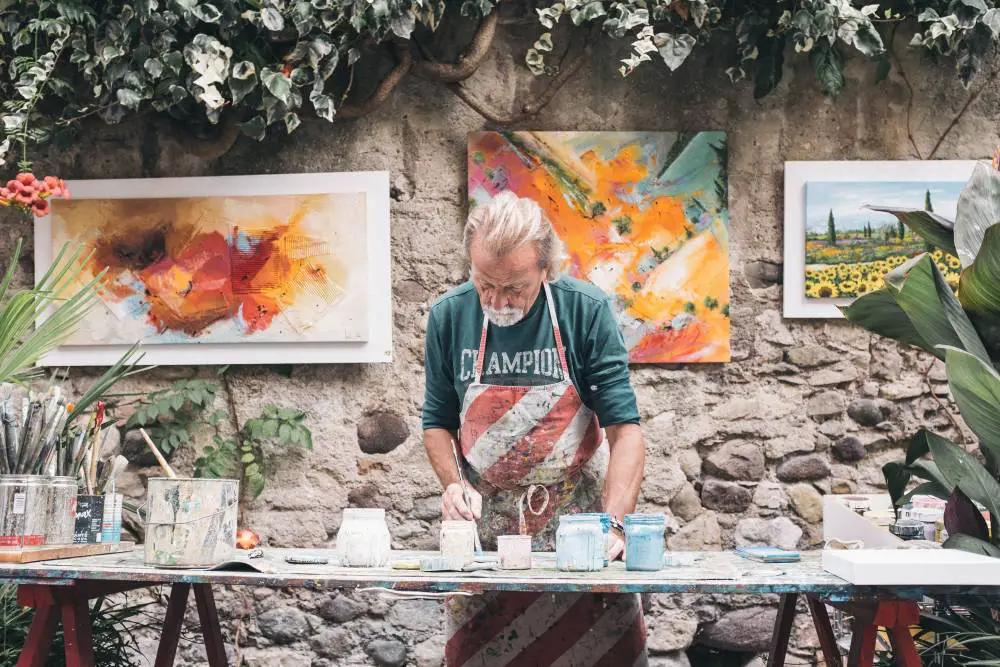 (This article may contain affiliate links and I may earn a commission if you make a purchase)
Photo: Unsplash
Turn to Etsy!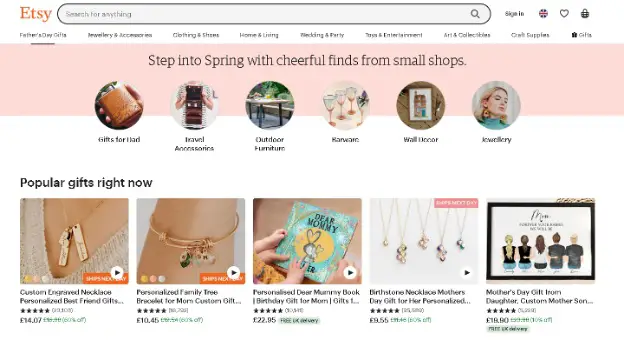 Etsy is a website where artists and craftsmen sell handmade products, including paintings, vintage items, wall art, and many other types of artwork. It's a great place to find one-of-a-kind art because there are so many different sellers from all around the world.
The great thing about this is that you can directly contact the artist and strike a deal with them according to your budget.
Go For Minted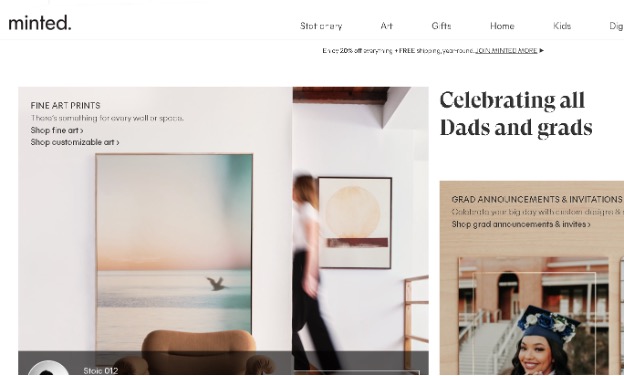 Minted is an independent online market with emerging talent that provides exceptional pieces of work. It offers a wide range and variety of photography, drawing, portraiture, painting, abstract art, etc.
With Minted, you can customize your search for photos, artworks, or illustrations using many requirements, including independent artists and location. This is a great feature for art enthusiasts looking for something that has never been seen before.
Zatista is a Must-Try
Zatista is the leading virtual location to buy original artwork, with amazing work from over 4,500 artists worldwide. Browse and purchase directly from the artists' studios without ever leaving home.  It's a great place to find one-of-a-kind pieces. You will find some valuable fine art prints, paintings, and original art in this marketplace.
Look for Saatchi Art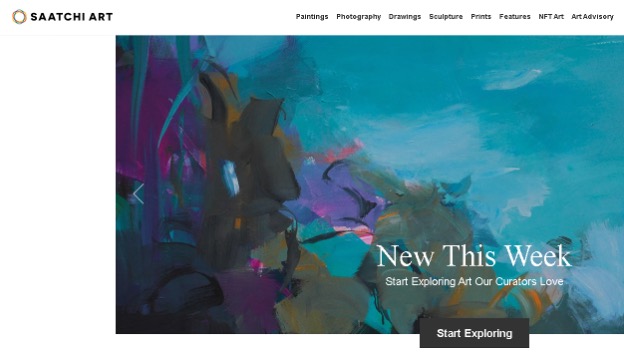 With Saatchi Art, you can buy or sell artwork. It is a good place to find one-of-a-kind artwork that is affordable. The website is a great hub for paintings, sculptures, drawings, NFT artworks, and other types of art mediums. 
This site allows you to search and shop by categories and cost. Their paintings can be expensive because they are original, but you can still find some impressive pieces for under $500.
Explore Society6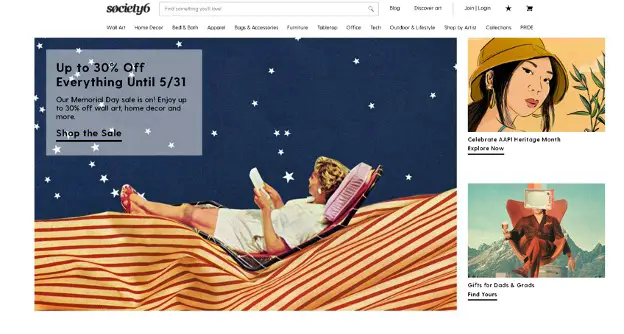 Society6 is a website where emerging and independent artists can sell their unique and original pieces of work by uploading them directly onto the website. Society6 has a wide range of artwork, including framed pictures, sculptures, rugs, pillows, acrylic frames, and small pieces of canvas art.
The site is user-friendly and allows you to browse quickly and easily. You can search based on the kind of art you want. There are many navigation options, including home decor, wall art, home appeal, and many more. You can also shop by artist and collections, plus they even have a return policy if the piece doesn't work for you once you have it in your home or office.
Ever Tried Artfinder?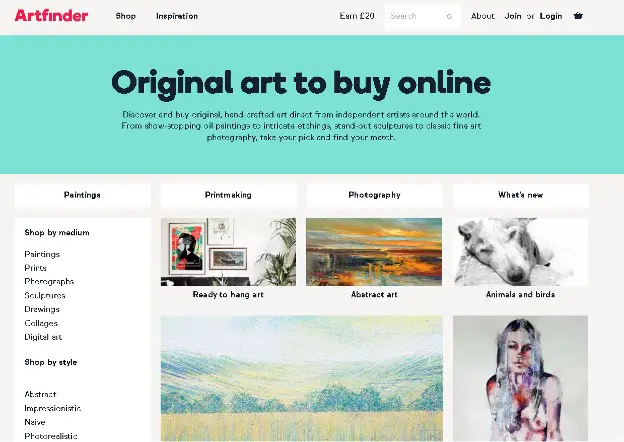 Another wonderful online hub where you can discover, buy and sell original paintings, prints, sculptures, and photography. You can take advantage of free delivery on many of the pieces featured.
How About Art.com?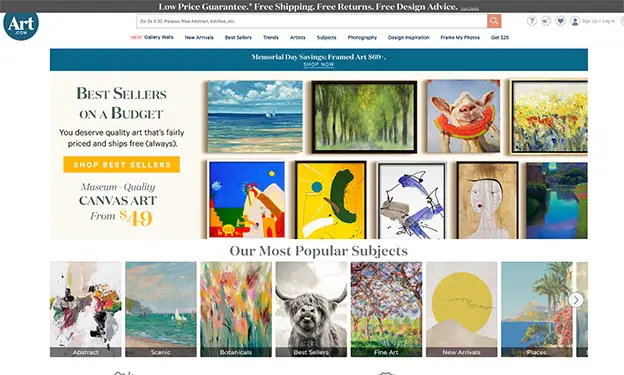 Art.com is an affordable website packed with designs, photographs, frames, canvas, and everything else related to art. This site offers free shipping and returns and even offers free design advice to art buyers.
Professionals in the USA design custom-made handcrafted work. Their prices vary, starting under $20 and moving up to $300 and above, depending on the piece of work.
Artsy is a Great Option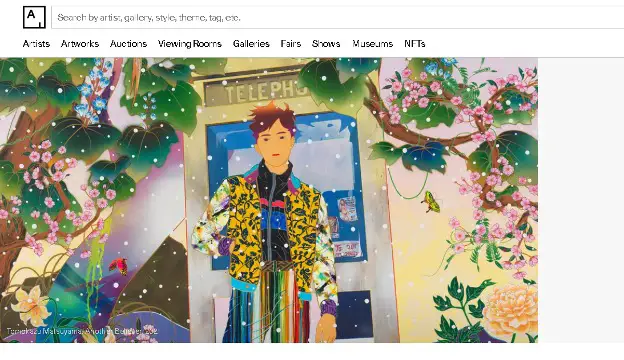 Artsy is an online art workshop, and like many others, it connects you with the artist directly. You can browse the many artworks and later directly contact the artist whose work you like. You can work with them directly, negotiate prices, and choose from a wide selection of artworks according to your taste.
Check in with Target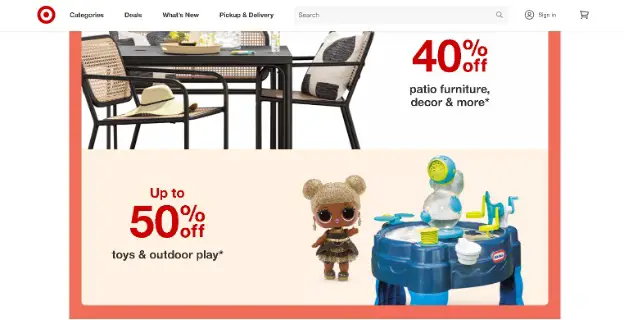 Another affordable and well-known art marketplace that you may not have considered is Target! Target offers a wide variety of works on canvas and wall art to decorate your bare walls. While not one of a kind, Target nonetheless offers some unique pieces that are extremely affordable.
The wall art at Target includes sentimental wall art, botanical and animal wall art, abstract, landscape, and photography. It also offers a home planner, allowing you to visualize the piece of art in your room, space, or home before buying it. 
In addition, the website has a filter that helps you choose a piece according to color, style, height, size, space, and price. It has collaborated with some cool artists, designers, and agencies like McGee, Heart, and Hand with Magnolia.
Target offers frames, canvas, paintings, posters, and prints. Their prices start at $10 with free delivery. Same-day delivery is also available for some pieces.
A Must Go is 1st Dibs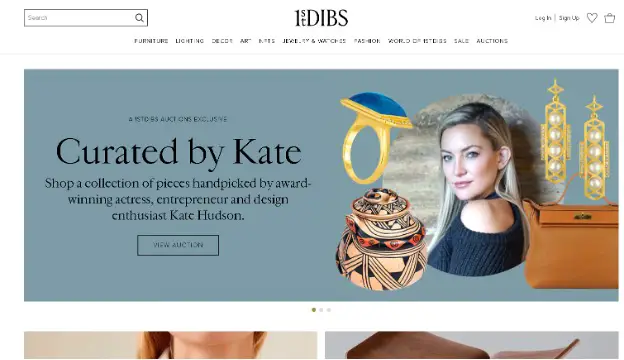 An all-in-one online marketplace that contains more than a million pieces of furniture, vintage items, and artwork. In the artwork category, you'll find photography, paintings, prints, and sculpture. There is also a wide variety of abstract and figurative art styles. 
This site handpicks the sellers to maintain their high art styles. And like many others, it also allows buyers to directly contact the seller for price negotiation and other requests.
Explore Lumas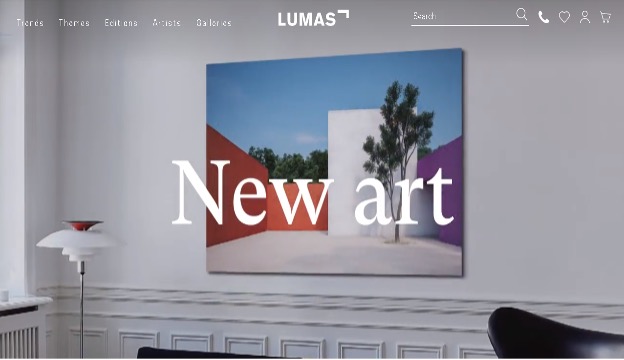 Lumas is nothing less than a heaven for photography lovers. It has thousands of unique artworks from different artists with 22 galleries around the globe. Pieces start at $30 and go up to $2,000.
You can buy unique art pieces by color, medium, style, or genre. They have a diverse collection, including abstracts, animals, celebrities, and more, and you can find framed or unframed artwork by artist recommendation.
Urban Outfitters is a Must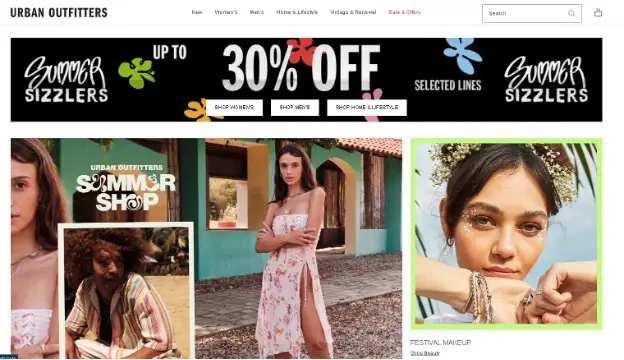 Urban Outfitters is good for those who are looking for something vintage and funky with figures and characters from different cultures; they have beautifully crafted artwork from around the world. This brand also has a large selection of pop art, including Mickey Mouse and Star Wars. You'll find colorful, chunky collections on this site.
Art pieces can be returned within 30 days, and shipping costs are free for orders that are above $50. Some of their creative artwork comes with a frame, while others come without.
In addition to their website, there have many brick-and-mortar stores available around the U.S. where you can find unique artwork depending on your budget and style requirements.
Don't Miss M.S. Rau Gallery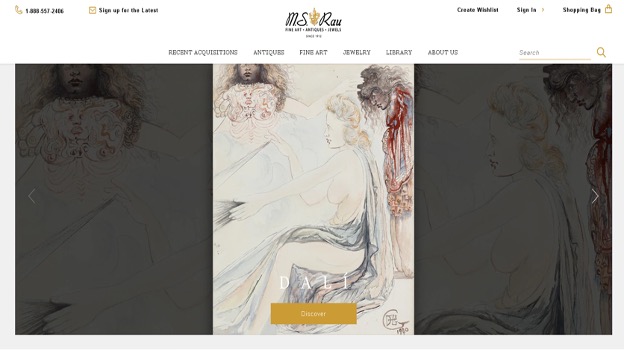 M.S. Rau Gallery is another option for finding high-quality art. You can purchase online, so you can have your pick of a large selection without worrying too much about your location. 
You can find an interesting variety of artwork here, including astounding paintings, realistic sculptures, rare antiques, elegant jewelry, accessories, and more. The prices of the unique pieces can be a little steep, but they guarantee their products are authentic and original.
The Metropolitan Museum of Art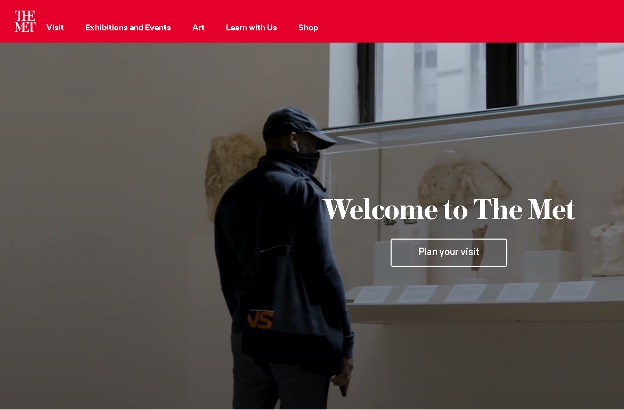 If you're visiting or living in New York City, be sure to check out the well-known Metropolitan Museum of Art. They have an incredible collection of art from different cultures and periods. Even if you're not in the mood to buy anything, it's still worth visiting to see some of the amazing pieces on display.
Visit Local Art Galleries and Fairs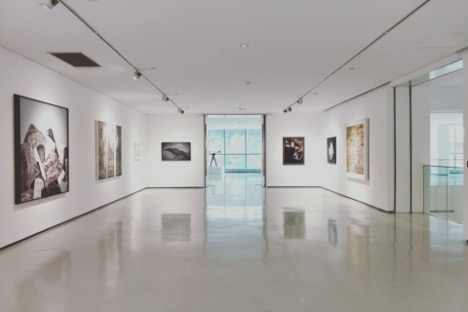 Photo: Unsplash
Your local art galleries are another place to look for some amazing one-of-a-kind art while helping local artists. These galleries are often filled with talented artists selling their stunning creations, new art collections, and custom pieces. It's definitely worth checking out if you want to discover something new. 
Most galleries will specialize in a certain type of art. The downside to this is that the prices vary and can be high. However, you're guaranteed to find a unique piece of art if you shop locally.
Everything "local" is worth checking out! Your local art fairs are a great place to look for some amazing local art. Art fairs are often loaded with talented newbie artists selling their impressive creations and drawings.
Turn to the Auction Houses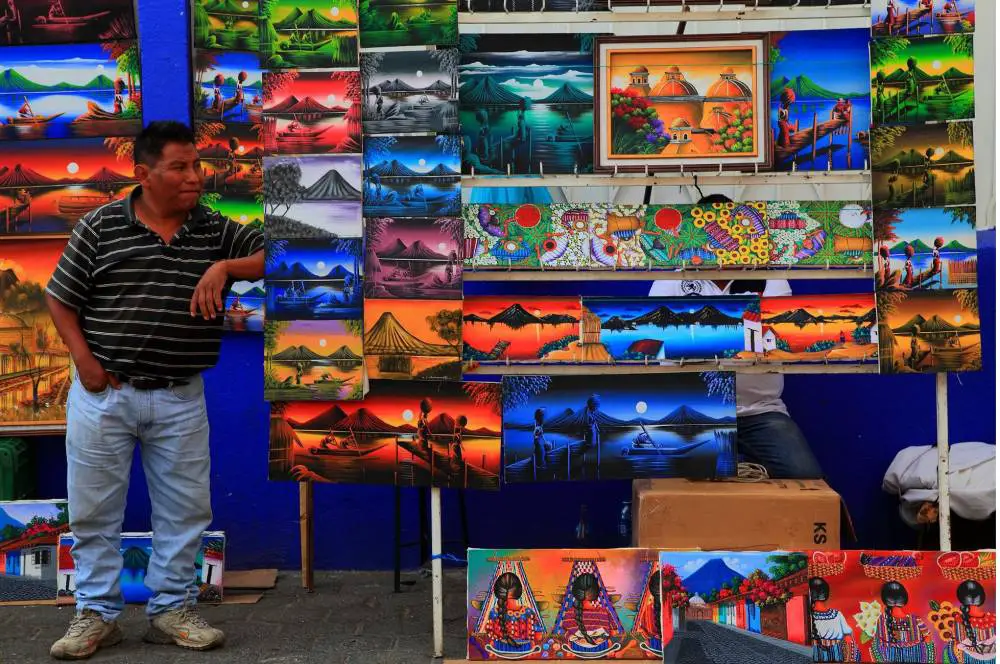 Photo: Pixabay
If you're looking for something really special, you should check out auction houses. Here, you'll find some impressive, valuable, and rare art pieces. Auction houses facilitate the buying and selling of artwork, so you're likely to find some art pieces from their collections that you connect with.
However, be prepared to spend if you really want artwork from a famous auction house such as Sotheby's or Christie's.
Where To Buy One Of A Kind Art – Final Thoughts
A great place to buy one of a kind art is at a local flea market because you never know what kind of treasures you'll find when you're rummaging through old goods. And it's always exciting to haggle for a good price on something you love. If you don't find anything at the flea market, try visiting some antique stores in your area.
So there you have it! Now you know where to look for a unique piece of art. Happy "art" hunting!
FAQ's
1. Where can I buy art by an emerging artist?
There are a few different places to buy art from emerging artists. Two options are to look online and in local art galleries. Many times, these galleries feature works by up-and-coming artists. Another alternative is to go by word of mouth via friends, family, or other art enthusiasts.
Many online websites sell artwork by emerging artists. Check websites like Society6 and Etsy; they have many new artists. 
You can also attend art fairs, festivals, and art exhibitions. These events are often a great way to find new emerging artists and exciting artwork. As a bonus, their art prices generally start at a reasonable price. 
2. How do I choose the right art for my home? 
Several things are necessary when selecting artwork for your home. If your home is modern, then an abstract piece of art will work best.
Abstract art contains shapes, lines, and colors that fit perfectly with a minimalist look. On the other hand, if your house is more traditional you might want to consider original paintings or photographs.
3. Why is art so expensive?
Art is often seen as an extravagance; something that is only purchased by the wealthy. This might be the reason why art is so expensive. Art is also valued at the price someone is willing to pay and is not driven as much by other market factors.
When an artist makes a new work, they can sell their artwork at a price they see as most reflective of their creativity. This means that fewer art pieces are available for purchase, which drives up the price.
Yet, you can sometimes find replica art pieces at a low price at your local museum or art gallery. Many museums and galleries have gift shops that sell reproductions of famous paintings or sculptures. You can also use your local flea market to find art at an affordable price.
In addition, many websites sell original artwork and reproduce unique artwork. You can usually find a wide range of prices on these sites.
4. Why do artists become depressed or fail?
There are several reasons an artist might become depressed or fail. Some of these include not having a clear purpose or goal, lack of motivation, procrastination, perfectionism, fear of failure, or comparison to others.
These are just some of the reasons why artists may become depressed or fail, and mental health issues are complex and varied. The reasons do not necessarily connect to the practice of art. It's essential to remember that there are many reasons to become depressed or fail. If you're an artist, make sure to find what works best for you, and seek help if you need it.
5. What kind of art sells best?
There isn't any simple answer to what kind of art sells best. This can depend on several factors, such as the artist's reputation, the subject matter of the piece, and the current market conditions, but if you are a new or emerging artist, you may face some difficulties in selling your piece of art.
Don't give up, and use the following tips:
Focusing on quality over quantity
Create pieces that are unique and original
Promote your work through social media and other channels. Social media is a powerful tool. You can promote your work without paying a single penny, and once you are acknowledged by social media users, you are good to go, and you will see progress.
More From Artistry Found