Are Art Prices Negotiable? (A Guide to Buying Art)
Buying art may seem like an intimidating task, especially if it's your first time. For a potential art collector, the prices on artwork in a gallery may look so exorbitant that you start to wonder if the prices are negotiable?
In general, art prices are negotiable. You will likely be able to negotiate a fair price for a piece of art when purchasing directly from the artist. The odds of successfully negotiating a discount at an art gallery, however, is unlikely.
If you're looking to negotiate a discount when buying art, I'll show you the right way to go about it and who to talk to in order to increase your chances of making a deal. I'll also cover some tips for looking for art, plus tell you how to make sure you're choosing the right artwork for your home or office.
Can You Negotiate Art Prices?
The negotiability of art prices depends on who you're purchasing the art from. If you're buying from an artist that posts most of their works on Instagram, you may be able to get a fair amount of money shaved off the initial sticker price. However, if you're buying from an art gallery, you'll probably be unable to negotiate the price at all.
If you're of a mind to haggle for completed artworks, dealing with the artist directly is the key. Most artists would be open to a little bit of bargaining. An especially effective negotiation strategy is to offer to buy two or more pieces if the artist is willing to give you a better price. That's a win-win for both parties.
Having said that, aggressive haggling won't get you very far. Negotiating a fair price is one thing, but trying to get an artist to take 50 percent off the original price would be considered rude and insulting.
Why Art Galleries Don't Negotiate Prices?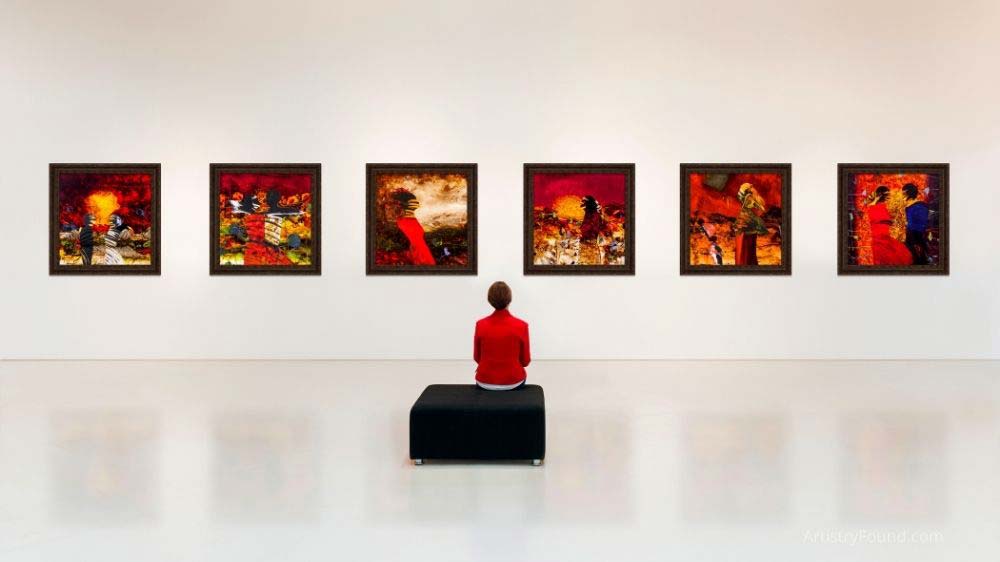 (This article may contain affiliate links and I may earn a commission if you make a purchase)
To know why the prices of art in art galleries are usually not negotiable, it's crucial to learn how the galleries make their money in the first place.
When an artist submits their art to a gallery, they usually state the amount of money they expect to receive from the sale of their work. The job of the gallery or art dealer is to sell the artwork and give the artist their share while marking up the price enough to cover their expenses and make a profit.
To make this possible, they add a premium to the original price proposed by the artist to arrive at the final price. Since the artist won't always be around to discuss price in a gallery situation, they always assume that the artist isn't willing to go below their stipulated price.
8 Important Tips For Buying Art
When making your first art purchase, you may not know where or what to look for. When buying art, there are many issues to consider, including where to buy, how much to pay, artwork size, and placement.
If you're not well versed in the process of acquiring an art piece, here is a short art buying guide to help you out. This section contains the factors you must consider when buying the art pieces, regardless of where you're buying them from.
1. Search for art both online and offline.
Most art collectors make the mistake of focusing their search for an artistic masterpiece either wholly online or completely offline. Unfortunately, this practice severely limits your options, leaving a great many high-quality pieces of art entirely out of sight.
When searching for artwork, it's important to search BOTH online and offline sources. While this may give you an overwhelmingly large collection of options, it also ensures that you have choices in every price range, and you won't be missing out on the best pieces because it's simply not available where you're looking.
There are many online and offline sources for outworks. Offline, you can visit art galleries, art fairs, and estate sales. Online you'll find dozens of websites where you can purchase art. Here are just a few to get you started:
You can also seek out artists you're interested in and see if you can purchase from them directly. From there, you can attempt to strike a good deal, acquire the piece of artwork, and have it sent to you.
2. Set an art budget.
Before thinking about what to buy, it's important to set a specific budget to know how much you're willing to pay on the high end. Of course, you don't have to stick to your budget at all costs, but having a top budget limit means you'll be looking at the price tag on the artwork you're considering and moving on quickly if it blows the budget.
Artwork on the internet can cost as little as $20 all the way up to a million dollars or more, so you should know your price limit ahead of time.
Most online stores that sell artworks will give you an option to filter by price. With a pre-planned budget range, you then know what price to use as a benchmark for the filter, only bringing up artworks that you can comfortably afford.
3. Consider where the art will live.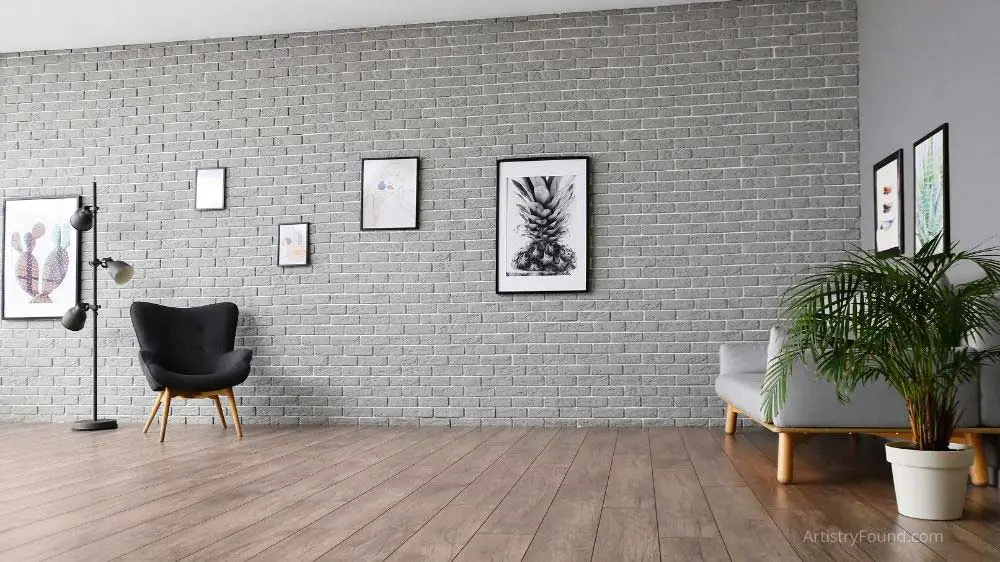 Most people tend to go shopping for art without considering the overall impact it will have on the room where they plan to hang or display the artwork. This is common amongst first-time art buyers, and it leads to the artwork looking out of place in its final location. Bad placement eventually leads to the art being taken down.
Before paying the price for an artwork, consider where you'll be putting it. Does the overall design of the artwork match the aesthetics of the room? Is the artwork sized properly to have the impact you desire?
If you can't answer both of those questions in the affirmative, you'll want to re-consider the piece you're looking at. You can always find good art that matches your preferred colors and aesthetics, so keep looking until you find what works.
Before paying for an art piece, you should try to imagine where it could fit in your home. Galleries are typically large, and a piece of art may look smaller hanging in the gallery than it actually is. 
For instance, a large painting in a gallery may look great, but you may realize it's far too big for your wall when you get it home. If you don't go with a specific minimum and maximum size, you may end up with an expensive piece of artwork that doesn't fit anywhere in your home.
4. When buying art, trust your intuition.
Once you've determined your budget, aesthetic, and size requirements, choosing the right piece of art is really about using your intuition and performing a "gut check" when looking at the piece.
It's likely the artwork you choose will be on display in your home or office for many years to come. However, if you don't "love it," you may quickly grow tired of seeing it when you pass by each day and end up thinking: "I wish I never bought this."
When buying art, listen to your inner voice. Then, only choose a piece that you're naturally drawn to, even if it appears ridiculously cheap (Tip: It is possible to find great art for very low prices). Don't let a low price or the opinion of others cloud your judgment.
If you like the work of a specific artist, don't obsess over how popular they are or how many people are buying their art. The artwork that people pay thousands of dollars to collect may go out of fashion in the future, and the one you purchased for $100 may later sell for millions!
Also, buying an artwork just for popularity's sake will likely make for a regretful design addition to your home, making you wish you had chosen something else entirely.
5. Ask about the longevity of the artwork.
Longevity is a big piece of the puzzle when buying artwork intended for daily display. Not all art is created equal and may begin to dry, crack or fade within just a few years depending on the materials used and the display conditions.
Make sure that your prospective piece of art was made using archival quality inks and materials. This will help make your painting, or other art pieces, resilient to fading.
To know this, ask the artist or gallery about the permanence of the painting. It generally depends on the type of paint that the artist used while creating the artwork. Paints are usually assigned a lightfastness rating that shows how quickly they'll fade under natural circumstances.
Even if you shop for artwork that is not very likely to fade, you should keep it away from direct sunlight and extreme heat, as those also lead to the fading and discoloration of paintings.
The bottom line here is don't be afraid to ask questions. An artist or gallery consultant will be more than happy to answer your questions about an artwork's longevity. If they aren't or don't know the answers, consider moving on to another artist or venue.
6. Examine the artwork carefully.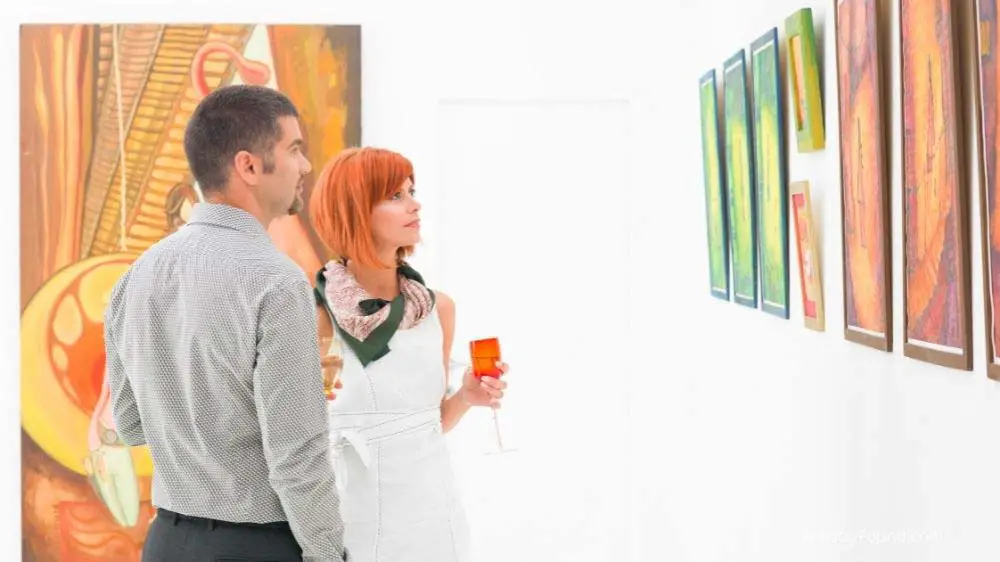 Before buying an artwork, it's important to examine it carefully to understand the message it's trying to convey. If you don't understand a piece of art, there's really no point in buying it for your home. However, keep in mind that some art is more about how it makes you feel than having a particular message.
It's also recommended that you conduct extensive research on the background of the artist when buying an expensive piece. If possible, meet the artist to talk about the specific artwork and their motivation for creating it. Even if the artist is no longer alive, the seller should know something about the artist's motivations.
When you know about the artwork and the artist's vision for the piece, you don't only feel like a buyer; you feel like you've invested in the artist's cause, drive, or motivation in the artwork.
This will increase your pride in owning the work, plus you'll be able to answer any questions about it if any of your guests should ask.
7. Learn about the hidden costs when buying art.
Sometimes, the price you see on the artwork isn't the final price you'll be paying. There are some additional costs you should keep in mind that may have you end up paying significantly more for the piece.
If you're buying a relatively expensive work of art, you should also be prepared to pay the applicable sales taxes. In addition, the artwork you're considering may be coming from a different locale or possibly even another country. 
Unless the seller states that the sales price includes shipping, you will likely be responsible for this additional expense. Obviously, the size and weight of the artwork will factor in significantly to its total cost when shipping is involved.
Installation costs can also come into play if the piece of art your purchasing will require hiring someone to help your move it, hang it, or install it.
When setting the budget for art, consider all the potential hidden costs. Some artwork may seem like it's in your ballpark budget-wise, but throw in the taxes, installation, and shipping costs; you could end up paying hundreds or even thousands of dollars more than you thought you would.
8. Paying a fair price for art.
Many factors affect the price of a piece of art. Factors like the originality, the size of the artwork, the materials used, the artist's popularity, and their sales history each play a role in the price you can expect to pay. 
When visiting art galleries both online and offline, you're likely to see artwork selling for thousands of dollars or more. Unfortunately, some of the work you may see doesn't seem like it has any meaning or any real talent behind it. 
Even some of these pieces can be sold for exorbitant prices. These absurd prices are simply unjustifiable, and you shouldn't pay that much for an artwork that didn't take any real effort.
However, paying top dollar for designs that cost time and money, have a thoughtful meaning, and are large enough to make a beautifying impact on your home is very justifiable.
Remember, art is subjective, and only you can decide if a given artwork is worth its asking price.
Where to Buy Art at Discounted Prices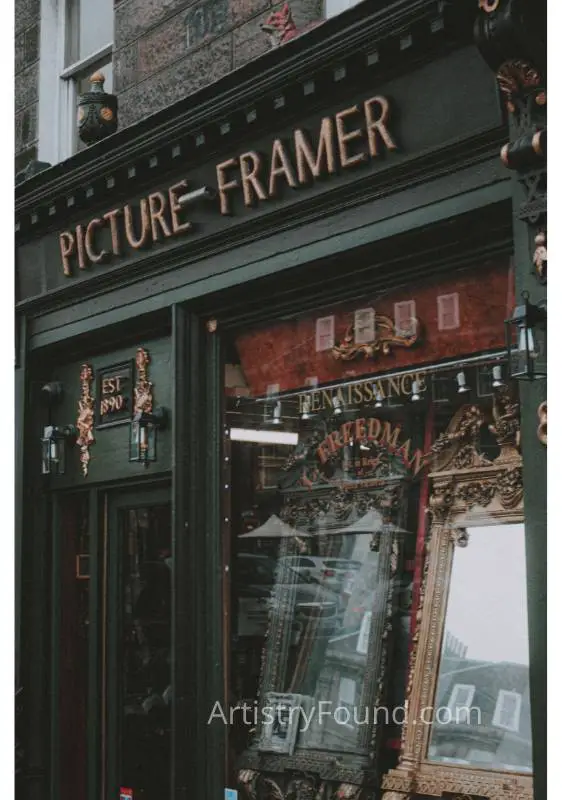 If you're looking to buy an artwork at a discount, it helps to examine all of your options before making your final purchase decision. One of the options you have is where to look for artwork, and I have a few options for you to consider.
1. Art Galleries
Art galleries are usually the go-to destination for excellent works of art. They generally have knowledgeable staff who will show you around and guide you to the artwork that may meet your needs. But with all their overhead expenses, getting a discount at an art gallery is very unlikely.
The next three options are a better bet for finding art at a discount.
2. Social Media
Many artists do self-promotion with social media platforms like Instagram and Facebook. Scour some art-related hashtags (#art #artist #artsed #artsblog #artinfo #artlovers) to find artworks from the artists themselves. 
Finding an artist whose work you like and contacting them directly is probably the best way to get a discount on quality art. By cutting out the middleman (i.e. art galleries and online art markets), the artist can sell you their work for less, while still making more than they would have otherwise.
Related: 7 Reasons Why You Should Buy From Local Artists
3. Online Art Stores
There are many online stores that list artworks from various artists. If you're looking for discounted artworks, you can check Etsy or Artfinder for a start. At each of these places, you can find both original artworks as well as reproductions at affordable prices.
4. Local Art Fairs
Many bigger towns and cities host art fairs at various times throughout the year. Here you can find a wide variety of art and speak to many of the artists directly. You'll often find bargains on great art during these events.
As an added bonus, there are many artists who travel the country going from art fair to art fair, so you may be able to discover some top quality talent from outside your local area.
Final Thoughts on Negotiating and Buying Art
In sum, art prices are definitely negotiable, but this still depends on what you're buying and who you're buying from. While some artists won't be willing to lower their prices no matter what, another artist will be happy to give you a discount after a little back and forth negotiation.
It doesn't hurt to ask. If you're after an artwork that you can't quite afford, it's certainly worth a shot to ask for a discount.
More From Artistry Found
Additional Reference: