Easy Guide to Becoming a College Art Professor
You don't have to be a full-time artist to make a living from art. One of the most profitable art-related professions is becoming an art professor in a college or university. The big question, however, becomes: how do you become an art professor?
On average, it will take 4 to 8 years to become a college art professor. You have to obtain your bachelor's degree and teaching certification to qualify for a professorial art position, but you will almost certainly need to get an advanced degree such as a master's or doctorate degree as well.
If you've always dreamt of becoming an art professor, here is your ultimate guide. In this article, you'll learn the step-by-step requirements to pursuing a profitable career as a university art professor.
Guide to Becoming an Art Professor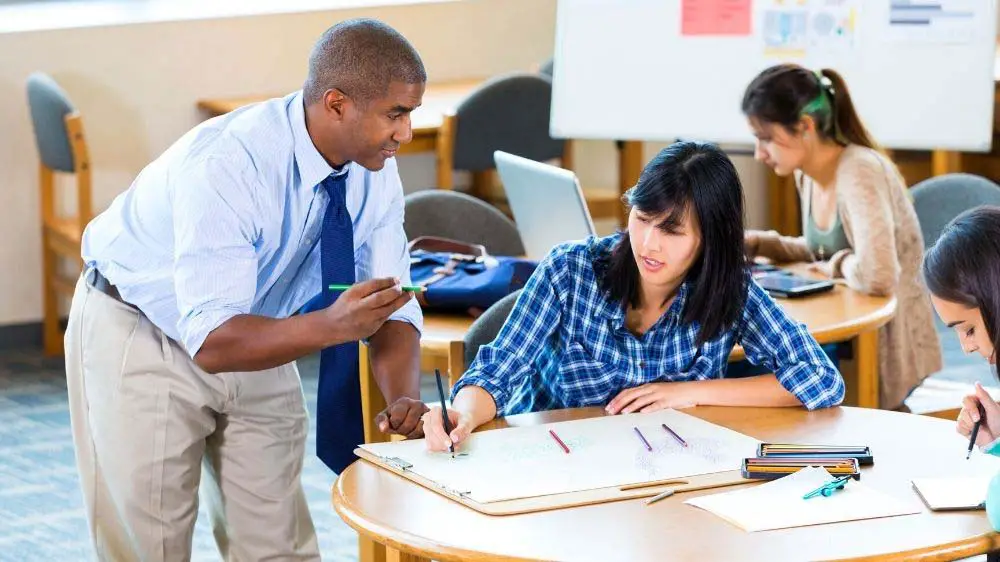 (This article may contain affiliate links and I may earn a commission if you make a purchase)
Becoming a college art professor is a gradual process. The minimum qualification necessary to become an art professor in the United States is a bachelor's degree. However, obtaining a master's degree or higher increases your chances of getting a job quickly as a professor.
However, before getting a bachelor's degree, you will need to have graduated from high school first. To help your art career as a professor, it helps to take some preliminary art classes in high school prior to going to university.
Additionally, you must graduate high school with a good enough grade point average to be admitted to a college level art degree program.
This guide to becoming a college art professor begins once you've graduated high school and continues all the way through undergraduate and graduate school. I'll also share some tips for anyone aspiring to be a college professor.
1. Get your bachelor's degree in art
Obtaining your bachelor's degree in an art-related program qualifies you to become an art professor, but most art professorial positions will require a master's degree, hands-on teaching experience with art, and a teaching certification.
Since you'll need a bachelor's degree to get a master's degree anyway, getting a bachelor's degree sets you on the right path to becoming an art professor.
Many art education course programs will qualify you to become a professor. You can either pursue a Bachelor of Arts, Fine Arts, or Studio Arts. Obtaining a bachelor's degree in one of these areas will take approximately four or five years, with everything else being equal.
When aspiring to become an art professor, it's recommended to take a diverse range of art courses. After all, you may have to teach classes that don't relate to the kind of art you personally make or are familiar with, and teaching something you don't really know anything about certainly isn't ideal.
Recommended Reading: What Exactly is Studio Art? (Studio Arts Major Explained)
2. Get certified to teach
Getting a teaching certificate is a prerequisite to becoming an art professor. In most states in the US, you'll need to pass the teacher certification test to be legally qualified to teach.
Getting a teaching certification is another round of college classes unless you have already taken the required teaching courses during your undergraduate studies.
While working towards your teaching certification, it's recommended to continue working on your own art portfolio, as most art colleges will only employ educators with art experience.
You can get a teaching certification specific to the state where you intend to practice, but it's always best to get a national board teaching certification, especially if you want to dedicate yourself to an art professorship job over the long term.
Teaching certifications are not typically time-consuming. Depending on the state, you should be able to get certified in a couple of weeks or months at most.
3. Start applying for art professorial positions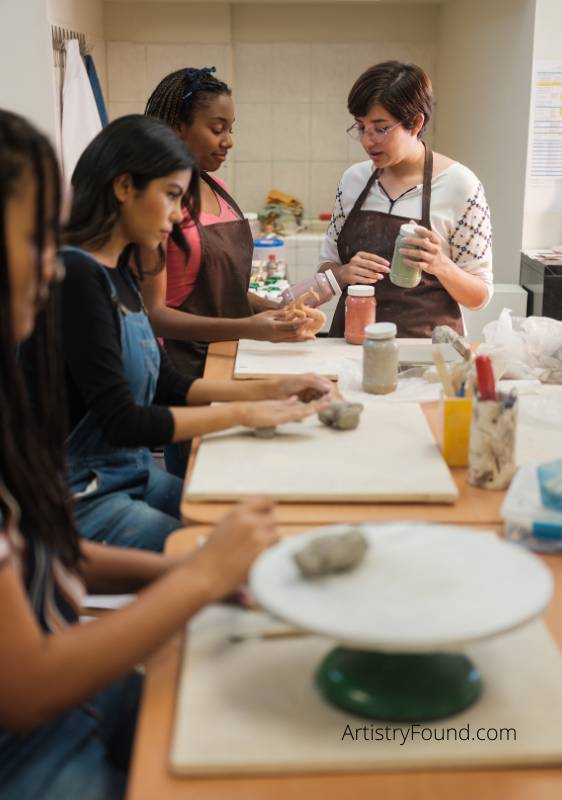 If you've got your bachelor's degree and a teaching certification, you've got the bare minimum qualifications to apply for a teaching position. With these, you can start seeking employment to become an art professor.
While you may want to seek more advanced education before this stage, it's important to note that most art-related professorial job openings aren't very interested in how educated you are.
Teaching visual art is different from academics; if you can show you're an excellent artist and teacher, you can get a job, even with a bachelor's degree. On the other hand, if you'd like to teach art history, this is a more academic field and will most likely require an advanced degree.
Regardless, it's recommended to only apply for part-time jobs at this stage. Working part-time as an assistant professor, for instance, will give you enough time to continue to obtain higher qualifications without compromising your position as an art professor.
If you think you need better qualifications to advance in your career, you can always obtain a master's and doctoral degree in art.
Recommended Reading: 6 Reasons Why You Should Study Art History (Explained)
4. Get a master's and/or doctoral degree (PhD)
Depending on where you live and your career aspirations, a graduate degree may be either optional, recommended, or mandatory.
If you live in a state where most of the job openings for art professors require a master's degree at least, then you'll need a master's degree before even submitting job applications.
Even if you can manage a job without a master's degree, getting a graduate program degree will open the doors to more opportunities in your academic career, such as teaching at a more prestigious school and a higher salary.
Tips for Aspiring Art Professors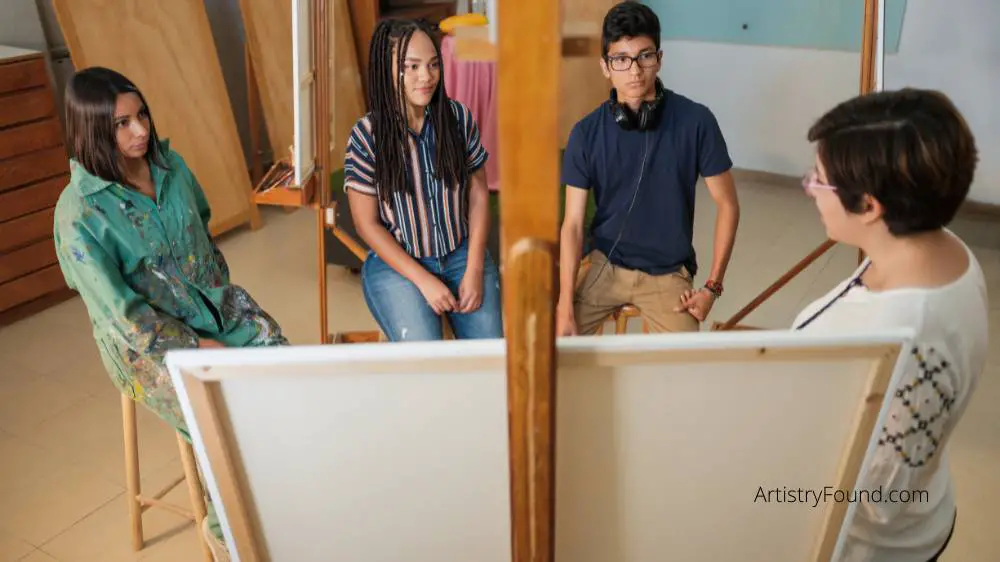 Becoming an art professor involves spending most of your time pursuing the necessary certifications and degrees. However, being a successful art professor is more than just obtaining master's or doctoral degrees in art.
If you're looking for tips to help you through your career as an art professor, I can help. Here are a couple of tips that can assist you in succeeding as an art professor.
1. Develop your organizational skills
It's already hard enough to be organized when you're an independent artist; being an art teacher further makes organization a challenge.
As a professor, you won't only have to worry about organizing your class supplies, you'll also need to organize your lesson plans and organize groups of students during lessons.
While this may not seem like a lot of work to you right now, you'll wish you took a managerial course instead of an art-related one when you finally become a professor.
2. Plan to continue learning about art
Being an art professor should mean that you're always one step ahead of your students when it comes to art trends and techniques. Doing this will keep you as the subject matter expert, compelling your students to realize that you know what you're talking about.
Continuous learning doesn't only have to do with getting more advanced degrees. For instance, technology is playing an ever-increasing role in the creation of art these days. Learning to use new software programs and graphic design tools made for creating art will also be necessary!
Being a college level art professor can be a rewarding career option. If you enjoy sharing your art knowledge and working with students becoming a university art professor may be right up your alley.
More From Artistry Found