Do Art Schools Care About Grades? (What You Need To Know)
It is no secret that having good grades will help you get into a good school, but many art schools will want to look at your portfolio first. So, how much do art schools care about grades, and why is it still important to focus on your school work?
Art schools do care about grades, but having a strong portfolio is the number one requirement. Having good grades is important, however, because the competition for getting into art school is high, and grades can often be the determining factor between two applicants of equal artistic ability.
And did you know that it is your grades and SAT scores that will get you that scholarship? So, there are definitely some advantages to having good grades if you want to attend an art college. But what if you haven't gotten the best grades? Keep reading to find out.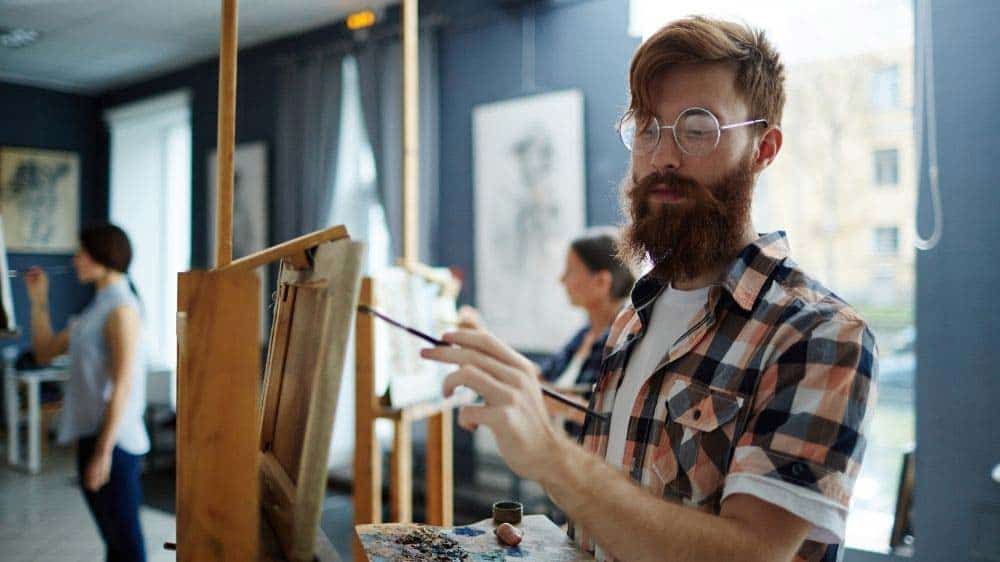 (This article may contain affiliate links and I may earn a commission if you make a purchase)
What You Need to Know About Grades and Art Schools  
When we talk about art school, we're really talking about specialty fine arts colleges, and highly rated fine art programs withing standard universities. While there are many different areas of art, a dedicated art school tends to focus on the visual arts such as illustration, painting, photography, sculpture, filmmaking, and graphic design. 
Every art school is known for having different programs or classes. You want to look for a school that offers you the kind of art education that fits your specific artistic needs. Some colleges are known for their great sculpturing programs, while others excel in photography, for example. 
Art School: Requirements for Admission
The different focus areas in an arts education makes it difficult to compare art schools, but here are a few of the best fine art schools in the United States and the average high school grades and SAT, ACT scores likely required for college admission:
| School | Admissions Rate | Average High School GPA | Average SAT/ACT |
| --- | --- | --- | --- |
| The Rhode Island School of Design | 23.9% | 3.6 | 1310/29 |
| School of the Art Institute of Chicago | 48% | 3.51 | 1230/25 |
| Savannah College of Art and Design | 72.7% | 3.56 | 1149/24 |
| The New School Parsons (New York, NY) | 50.7% | 3.42 | 1211/26 |
| Pratt Institute (Brooklyn, NY) | 48.7% | 3.85 | 1300/28 |
| Maryland Institute College of Art (Baltimore) | 64.3 | 3.47 | 1280/25 |
| California College of the Arts (San Francisco) | 69.7 | 3.34 | 1160/24 |
Admissions Rate – The admissions rate signifies the percentage of students accepted into the program out of all the students who apply.
Average GPA – Most art schools will have a minimum grade point average (GPA) or cumulative GPA that they will accept in order to apply. But in this table we're looking at the actual average grade point of the students who are accepted into the college. This helps to gauge the actual competition. So yes, art schools do look at GPA.
Average SAT/ACT – Most schools will require that you've taken either the Scholastic Aptitude Test (SAT) or the American College Test (ACT). This column shows the average scores of the accepted students for each standardized test. An online test prep service like PrepScholar can really help here.
So as you can see, art schools can be extremely competitive to get into. While grades and test scores might not be the most important thing to the school, it's clear from looking at this table that being accepted into an art school still requires better than average grades from a competitive standpoint.
General Education Universities With Dedicated Art Programs
Prestigious art programs are not offered just at dedicated fine art schools. There are many quality universities that have well-known and respected art departments. Below is a list of some of the universities and colleges with the best art programs in the country: 
| School | Admissions Rate | Average High School GPA | Average SAT/ACT |
| --- | --- | --- | --- |
| Yale University (New Haven, CT) | 6.1% | 4.14 | 1515/34 |
| Alfred University (Alfred, NY) | 62.7% | 3.1 | 1100/24 |
| Columbia University (New York, NY) | 5.9% | 4.12 | 1505/34 |
| Cornell University (Ithaca, NY) | 10.9% | 4.07 | 1480/34 |
| CUNY Hunter College (New York, NY) | 36.4% | 3.46 | 1240/24 |
| Princeton University (Princeton, NJ) | 5.5% | 3.9 | 1505/34 |
| Tufts University (Medford, MA) | 15% | 4.04 | 1465/33 |
| University of California, Los Angeles (UCLA) | 12.3% | 3.9 | 1405/31 |
| University of Pennsylvania (Philadelphia, PA) | 8.4% | 3.9 | 1500/34 |
| Williams College (Williamstown, MA) | 13% | 4.07 | 1479/33 |
(Note: Some of the GPA's in this table are over 4.0. This is due to them being "weighted". A weighted GPA takes into account extra points due to honors and advanced placement classes. An Unweighted GPA does not take these things into account. In the case of an "unweighted" gpa, the maxium gpa possible is 4.0.)
From this table it's clear to see that the finest general education universities in the U.S., that also have great art programs, are quite difficult to get into. Grades and academic achievement are certainly going to be a major factor with these colleges, and the competition will be fierce.
The take away here might be that the grades needed to get into a dedicated art school, while solid, are generally lower than those needed to get into an arts program at some of the top general education universities in the country.
The Two Types of Art Degrees
There are two types of undergraduate degrees that you'll want to know about. 
Bachelor of Fine Art Degree (BFA) – This degree focuses more on practical work than traditional lecture classes. Your education will usually be two-thirds fine art courses and one-third in general education. This is the type of degree you'll receive from a specialized visual art school or art institute.
Bachelor of Arts Degree (BA), This undergraduate degree is more common, and you will spend more time in general education classes. The ratio is often one-third in fine art classes and two-thirds spent on general liberal art studies. This is the type of degree you'll earn from a liberal arts college with an art program.
One bachelor's degree is not better than the other, but which degree program you're in will determine how much of your time is dedicated to art class and how much will be spent in classes having nothing to do with art.
Before we talk about what art schools want to see in an applicant, let's first take a moment to find out what it is you want out of an art school.
What Do You Want From An Art School?
You should first ask yourself: What am I looking for? Because all programs and courses are so different, you want to find the art school that best suits you. Finding the school that fits your artistic desires will help you excel in your education. By enjoying what you are learning, you will want to learn more, which will bring you better results. 
Knowing what you are looking for will help you present your interests to your desired school better. This confidence is what will make your college application stand out. Knowing what you want will show confidence in yourself and confidence in your choice of school. 
You should ask yourself the following questions when looking at a school: 
Does the school have the resources for the art mediums that I want to practice? Will the program be flexible enough if I want to explore new forms of art outside of my primary interests? 
Are the faculty members knowledgeable mentors that can inspire and teach me? Having the right art teacher can make a big difference in your success.
Can the school offer quality internships through its geographical location or programs? For instance, you'll find more internship opportunities in New York City than in Sheboygan, Wisconsin.
Are you impressed with the school's alumni? 
Now that you know what you want, it's time to find out what art schools are looking for in art students they accept into their program.
What Do Art Schools Look For in Prospective Students?
Knowing what an art school is looking for when they go through student applications is key to being accepted.
Portfolio
Art schools usually want to look at your portfolio first in order to get to know you as an artist. You will want to show your latest and best work only. This is where your grades get to take a bit of a back seat, as a strong portfolio is the number one requirement.
Your portfolio should demonstrate your skills, talent, and creativity as an artist, and show a variety of techniques that you have mastered. A mix of artistic styles and mediums can showcase your overall skill as an artist. Be sure that these pieces highlight your own style and influences.
Carefully follow the instructions given by the school. They will each have their own distinct requirements regarding the portfolio review. For example, they may ask specifically for a printed portfolio or an all digital portfolio.
If digital, make sure to use excellent quality photography or scans to showcase your work. The school may also request to see specific artwork or a certain number of pieces in your portfolio.
A great tip may be to create an online portfolio website. This would help your submission stand out, and would show that you're serious while giving you a professional edge. This, of course, would be in addition to following the specific portfolio instructions from the school.
Grades
So, does having an outstanding portfolio help you to get away with bad grades? I mean, how could they say no to such talent? The truth is that grades are important to get into art school, especially where the competition is high. 
There are a lot of applicants, and having good grades will absolutely help you stand out. It makes you seem committed and serious about being a good student, and all schools want the best students they can get because it makes the school look good.
Having a higher GPA will help you to get into the more esteemed art schools. You can usually find the required minimum GPA on the school's website. For example, Hunter College requires a minimum 3.0 GPA to apply for their art program, but in reality your cumulative grades may need to be higher based on the competition from other applicants.
Personal Statement
You will also be required to write a personal statement to apply to most art schools. It should focus on your personal strengths. Tell them why you are applying and what you are passionate about.
This is adding to your portfolio, so feel free to talk about your work because this will help them get to know you. But make sure that you answer all their questions. Focus on convincing them why they should have you studying at their school. 
Interview
Then it's time to get ready for your interview with the admissions officer or admissions committee. The personal interview helps the school to see what you are like in person, and puts a face to your name. This is a great opportunity not only for them to ask questions, but for you to ask questions as well.
You can ask for more details about the program to better help you make your decision. It is also an opportunity for you to explain why you want to be an artist. Be prepared to answer questions about how you plan to pursue your school's academic goals, who your favorite artist is, and what inspires you.
Just answer honestly and be yourself. Remember that this is a two-way street. Both you and the school are working to determine the best fit for your academic experience.
How to Get A Scholarship for Art School
Art schools can be expensive, so looking into scholarships to help pay the tuition cost is always a good idea. Art scholarships are usually specific to a state, country, or school. They often have distinct requirements for art majors including ethnicity and citizenship. 
You will have to put in a lot of time and effort on your application for a scholarship. Ask for an appointment to talk to the art school's financial aid department. They will tell you what type of financial aid you want to be looking for and where to find it.
A lot of high schools can also offer grant and scholarship guidance or even provide financial aid for higher learning. You can also sometimes find scholarships and grant information in publications like art magazines. 
A full portfolio or a sample of your work will be part of your application for an art scholarship. It would be useful to get a second opinion from someone who has experience with these kinds of applications. Again, follow the instructions given to you and have your portfolio ready to represent you and your talent. 
You will also be required to send some form of personal letter introducing yourself, and attaching your grades and SAT scores. This is another area that good grades can come into play. Scholarships are often given to the top performing students first. It is said that the better the grades, the more money you can get as part of your scholarship. 
But be open-minded and try to find different kinds of scholarships that can give you the financial aid that you want. If you can't find a general art scholarship and you're good at photography, or painting, or sculpture, etc, try searching for a scholarship in your particular medium as well. 
Conclusion
Getting into your dream art school can be difficult, so you really want to find every possible way to increase your chances. Art schools do care about your grades, but they care about your work even more.
If you are really talented, but your grades are poor, you will want to focus all your effort on the quality of your portfolio, personal letter, and interview.
If, on the other hand, your grades are great, but your portfolio is weak, your grades won't matter at all when it comes to being accepted at one of the finest art schools.
Sources:
CCA – Scholarships
Hunter College – Minimum GPA