How to Become an Art Dealer (Explained)
Working in a field you enjoy has the dual benefit of providing you a living while being able to spend the majority of your waking hours doing something that interests you. For example, people who love art and enjoy spending time around artists and art buyers can have a satisfying career as an art dealer.
Art dealers are a vital link between artists and individuals who admire their work and wish to purchase art for their business or home. As such, art dealers must be attentive to and knowledgeable of artistic worth and trends and be savvy players when it comes to buying and selling art.
To assist you in pursuing this specific art career and help you achieve your professional goals, I'll be discussing what an art dealer is, what they do, and how to acquire the specific skills needed to become one.
What Is the Job of an Art Dealer?
There are two categories of dealers: those who buy and sell on the secondary market (i.e., those involved in reselling and auctioning classic pieces of collectible art) and those who represent artists in an art gallery to the general public (primary market) – this generally includes living artists but may also include artists who have recently passed away.
The second category employs by far the largest number of art dealers and is what most people think of when they hear the term "art dealer."
In general, an art dealer or art broker is a specialized expert who acts as a point of contact between a fine artist and potential buyers of art and clients such as museums, galleries, private individuals, businesses, and institutions. They may represent artists directly or work for museums, galleries, or an individual art collector that values the organization and knowledge that an art advisor can give. 
An art dealer may collect and display pieces of art in their own space, or they may promote and enable the placing of art in the homes and businesses of other people. They are usually art experts as well as sales and business professionals. As a result, they must stay current on the best evaluation procedures and research the genres of art in which they specialize as well as the broader world of art.
Art dealers work with a wide range of people and, as a result, must use effective communication and sales strategies in the course of their work. They usually negotiate parts of a transaction such as pricing, and may also provide services such as safe shipment and delivery of artwork.
What Education You Need to Become an Art Dealer
(This article may contain affiliate links and I may earn a commission if you make a purchase)
For better or for worse, there's no such thing as a degree in fine art dealing. However, employers of art dealers may require a bachelor's degree or higher to get the necessary skills to work in the sector. Determine where you are in your education and, if it makes sense for you, establish a strategy to advance to the next highest level. 
Besides an obvious choice of getting an educational background in an art-related field, it can be a good idea to focus on marketing and psychology and take a few art history and studio art courses to round out your education. 
Majoring in the field of sales or previous experience of working as a real estate broker can also come in handy if you want to go into the art business, because you will learn how to interact with people directly, intuit their tastes and identify options, write contracts, and close deals. That will put you far ahead of the majority of individuals seeking this type of career. 
Try doing some research on specific art dealing positions and pay attention to the education requirements for each, then make an education plan based on your findings. To find the best colleges or universities to support your aspirations, talk to a mentor or an experienced art dealer.
Learn everything you can about art, art history, and major contemporary artists as part of your education. To support your success as an art dealer and boost your career, consider pursuing coursework or qualifications in art sales and appraisal. Try learning as much as you can about the art world and keeping track of the types of art that most interest you. 
How to Become an Art Dealer
The path towards a career as an art dealer begins with the purpose or the type of art you want to sell and see more of. The most successful art brokers specialize in one type or style of art. Consider specializing in order to obtain a better understanding of a specific component of art and possibly gain an advantage when working with an art buyer or clients. Over time, that would be the niche you'd become known for. 
Second, create as many relationships as you can in this field, both with artists and potential art buyers, by frequenting areas where they tend to go (i.e. try an art fair, auction house, or local art shows, etc). You'll need to gain their trust (artists and collectors) as well as choose a few emerging artists to promote. To improve your efficacy as a successful art dealer, consider obtaining further training or qualifications in this area.
Art dealers are typically competent salespeople as well as art enthusiasts, therefore mastering effective sales strategies is essential. If you want to improve your sales skills, look into sales strategy training. You could also look for internship or apprenticeship opportunities to learn more about sales from a seasoned professional. Maintain your knowledge and abilities, particularly when sales tools and approaches evolve over time.
Once you're ready, start looking for available art dealer positions. Connect with people in your current area as well as other places where you might be willing to live and work by using online job boards and professional social media networks. 
Match your abilities and qualities to the positions you find, and make sure to personalize your resume and cover letter to each one in order to improve your chances of being hired. However, be prepared to devote a significant amount of time to achieve the success you wish for.
Is the Job of an Art Dealer for Me?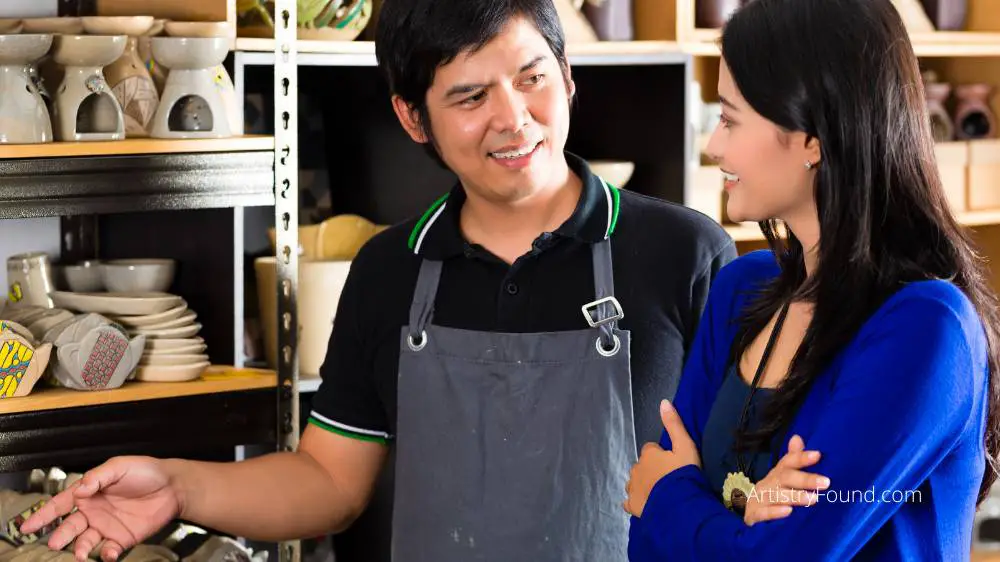 Throughout the course of their duties, art dealers employ written and verbal communication to collaborate with artists and purchasers. It's often critical for them to do so in a way that benefits all parties involved, including their company or themselves, if they work as an independent art dealer.
Because art dealers specialize in negotiating contracts between artists and customers, their ability to draft agreements and contract material is critical to their success. It's not uncommon for them to return to a contract several times to make tweaks and modifications, frequently striving to do so in a way that meets the needs of both the buyer and the artist. 
Art dealers are frequently on the lookout for high-end, pricey art, and learn about these artworks from a variety of sources. As part of their decision-making process, they must utilize critical thinking abilities to determine which information is the most valid and beneficial.
Appraisal and expertise in the field of art are some of the crucial industry-specific skills for art dealers, which aid their capacity to locate high-quality items and communicate their worth to potential purchasers. Moreover, art dealers must be able to assess a work of art and decide a fair price based on a variety of complicated and interrelated elements, which they can then explain to the buyer and other stakeholders.
Finally, it's important to say that art brokers are not only experts in the field of art, but excellent salespeople as well. That being said, to optimize their influence on customers and clients, they frequently employ best practices in sales approaches and strategies.
If you have these qualities, it's safe to say that this is a fantastic career option for you. If you're still undecided, it's worth noting that, according to a recent poll on professional satisfaction, pursuing art as a vocation appears to lead to a stronger overall sense of contentment than, say, working in an office crunching numbers on a daily basis.
Also, once you've gained some experience in the field, it will be a good idea to join an art dealers association like the Art Dealers Association of America (ADAA). This membership is made up of the top fine art galleries in the United States, and the organization provides things like expert seminars and private gallery walks.
What Is the Salary of an Art Dealer
The typical compensation of an art dealer is difficult to calculate, especially given that the art business is notoriously volatile. Art dealers, in reality, practically never earn a consistent income due to the many ups and downs in the art market and the fact they often work on a commission basis. They might make a lot of money one month and make almost nothing the next few months. 
An art dealer's income is typically controlled by the economy, and they will be able to make more money during better economic times when people have more money to spend on luxuries like art. Because excellent and rare pieces of art can be costly, art dealers must be aware of the economy and current trends.
The United States Bureau of Labor Statistics (BLS) does not provide statistics on art dealers specifically, but it does provide wage information for wholesale and retail buyers (such as art dealers who buy pieces to resale) as well as retail salespeople.
Art dealers earned an average annual pay of $72,370 in May 2020, according to the BLS, while retail salespeople earned an average of $30,940. The amount of money art dealers make is, however, mostly determined by their location, education, and experience.
More From Artistry Found