Artist's Loft Acrylic Paint Review (Are They Any Good?)
There are many options when it comes to acrylic paint, and there are also a variety of prices for it. People always question whether the price contributes to the quality of the paint, therefore they tend to be a little skeptical about Artist's Loft acrylic paint due to its affordability. So, is the acrylic paint by Artist's Loft good, and who should use it? 
The Artist's Loft acrylic paint is designed for beginners and art students, and it is convenient for use on different surfaces, such as acrylic paper, canvas, and a gessoed artboard. It is also great for large projects and block printing, with its great selection of bright and amazing colors. 
In this review, I will talk about the acrylic paint offered by Artist's Loft and its quality. I will elaborate on how you can use this paint, and what you should expect from it. If you are interested in this acrylic paint, but you are not sure whether you should purchase it, then this is the review you'll want to read. 
Artist's Loft Acrylics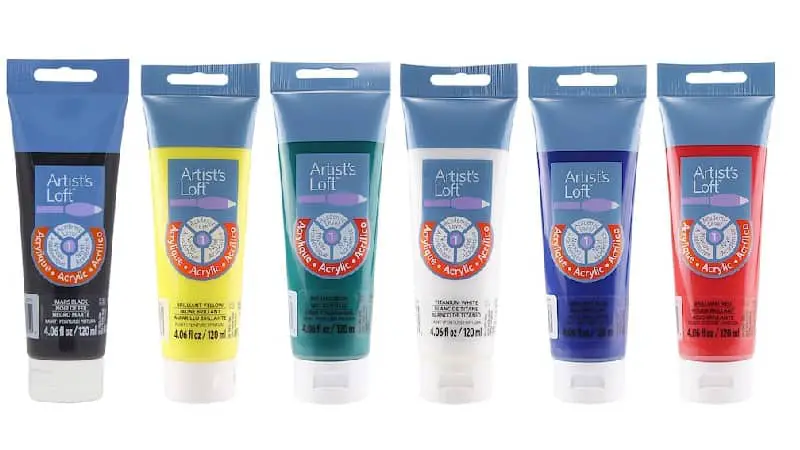 (This article may contain affiliate links and I may earn a commission if you make a purchase)
Artist's Loft offers acrylics for a reasonable price, and the cost usually confuses people in terms of the quality of the paint. These acrylics are considered suitable for those who are just starting to paint with acrylics and are getting used to them. They are convenient for those who want to experiment on canvas with acrylics and learn some new techniques. 
Many people use these acrylics for practice for over a year. Then they switch to something that is more complex, and probably pricey. Furthermore, students who study art have found this acrylic paint suitable to use in the classroom, and perfect for trying new things on canvas or acrylic paper. 
However, when you are interested in buying a certain brand of acrylics, you should consider several factors that will impact the quality of your paintings and projects. Therefore, if you are interested in buying Artist's Loft acrylic paint you should take into consideration color, quality, permanence, viscosity, and price. Once you learn the facts in these terms, you will know whether Artist's Loft acrylics will be suitable for you or not. 
Artist's Loft Acrylic Colors 
When it comes to the colors provided by the Artist's Loft, I can say that there is plenty of selection. They have a large selection of different colors and tones. Depending on your need, you can choose only the primary colors, or purchase a complete set of 24 colors (Amazon) that includes a lot of variants and tones. Having many tones can give you a lot of options for your projects, but if you are a beginner with acrylics, you can start with the primaries only. 
Artist's Loft Ultramarine Blue 
Light Blue and Brilliant Blue are great for beginners. However, if you are already experienced with acrylics, you can also go for Ultramarine Blue (Links to Amazon). 
Artist's Loft Yellow
Primary Yellow is considered suitable for beginners, while Lemon Yellow, and Cadmium Yellow are good when you are experienced at a certain level, and you want to experiment more. (Links to Amazon)
Artist's Loft Red
You can start with Primary Red, and then go for Cadmium Red Light and Crimson once you get used to the colors. (Links to Amazon)
Pigments 
Pigments are colored, powdery substances that are combined with primary colors to give a certain characteristic or tone to them. You can determine what kind of color is in question depending on the number of pigments included. If there is only one pigment added, then you have pure color, while more added pigments mean mixed color. 
The pigments contribute to the permanence of the colors as well, and Artist's Loft acrylics are characterized by high permanence. This means that their paint is high in pigments which provide brilliant coverage and long durability of the colors, i.e., no darkening or fading of the colors.  
Permanence
Permanence refers to the ability of the colors to resist fading or darkening when exposed to light. The Artist's Loft acrylics are characterized by high pigment load, meaning they can provide permanent colors for your paintings or projects. Pigments can fade or darken with time, but Artist's Loft acrylic paint is proven to last for a long time without changes. 
This is due to the fact that Artist's Loft uses strong permanent pigments, especially in the red, yellow, and violet colors. These colors usually fade the first and are the most noticeable. 
Viscosity
Viscosity refers to the thickness of the paint that enables the mixing and blending of colors. Artist's Loft acrylics are characterized by high viscosity, meaning that you can easily mix the colors in your paintings. However, it is important to use water while mixing the colors, so you can properly apply it to canvas.
Drying Time 
Generally, it takes 20 to 30 minutes for acrylic paint to dry out. The Artist's Loft acrylics are dried out in this timeframe; however, the thicker layers may take some more time. Also, the Artist's Loft acrylic paint remains usable on the palette after a longer period than other low-cost acrylics. This is convenient if you want to take breaks while painting or need time to experiment with colors.  
Price 
When it comes to the price, the Artist's Loft acrylic paint is quite affordable, considering that it is intended for beginners and art students. Some low-cost acrylics are considered to be of sub-par quality, and many artists try to avoid them. However, Artist's Loft acrylics are quite satisfying, taking into account their low price. 
Should You Use Artist's Loft Acrylic Paint? 
If you are a beginner, or you have not used a brush for some longer period, then the Artist's Loft acrylics would be quite beneficial and helpful to you. Firstly, you will not spend a small fortune, and secondly, you can take some time to adapt. After a while, you can switch to more professional paints, and expand your collection of acrylics.
As you can see, the Artist's Loft acrylics are good for those who are still adapting or learning the techniques with acrylic paint. It is a good and reasonable choice for you if you want to see whether acrylics suit you or not.
More From Artistry Found: